Burrell SOMA Chapter Selected for the Golden Femur Award at the National SOMA Spring Convention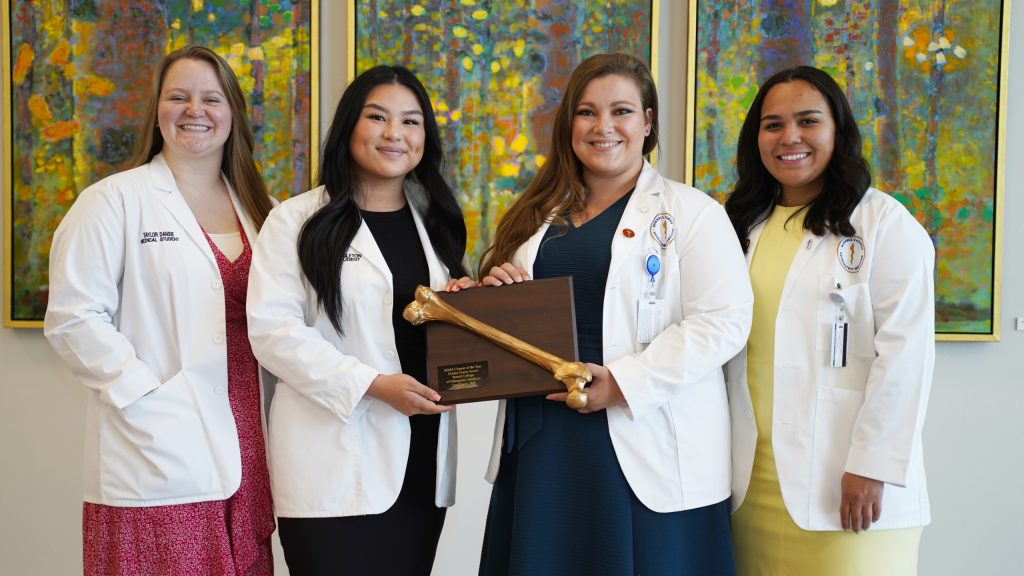 The Burrell College chapter of the Student Osteopathic Medical Association (SOMA) was selected for the Golden Femur award at the National SOMA Spring Convention. This distinction is reserved for the chapter that best exemplifies the SOMA mission statement.
Burrell SOMA president Miranda Willis says, "As a young chapter, this award shows that the Burrell COM SOMA is making as much of an impact as our fellow chapters. We have shown a dedication to our community and medicine as a whole that is worth being recognized on a national level."
The Burrell College SOMA chapter was founded in 2016 by the inaugural class of osteopathic medical students as an affiliate organization of the American Osteopathic Association, in order to create a network for medical students across the nation. SOMA, in conjunction with the AOA, reinforces osteopathic principles and practices while representing the collective interests of current osteopathic medical students.
The SOMA Mission statement is as follows:
SOMA shall:
Educate and prepare osteopathic leaders and advocates.
Maintain open and transparent lines of communication to our student members as we continually adapt to the evolving needs of our members and organization.
Advance collaborative relationships that promote osteopathic medicine in the greater healthcare community.
Utilize our direct affiliation with the American Osteopathic Association to advance the interests and viewpoints of osteopathic medical students.
The Burrell College chapter of SOMA was selected for this award due to their dedication to their community through service projects, DO for a Day events, Narcan Training classes by the Overdose Prevention Task Force, political advocacy, and by promoting osteopathic principles within their chapter, and throughout the College.
"The Burrell chapter of SOMA has consistently impressed the College by taking an active role within our community and the institution to educate others on current healthcare issues," says Burrell College president John Hummer. "We are incredibly proud of their well-deserved accomplishment and are grateful to SOMA for allowing our students the opportunity to make meaningful change. "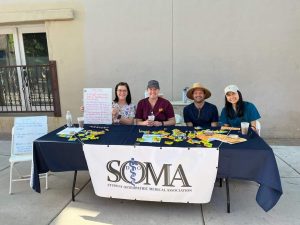 Most recently, the Burrell SOMA chapter's Opioid Prevention Task Force has volunteered at the COMPASS Community Health Fair to provide resources about overdose prevention, harm reduction, and the use of Naxolene. The OPTF also conducts NARCAN training sessions for fellow medical students.
"We take great pride in representing Burrell COM's mission to serve our community with compassion and respect, and being able to represent the school on a national level through our SOMA involvement speaks to the dedication of our students and our commitment to advocating for a stronger osteopathic presence in medicine," says Miranda Willis.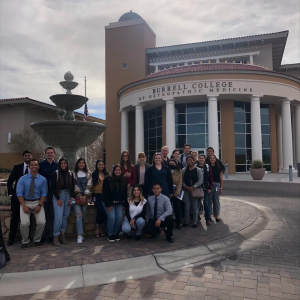 Current Burrell SOMA members:
President: Miranda Willis
National Liaison Officer: Kayla Lopez
Treasurer: Taylor Dansie
Secretary: Noelle Min
Community Outreach Chair: Miranda Willis
Social Medicine Chair: Kayla Lopez
Overdose Prevention Task Force: Emily Johnson, Kyly Hiatt, Stephanie Montenegro, and Lauren Mackell.
Protect NM Liaison: Kevin Weiss
Fundraising Chair: Livya Mathew