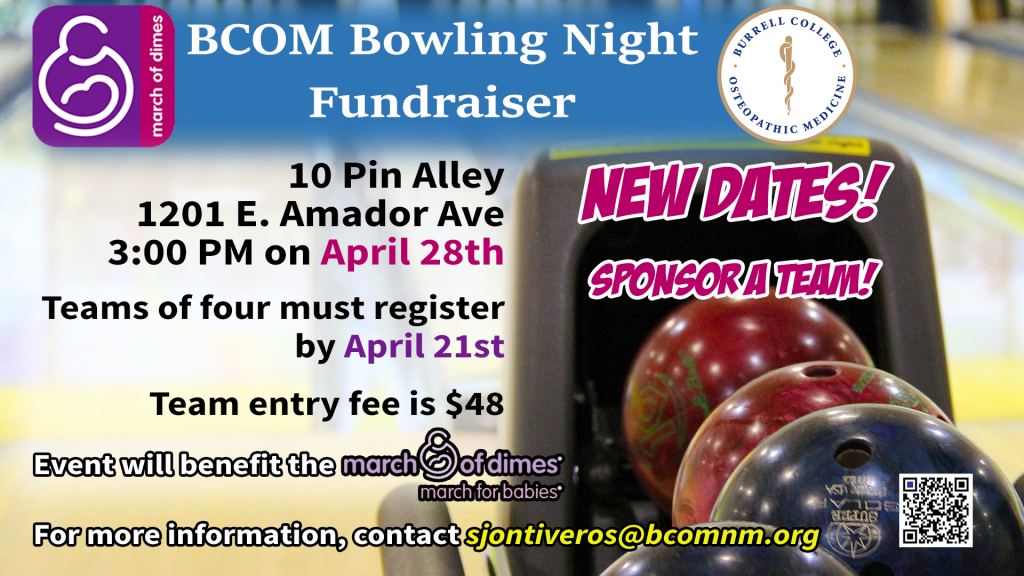 The bowling tournament that was initially scheduled for Friday, April 7th has been postponed until April 28 to provide sufficient time for participants to form teams.
The BCOM Bowling Tournament has been established to help raise funds for the March of Dimes, a nonprofit organization that works to fund research and improve the health of mothers and babies. One of their main objectives is to reduce the occurrence of birth defects and premature birth.
If you are interested in joining, please contact Steven Ontiveros, Ph.D., to sign up or to sponsor a team. A good number of students would like to participate, but do not have the funds. Teams must be established by Friday, April 21st.
Help us to raise funds to support the research efforts of this wonderful organization!
Bowling tournament details:
BCOM March of Dimes Bowling Tournament Fundraiser
April 28th at 3:00pm
10 Pin Alley – 1201 E. Amador Ave, Las Cruces, NM 88001
The cost is $12 per person ($48 per team)
4 members per team