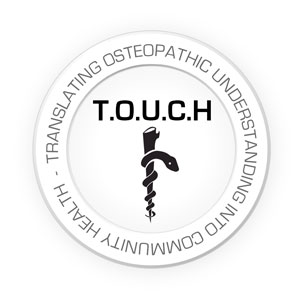 Volunteer in your community, TOUCH the lives of those around you
The Translating Osteopathic Understanding into Community Health (TOUCH) Program is a national initiative of the Council of Osteopathic Student Government Presidents (COSGP). The goal of the TOUCH program is to encourage osteopathic medical students to work toward improving the health of their local community by incorporating osteopathic tenets, awareness, principles and practice in their activities.
General Q&A 
What are the TOUCH program policies?


The TOUCH year runs from May 1st to April 30th each year.
Students that reach a threshold (for either silver or gold) during any TOUCH year of their medical school career, will be eligible for rewards from the COSGP and TouroCOM.
From COSGP:


Platinum: Each school has a top participant who receives the Platinum-level recognition.
Gold: Students who complete 70 hours over a year receive a Gold-level recognition.
Silver: Students who complete 35 hours over the year receive a Silver-level recognition.

What makes an opportunity TOUCH eligible?


TOUCH hours must engage with the community, cannot benefit you or your school academically or financially. If hours fail to engage the community outside of Burrell, they will be considered Volunteer hours NOT TOUCH
For additional guidelines of what is TOUCH approved versus not check out TOUCH information Powerpoint linked below.

How do I get opportunities TOUCH approved?


Submit this form at least 1 week before an event to get TOUCH approval from the TOUCH coordinator via email.

How do I log TOUCH hours?


Students will need to create an account and must log their TOUCH hours on the Track It Forward Website
Use the TOUCH template sent by the club organizing the event. If you are logging a separate event not affiliated with a club, create your own template using the following guidelines.
Hours MUST BE LOGGED WITHIN 30 DAYS after an event.
If there are any questions regarding TOUCH hours, please contact the Burrell College of Osteopathic Medicine TOUCH Coordinators for the current year.
Burrell College of Osteopathic Medicine TOUCH Coordinators:
Meenu Immaneni, lakshmimeenakshi.i@burrell.edu
TOUCH Documents