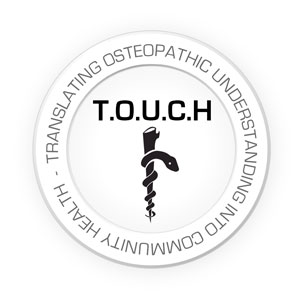 Volunteer in your community, TOUCH the lives of those around you
The Translating Osteopathic Understanding into Community Health (TOUCH) Program is a national initiative of the Council of Osteopathic Student Government Presidents (COSGP). The goal of the TOUCH program is to encourage osteopathic medical students to work toward improving the health of their local community by incorporating osteopathic tenets, awareness, principles and practice in their activities.
Burrell College of Osteopathic Medicine students can earn their hours through active participation in events hosted by Burrell College of Osteopathic Medicine student organizations or external organizations. Students will be able to create an account and start logging hours here. Additional information about what is or is not TOUCH approved can be found here. If there are any questions regarding TOUCH hours, please contact the Burrell College of Osteopathic Medicine TOUCH Coordinators for the current year.
Burrell College of Osteopathic Medicine TOUCH Coordinators:
Emily Johnson, emily.johnson@burrell.edu


TOUCH Documents: