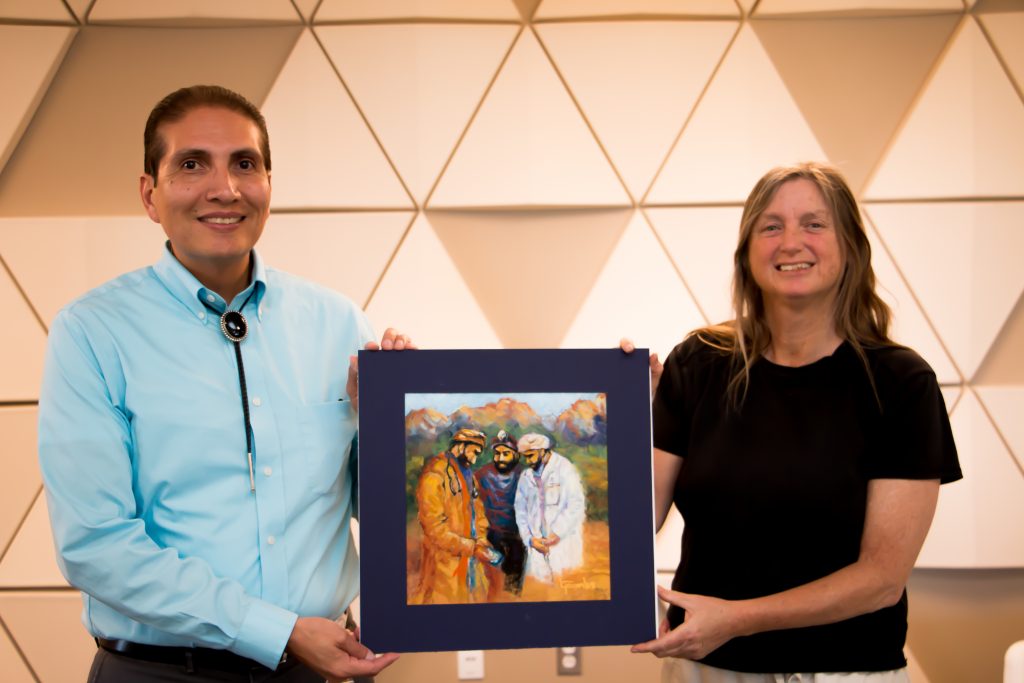 Las Cruces based artist Leslie Toombs opened the newspaper one morning and inspiration struck. While her artwork typically depicts yucca, cacti, poppies, and other elements of the desert landscape, a photo of three BCOM medical students on a New Mexico film set inspired her to try something a little different.
The photo of Haris Ahmed, Humza Ahmed, and Harris Ahmed was taken by a fellow extra on the set of the major Hollywood film Horse Soldiers. (Read all about their experience filming by clicking HERE.) It ran in the Las Cruces Sun-News and the Las Cruces Bulletin last February.
Toombs re-created the image using pastels, putting her own medically inspired twist on it. While in the photo the students were dressed to portray Afghani villagers on the movie set, she looped a stethoscope around Haris' neck, put a head mirror on Humza, and outfitted Harris with a white physician's coat. Her version also pays homage to BCOM's home in Las Cruces by depicting the Organ Mountains in the background. She titled the work The Doctors.
"The newspaper article talks about the attention they received on the film set simply because they are medical students. I thought it would be fun to turn the tables a bit. They're pretending to be Afghani villagers, but I started thinking, 'What does a doctor look like?'" Toombs explained.
Three years ago, Toombs was a weaver living in San Diego. She started doing pictorial tapestries and decided to hone her drawing skills. "I took a class and loved it. I felt like I had a knack for it. I've been painting watercolors for about five years now, and when I moved to Las Cruces I had a very good teacher, Marie Siegrist, but I just wasn't getting there, so I switched to pastels. I also took a class with Rick Rotante at Raven Art Studio. He specializes in painting and drawing portraits."
When she's not in the studio, Toombs and her husband Steve Robinson, work with BCOM's Standardized Patient Program where they act out ailments for the medical students to diagnose. You can see more of her artwork at a show scheduled to open May 5 at the El Paso Electric Gallery inside the Rio Grande Theatre at 211 North Main Street in downtown Las Cruces.