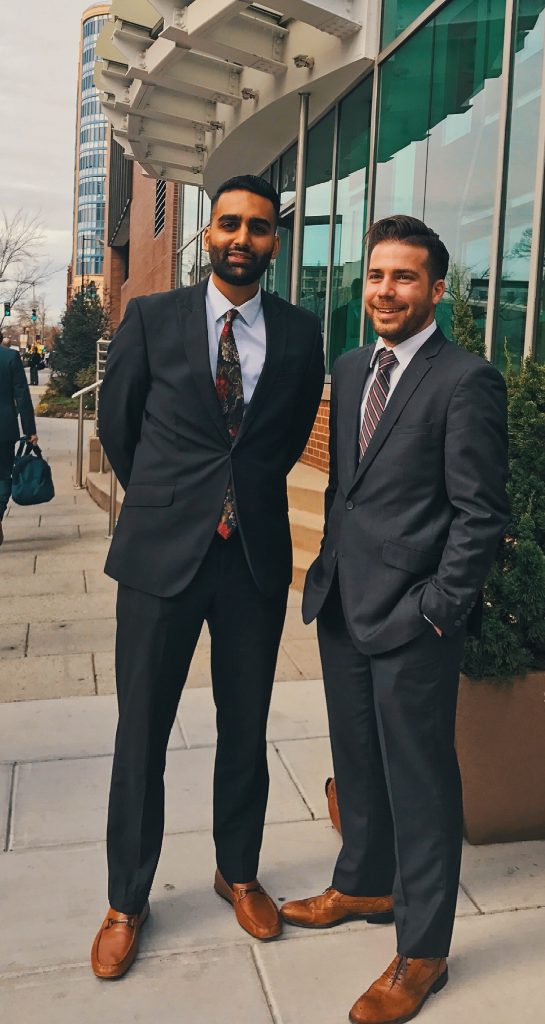 Two students from the Burrell College of Osteopathic Medicine have been elected to serve on the National Board of Directors for the Student Osteopathic Medical Association (SOMA). "SOMA is the student arm of the American Osteopathic Association. It's an organization that strives to support osteopathic medical students and gives us a real way to be involved in healthcare policy," said John Rajala who established the BCOM SOMA chapter along with fellow first year student Stephanie Ayala.
Since founding the chapter last August, Rajala says he's learned about the intricacies of health policy and how important it is to be educated on related issues. "It's easy to just dig into school and not pay attention to what's happening in the world around us, but as future leaders I think we have an obligation to stay educated," he said.
The SOMA organization is broken out into regions. When a call for applications for the Board of Trustee's Region V trustee position went out, fellow BCOM student and SOMA member Harris Ahmed encouraged Rajala to apply. Rajala said, "I had never considered myself for a national position, but Harris and I have a way of bouncing off one another to keep the momentum going. I applied and wound up being elected to office a few months ago. I think it's a great opportunity to build leadership skills. Also, as medical students we have a pretty loud voice when it comes to health policy. This is a way to truly be involved and take a role in influencing the future of the field."
Ahmed, who has a background in health policy, has been serving as BCOM's national liaison officer for SOMA since last fall. "I have learned the intricacies that go into running a profession, as well as immense value that our student body, the American Osteopathic Association, and the medical school accreditation body (COCA) places on us students and our stances," he explained. "The AOA votes on resolutions that we pass in our House of Delegates to adopt themselves and COCA allows us to submit commentary to them regarding their standards. I have gained immense insight into the power that we have as medical students and specifically SOMA members. On top of that, I have made long lasting friendships, further developed my network, and developed my skills in resolution writing."
During a recent trip to Washington DC for DO Day on the Hill, Ahmed was interviewed by the SOMA Board of Trustees and found out just hours later he had been selected to serve on the National Board of Directors as the strategic partnerships director. He said he hopes the position will help him develop his skills in political advocacy, resolution writing, policy analysis, and corporate partnerships.
"Additionally and most importantly, I am able to have a direct role in the direction of the profession," Ahmed said. "Due to our standing as the premier DO medical student organization, and direct ties with the AOA, we as SOMA members are in a unique position to develop key relationships. There is a diverse set of ways students can get involved, whether it is research, advocacy, social media, working with pre-meds, and so much more. There is something for everyone in SOMA."
Learn more about the Student Osteopathic Medical Association at studentdo.org.