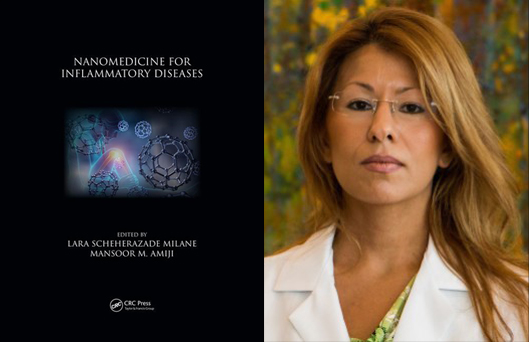 BCOM's Lara Scheherazade Milane, Ph.D., authored a textbook, Nanomedicine for Inflammatory Disease, and it is scheduled for release on July 19, 2017. Milane is the co-editor of the book, along with Dr. Mansoor M. Amiji. She is also a contributing author to the text, which is geared toward graduate students, clinicians, and investigators working at the intersection of translational medicine. In Dr. Milane's contributing chapters, she distinguishes three new emerging hallmarks of cancer and she details the steps for clinical translation. "The book is a translational nanomedicine textbook, bridging the gap between the laboratory bench and the clinical bedside," Dr. Milane said.
The book is divided into three sections: section one covers the fundamentals; section two focuses on primary inflammatory disease with each chapter subdivided into the biology and clinical treatment of the disease, the experimental nanomedicines in development for the disease, and bridging the gap between the benchtop and the bedside; section three details emerging inflammatory diseases including neurodegenerative diseases, cancer, and diabetes.
Dr. Milane joined BCOM as a founding faculty member in the Biomedical Sciences Department. She received her training as a National Cancer Institute/National Science Foundation Nanomedicine Fellow at Northeastern University in Boston, Massachusetts. She holds a Ph.D. in pharmaceutical science with specializations in nanomedicine and drug delivery systems. Among her accomplishments, Dr. Milane developed a novel EGFR-targeted polymeric nanoparticle system for treating multidrug resistant, triple negative breast cancer through the reversal of the Warburg Effect. She conducted a complete pre-clinical evaluation of the new nanomedicine. Dr. Milane also received her MS in biology and BS in neuroscience from Northeastern University.
Dr. Milane's research interests are in cancer biology, mitochondrial medicine, and translational nanomedicine. Her instructional interest is in effective innovation. Dr. Milane is an advocate for women in the sciences and is a pioneer for outreach. She has 18 peer reviewed journal publications, five book chapters, three white papers, and a current textbook in-press. Dr. Milane dedicates each publication in loving memory of her twin sister, Samantha, and to the eternal brilliance of her daughter, Mirabella.
BCOM's Michael Woods, Ph.D., is also a contributing author to the textbook. He joined BCOM as founding faculty in the Department of Physiology & Pathology. Dr. Woods received his training at the University of Texas Medical Branch in the Department of Pathology. He then went on to conduct post-doctoral training at the Centers for Disease Control and Prevention (CDC) in the Division of Vector-Borne Infectious Diseases in Fort Collins, Colorado where he was supported by an Emerging Infectious Diseases Research Fellowship from the Association of Public Health Labs and the CDC.
Prior to joining BCOM, Dr. Woods worked at Lawrence Livermore National Laboratory in the Global Security Directorate. He has a BS in microbiology from Texas A&M University and his research interests are in the pathogenesis and ecology of infectious diseases, as well as issues related to global health security.
Nanomedicine for Inflammatory Disease is published by CRC Press and is available for purchase on their website at crcpress.com.