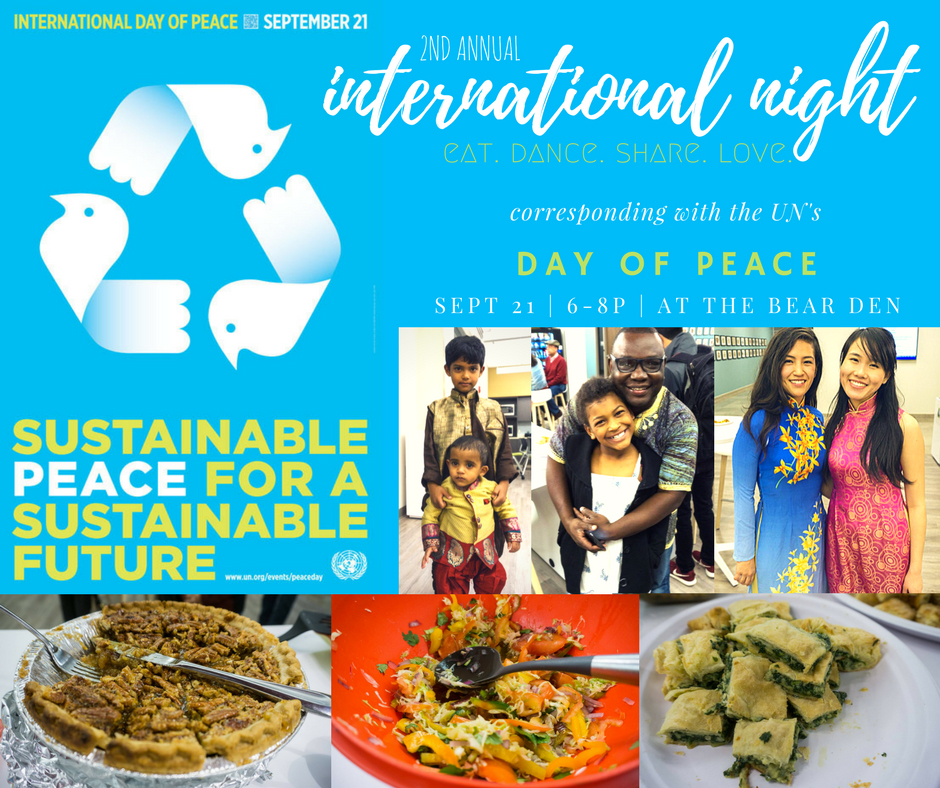 Buonguiorno BCOM!
I'm very excited to announce one of my favorite events of the year, International Night! Because of the high demand last year, this year we will have not one, but TWO. This semester's International Night is scheduled to correlate with the UN's International Day of Peace.
Here's the skinny on this semester's International Night:
SGA is hosting an International pot luck on Thursday, September 21st from 6-8p open to all students, staff, friends, and family members. We LOVE diversity at BCOM, so we can't wait to see a wide range of cultural dishes at the event. If you're not sure which dish to bring, think back to what your family's favorite dish was growing up. Did your mom make you delicious baba ghanoush? Does your pops have the best recipe for Motsunabe? Or perhaps a good ole' green bean casserole always reminds you of home. Whatever you grew up eating, we want to see it! If you can't make a dish, please feel free to stop by anyway for good food and great company!
If you are interested in sharing the foodie-love, submit your recipe via email to sga@mybcom.org to be featured in the first ever Burrell College Melting Pot Cookbook (photos of both food and family are welcome as submissions as well). The cookbook will be available for (free) download the day after the event.
We are also accepting music submissions for our playlist, so send us your favorite songs or artists from back home (please no profanity IN ANY LANGUAGE).
Lastly, if you have traditional garb from back home, we welcome you to wear it loud and proud to the event. From hijabs to cowboy boots, kilts to yukatas, we hope to see a little piece of all of the beautiful cultures that are represented in the BCOM student and staff population.
There will be optional cultural dance classes. If you're interested in teaching a class, please email me to let me know what type of dance you can teach.
If you plan on attending, please RSVP via the following google doc: https://docs.google.com/spreadsheets/d/1S3FITJlINSEDRazCI43LSGb29EVcglTMtPyGNAK6bJg/edit?usp=sharing
All are welcome, including family & friends, cooks and non-cooks. You do not need to bring a dish to come by. Just show up and enjoy the great company and delicious food (and to answer one question I got earlier – it really is not "stealing" if you come eat without bringing a dish). We want to see you ALL there! Please remember to RSVP using the google doc above (whether or not you're bringing a dish) so we know how many tables to put out.
We hope to see you there! Best,
Selena Trichel, OMS-II
Executive Board Social Chairperson, SGA
Burrell College of Osteopathic Medicine
See photos from last year: 2016 BCOM International Night