BCOM's Director of Student Affairs Brett Newcomer and Assistant Director Jeremy Taulbee serve up turkey at BCOM's annual Thanksgiving dinner. Visit our Facebook page at facebook.com/bcomNM.org to find out what our students, faculty, and staff are thankful for this year with videos featuring 22 days of gratitude!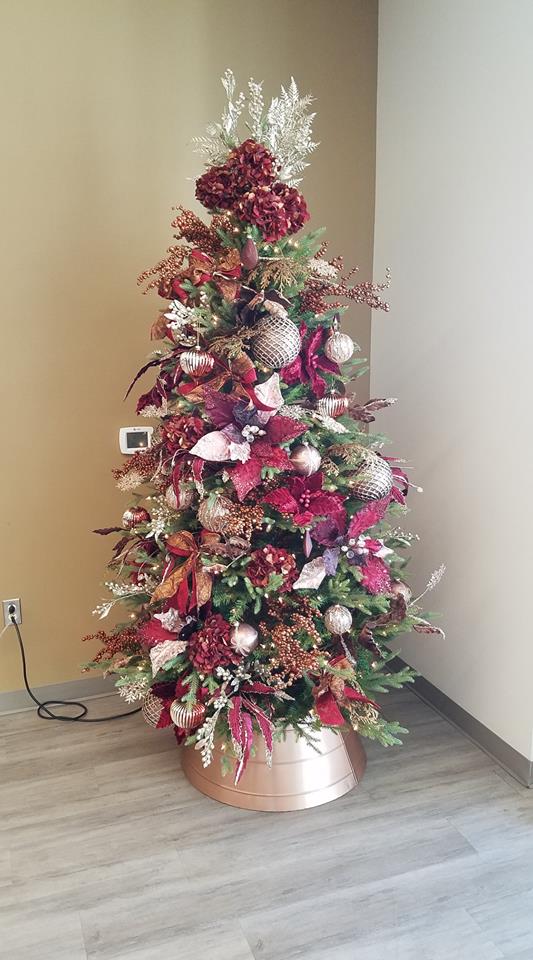 A big thank you goes out to our friends at ¡Ándele! Restaurante and First American Bank for bringing some holiday cheer to our campus with these beautifully decorated Christmas trees!
The Giving Tree is annual tradition at BCOM thanks to our very own Sunshine Committee! This year's tree supported the local US Veteran's Affairs Home Based Primary Care (HBPC) program. HBPC's provides health care services to Veterans in their home. The committee collected bags filled with items like blankets, socks, hygiene items, books, puzzles, and gift cards to bring some holiday cheer to our local military heroes!
'Tis the season for BCOM's faculty and staff Ugly Sweater Contest. And the winner is…Nadia Hernandez as The Walking Christmas Tree! Many thanks to the Sunshine Committee for organizing the spirited gathering, providing hot cocoa and cider, as well as to all who brought cookies and treats.
In true Southwestern style, the BCOM campus is decorated with luminarias! It's a sight to see all aglow, so don't forget to drive by when you're out with the family looking at light displays.