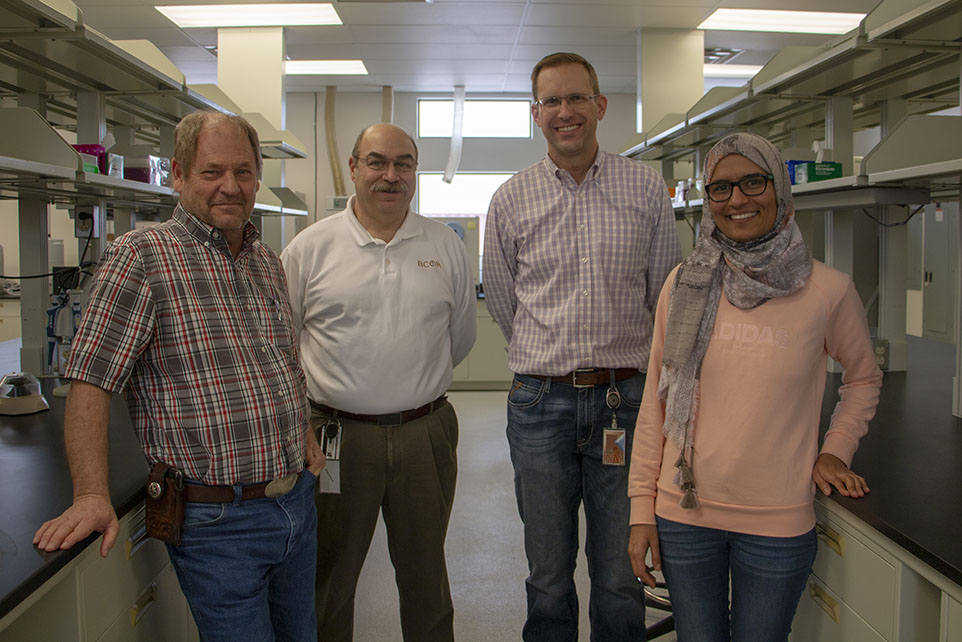 The Burrell College of Osteopathic Medicine (BCOM) is expanding its research capabilities and opening a new research facility that includes 4,500 square feet of laboratory and office space for faculty and student researchers.
Michael Woods, PhD, Director of the BioSciences Research Laboratory, describes the new laboratory as "world-class" and capable of accommodating about a dozen faculty researchers and their students. The laboratory is fully equipped to support research in areas of cell and molecular biology, microbiology and protein chemistry.
Research projects that will take place in the lab include a study on MRSA, the superbug known as Methicillin-resistant Staphylococcus aureus which is extremely resistant to antibiotics. A BCOM team led by Debra Bramblett, PhD, Associate Professor and Chair of Biomedical Sciences, and Dr. Woods, Assistant Professor of Pathology, is examining the prevalence of MRSA in medical students during the preclinical and clinical years of medical training. Their research is supported by a grant from the Edward N. and Margaret G. Marsh Foundation.
A separate study led by Harald Stauss, PhD, Associate Professor of Pharmacology, along with two osteopathic physicians, Associate Professor Adrienne Kania, DO, and Assistant Professor Deborah Whitson, DO, will examine how osteopathic manipulative treatment — a set of hands-on techniques used by osteopathic physicians to diagnose, treat and prevent illness or injury — minimizes tissue inflammation.
Other biomedical research that will take place in the lab will focus on cancer cell biology, neuroscience, low-calorie sweeteners and how they affect metabolism and the physiology of the lymphatic system.
BCOM medical students will work with faculty in the new facility as part of the Summer Research Fellowship Program, which begins in May.
"The opening of the new laboratory represents an important milestone for BCOM," says Joseph Benoit, PhD, Assistant Dean for Research at BCOM. "We are excited to be able to provide high quality facilities and equipment that allow our medical students to conduct research under the guidance of our highly qualified faculty. Approximately 30 students will be working on 12 different faculty driven research projects this summer."
The summer student research activities will culminate with the students presenting their research findings at the BCOM Medical Student Research Day on July 19.