Third year medical student Royce Sumayo is currently rotating in the Tucson hub, but he said he's grateful that his pediatrics rotation took him 65 miles south to the border town of Nogales, Arizona. He worked at the Mariposa Community Health Center under the guidance of preceptors J. Philips Williams, MD; Tanya Henry, MD; Margie Hartfield, MD; and Edith Hernandez, MD.
"This was the first opportunity I had to truly work in a rural/underserved community," Sumayo said. "I asked each of the doctors why they chose to work down in Nogales and there were recurring themes. One of which was that, in a rural city like Nogales, the people truly need your care as a physician and, without you, the community would immediately suffer and be at a disadvantage. Because of this, every single person is sincerely appreciative of your care. A family can't simply go down the street and find someone else that can maybe take better care of them, as may be the case in a bigger city."
Discovering the joy in working with children made this one of Sumayo's favorite rotations, but he noted that being one of very few physicians in the area also challenged him unique ways. He learned to utilize problem-solving skills to deal with conditions that a doctor in a larger city might refer to a specialist. He also got a crash course in determining if the clinic had adequate resources to take care of a sick child and when to make the call to send them to a more equipped facility.
"Whether it's surgery, pediatrics, or family medicine, I strongly recommend every medical student have a rotation working in an underserved area. You will learn so much, see many different conditions and likely have a great deal of responsibility with your preceptors," he explained. "I would very much be interested in working in an underserved community sometime in my career. Many students believe in the mission of serving a rural or underserved area, but, honestly, until you have this type of experience far from a big city, you won't truly understand all of the struggles as well as the unique opportunities to serve and care for the community."
One of Sumayo's preceptors, Dr. Williams, is a strong advocate for the local community. He works with the Southeast Arizona Area Health Education Center (SEAHEC), whose mission is to improve recruitment and retention of culturally competent health professionals in rural and underserved communities of southeast Arizona. Sumayo was invited through the SEAHEC to speak to students at Nogales High School. He answered their questions about healthcare and shared his own experiences.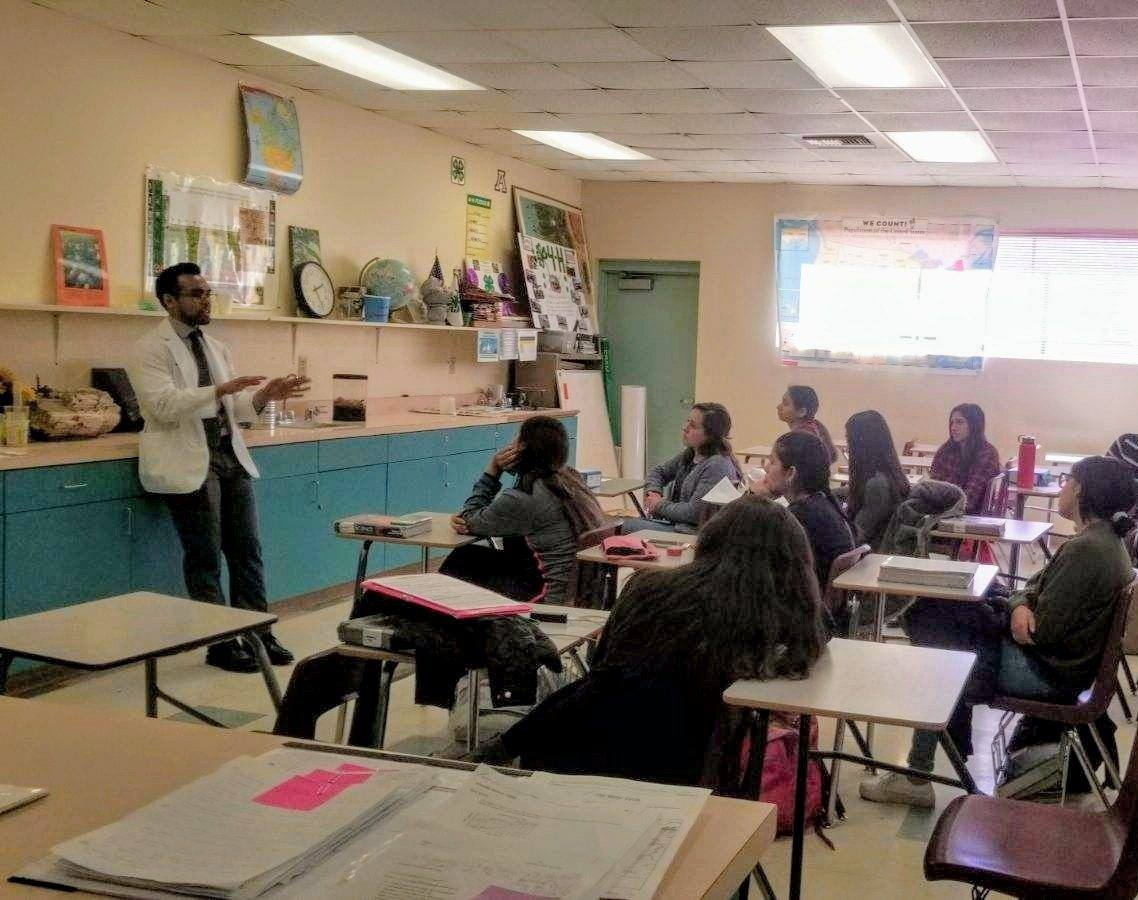 "Most importantly, I reminded them that no matter their background or the lack of resources they may have had, there is always an opportunity to do something special with your life," Sumayo said. "It was an amazing experience. I'll carry these types of memories for the rest of my life. I just feel that I'm a normal person hoping to help in any way possible."