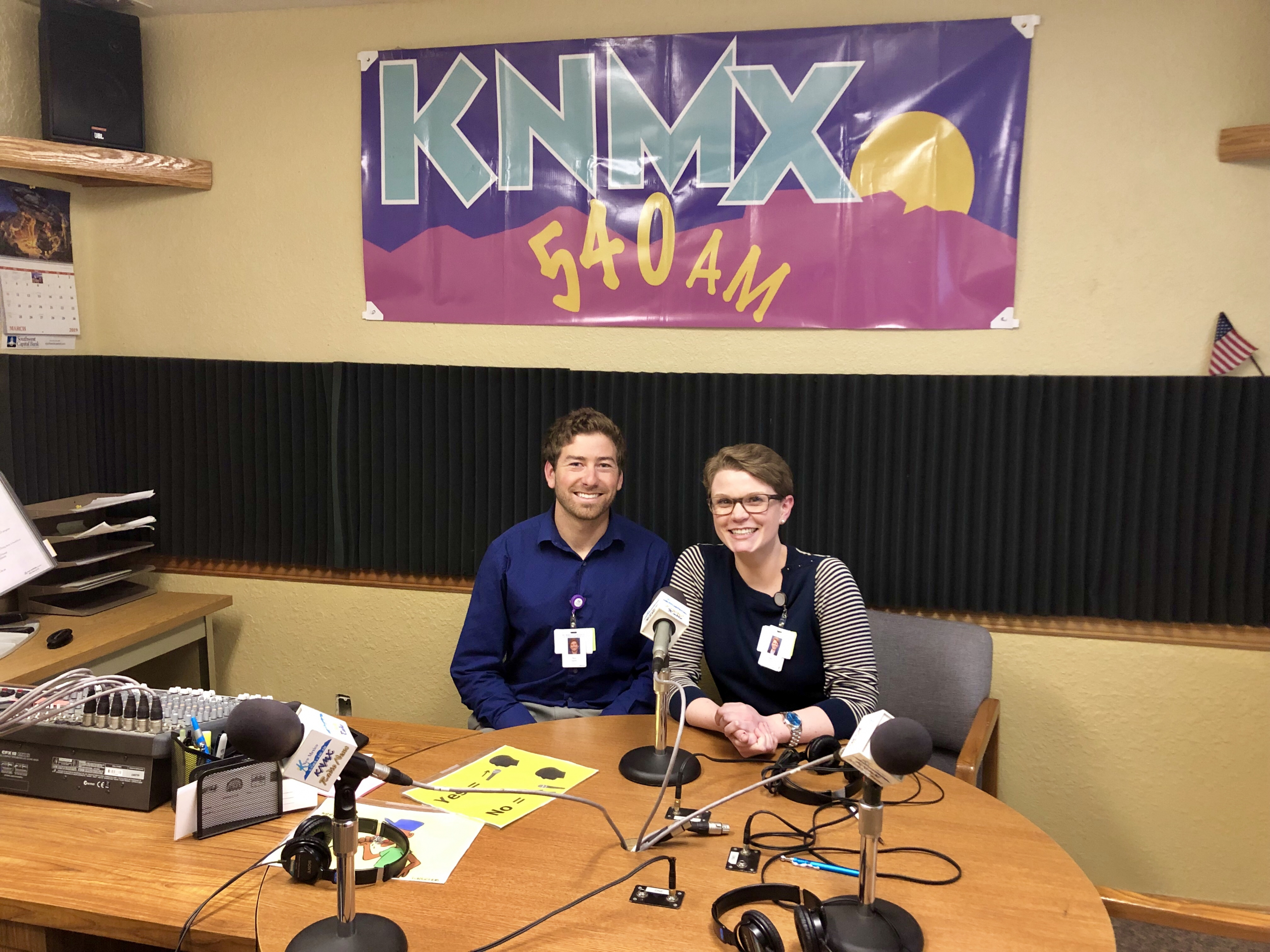 Third year medical students Abigail Etters and Max Jiganti recently completed clinical rotations in Las Vegas, New Mexico where they got a crash course in providing medical care in a rural setting and they were even invited to speak about their experiences on the radio airwaves. Etters just finished her pediatrics rotation under clinical preceptor Nancy Wright, MD, and Jiganti, rotated with OB/GYN Tracy Wilkerson, DO.
"Las Vegas and Alta Vista Regional Hospital allowed us to not only learn the medicine required for our respective rotations, but also to fully immerse ourselves in rural medicine," Etters said. "I learned how to take a patient's environment and access to resources into consideration, which is vital to improving outcomes for patients in a rural community. This is an area where practicing Osteopathic Manipulative Treatments (OMT) can be particularly useful, as it may be one of the few options for providing immediate relief for patients that travel a great distance to visit the doctor.
Once a week, Etters and Dr. Wright also visited the United World College USA to treat its students. "The campus was stunningly beautiful and I enjoyed meeting its motivated students from a variety of backgrounds," she said.
Jiganti said that the unique patient population and limited specialties and resources available outside a bigger city seemed to make provider interaction with patients much more critical. "This rotation was unlike any other in that I spent time with a wide array of physicians as the hospital was much smaller than I am used to," he noted. "Spending late nights in labor and delivery was most the memorable part of this rotation, as well as seeing critical patients in the emergency department with another great physician. I would tell other students rotating in Las Vegas to expect an experience different than what you have had in the major hubs, but overall appreciate how medicine is practiced in smaller towns so you can better understand patients from all backgrounds."
When Dr. Wright was invited to speak on the radio station KNMX 540 AM to promote vaccination and address community questions about chickenpox and measles, she invited the BCOM medical students to join her and speak to the listeners about what they are learning in their practice of rural medicine.
Jiganti said, "We initially discussed the importance of vaccines and eventually transitioned to the topic of our school and the students rotating with physicians in Las Vegas. We had a great time and emphasized the quality experience we had with Dr. Wilkerson and Dr. Wright during our month there."
Etters said, "Max and I enthusiastically participated in educating the community about BCOM and osteopathic medicine, and expressed gratitude for being welcomed so warmly to a rural area. Overall, we spent 30-45 minutes on the air with Dr. Wright and the radio host was extremely grateful to meet us and see us learning medicine in a rural area, where there is such a great need for medical care."