This month, BCOM students and faculty were out and about in the local communities, promoting health and wellness and lending a hand where needed.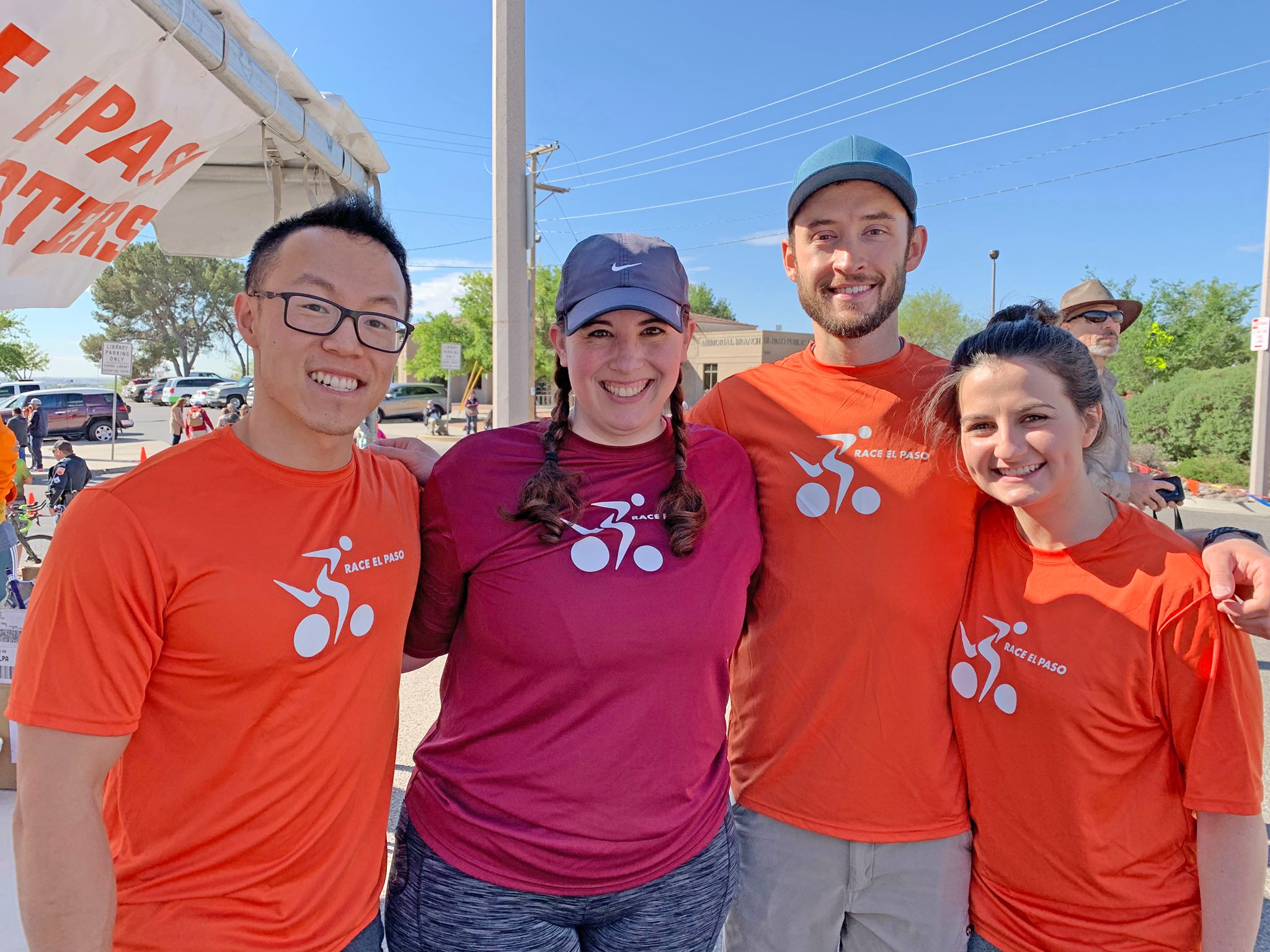 BCOM students Liang He Xue and Josh Quast volunteered with BCOM's Chair of Anatomy and Cell Biology Miriam Donohue, PhD, at the Mighty Mujer Triathlon in El Paso. Dr. Donohue is in charge of the swim portion of the Mighty Mujer, an all female triathlon that was started in 2010 to raise money for the Center Against Family Violence. Xue, Quast, and Quast's wife, who also volunteered, helped with set up and tear down for the event and actively encouraged participants to do their best.
"We had a wonderful time learning from Dr. Donohue about the medical dangers of participating in the triathlon and what to watch out for," Xue said. "I was also able to talk with the program director for the Texas Tech Sports Medicine/Family Medicine program during the event regarding sports medicine residencies and what he looks for in a candidate."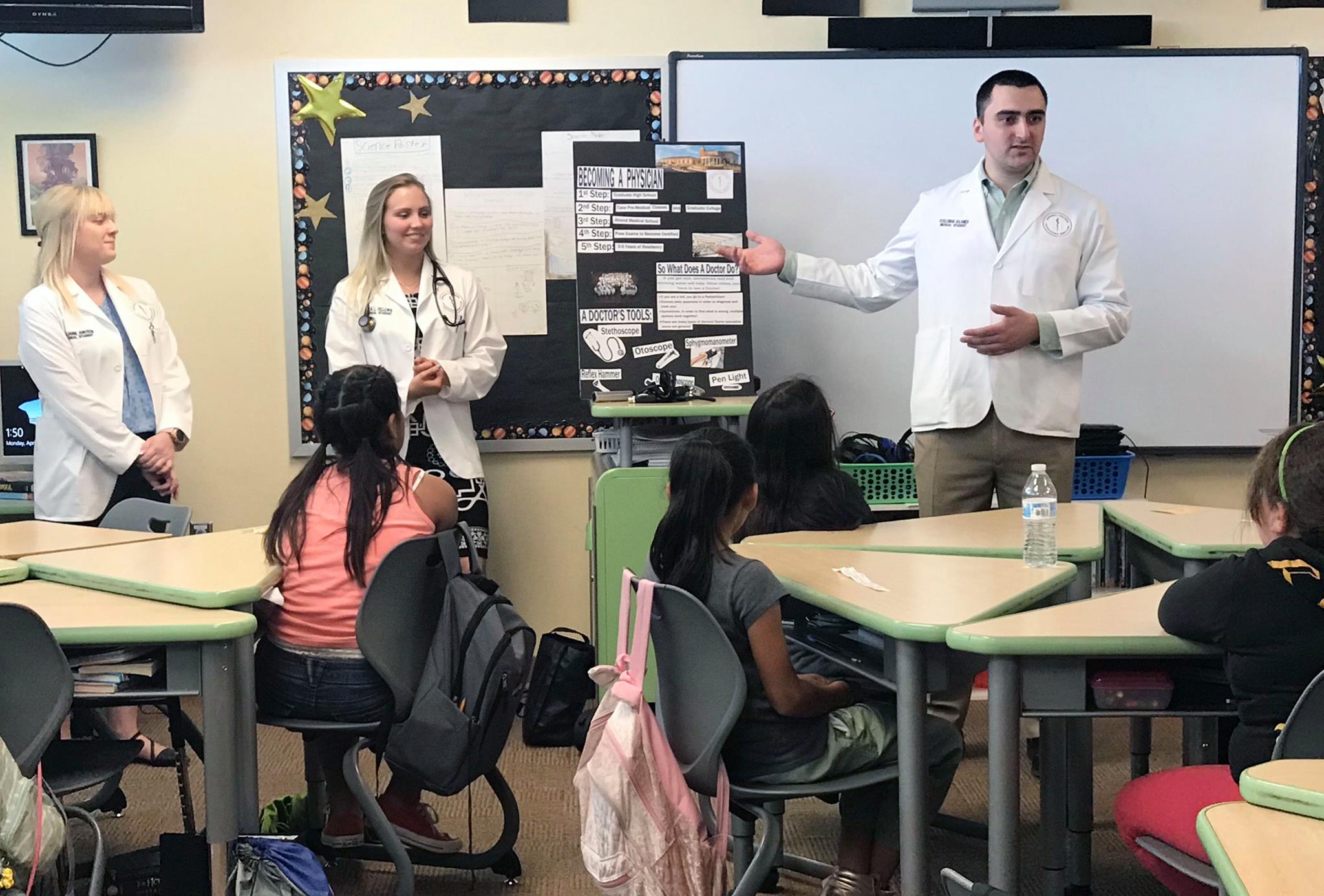 Three medical students volunteered to participate in Career Day at Monte Vista Elementary School. Because of their participation, as many as 80 third, fourth and fifth graders learned how to become a physician, what it's like to a be a doctor, and about the everyday tools used in the doctor's office. Thank you to Souleiman Salameh, Nikola Fellows, and Julianne Ankrom for taking time out of your busy schedules to encourage these youngsters to become physicians!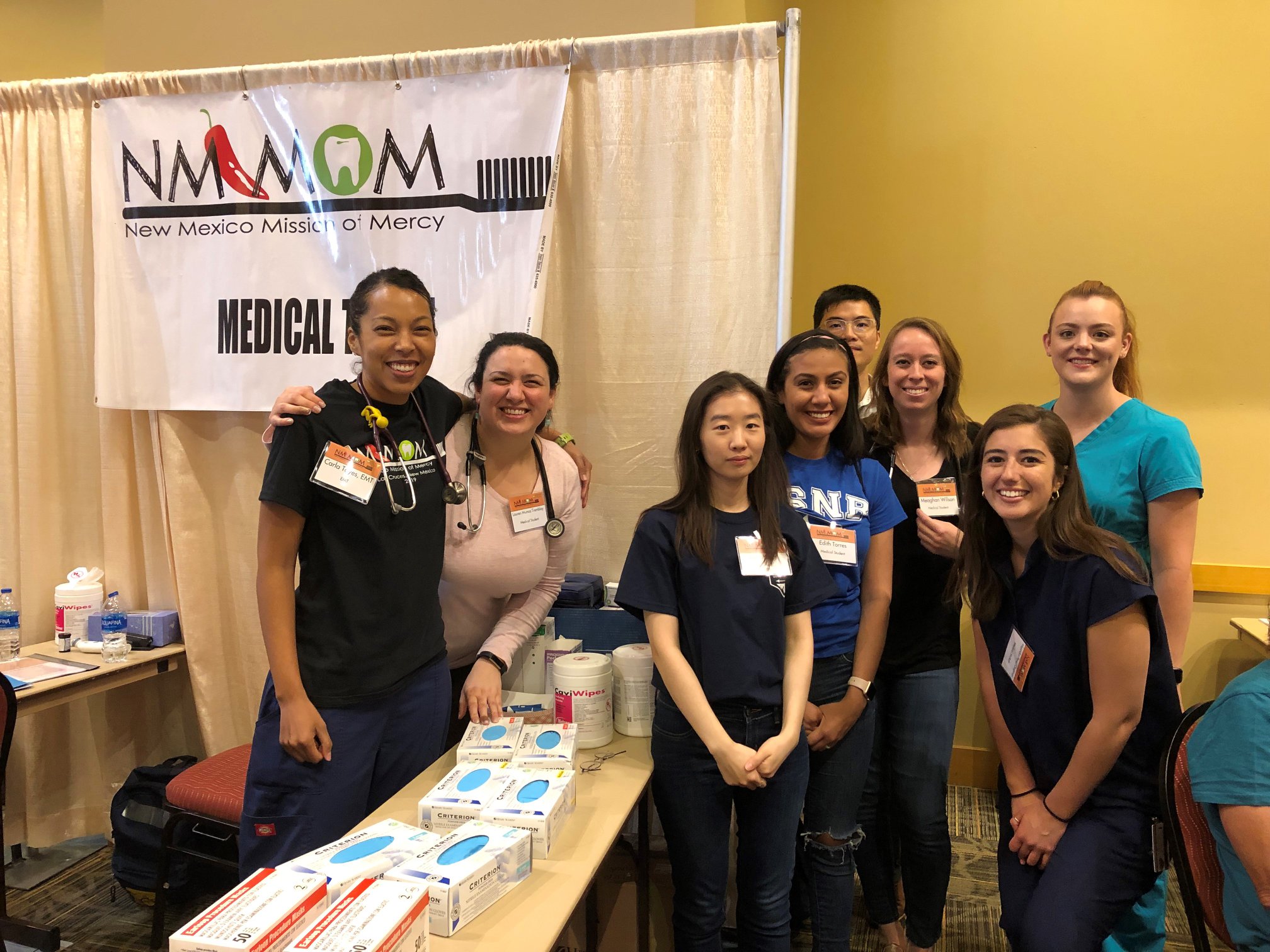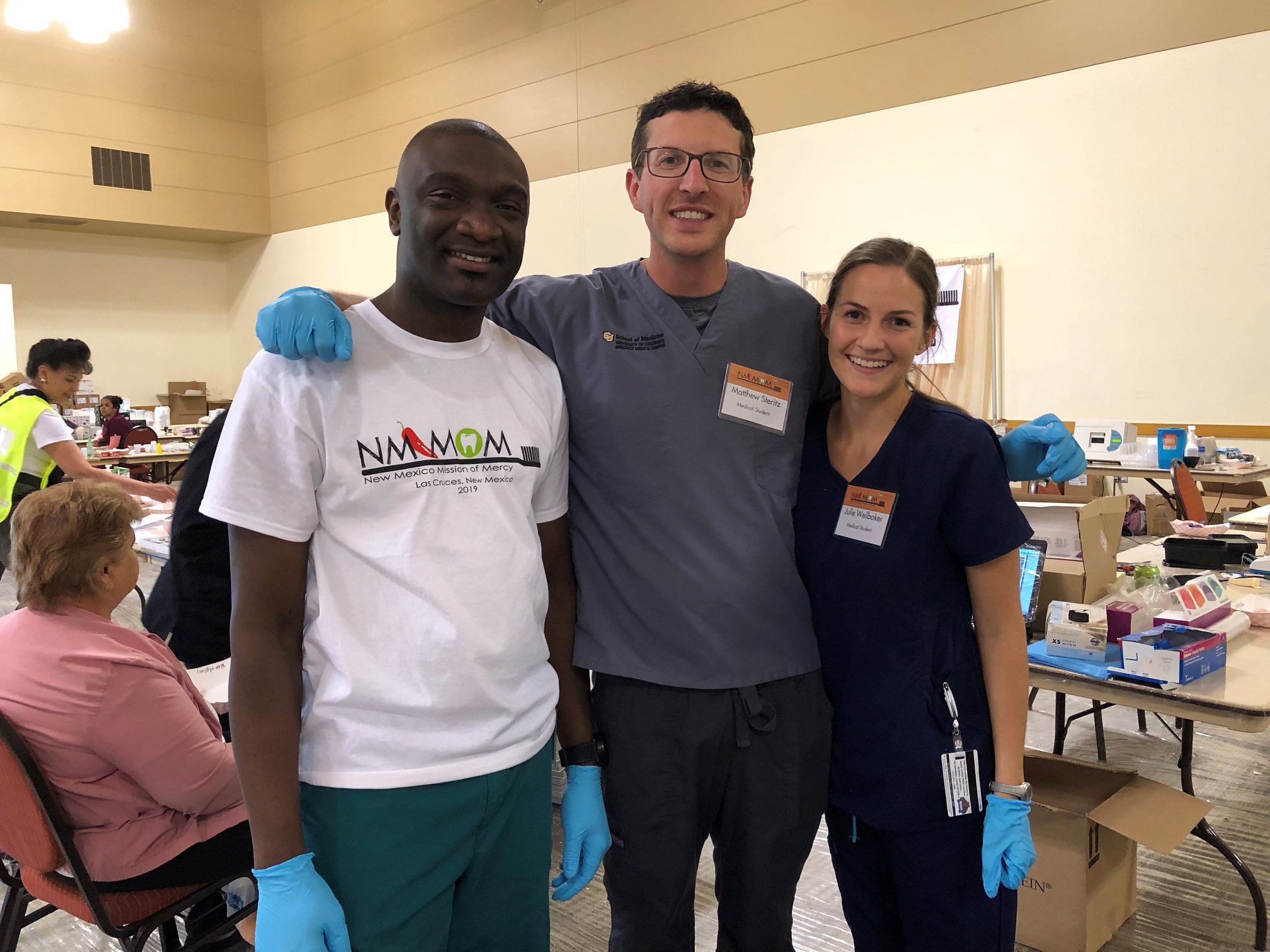 About 30 first and second year students volunteered at the New Mexico Mission of Mercy, along with BCOM Pediatrics Assistant Professor Joanne Ray, DO. The New Mexico Mission of Mercy is the states largest charity event, providing first come, first served free dentistry to thousands of New Mexicans. The program is a joint effort between the New Mexico Department of Agriculture and it's charitable arm, the New Mexico Dental Association Foundation. BCOM students helped by taking patient histories, gathering vital signs, checking blood sugar and sterilizing equipment. They also helped prepare and place impressions for dentures.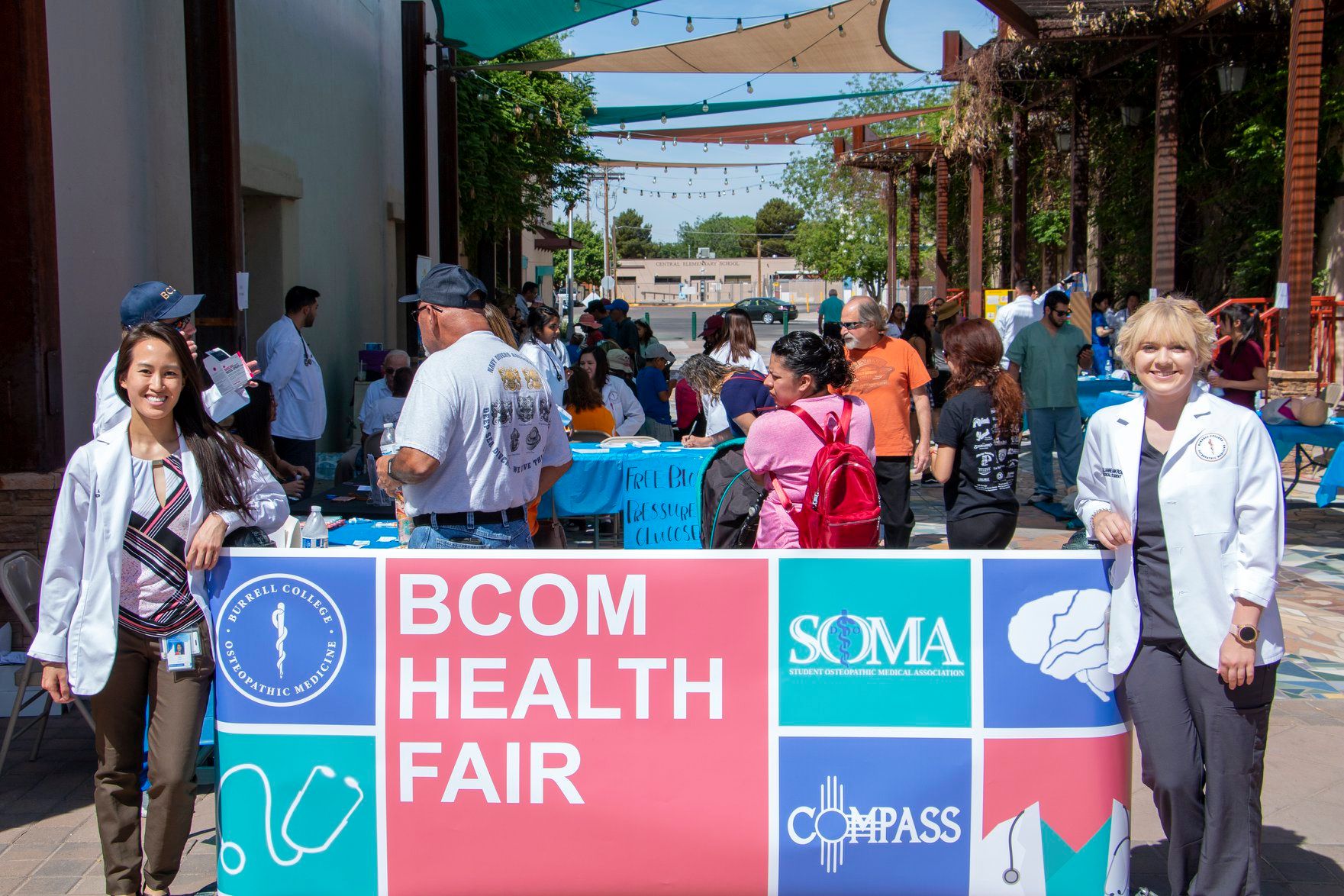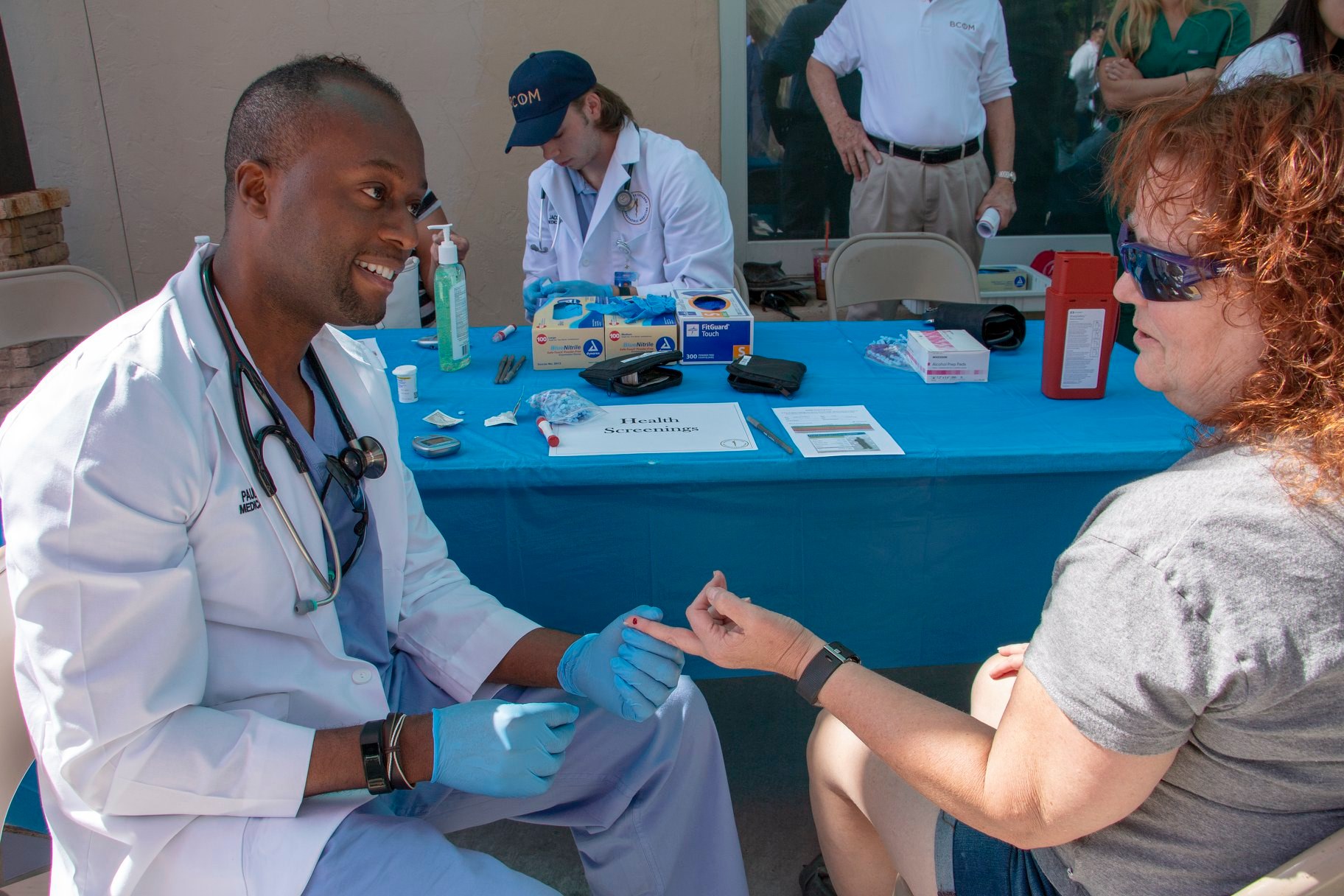 BCOM's chapter of the Student Osteopathic Medical Association (SOMA) and COMPASS, a community outreach organization, held their second annual health fair at the Farmers and Crafts Market of Las Cruces where they interacted with over 225 people, provided 150 free health screenings and trained 16 community members on how to use the opioid overdose drug, naloxone. This event was made possible by a $500 grant from the National SOMA organization that was awarded to BCOM SOMA and COMPASS.
BCOM SOMA President Amy Ngo said, "Despite the increasingly warm weather and being short-staffed of volunteers, we had a great turnout. Many first year medical students had their first interaction with real patients and were able to practice their skills in taking blood pressure and blood glucose. Third year medical students helped guide the first years and gave presentations on breast cancer screening. With gift card raffles, Brett the Bear, various BCOM clubs, and local organizations, the event was a big hit with the community!"