More than 150 new medical students will receive and don their first physician white coats at the 2019 White Coat Ceremony. The emotional event symbolizes a student's acceptance into medical school.
One hundred and sixty-two new medical students at the Burrell College of Osteopathic Medicine (BCOM) will receive and don their very first white coats at the 2019 White Coat Ceremony on Friday, July 26. The annual event is held to honor and welcome the college's latest class of medical students.
The White Coat Ceremony is a traditional rite of passage for entering medical students. The event signifies a student's acceptance into medical school and his or her commitment to compassionate patient care. After being robed with their first coats at the event, students will recite an oath acknowledging their dedication to patients. For those who cannot attend, the event will be live streamed at Facebook.com/bcomNM.
BCOM's Class of 2023 is made up of 82 women and 80 men. Thirty percent of the class members are considered underrepresented minorities, while nearly a quarter come from economically disadvantaged backgrounds. Twenty-three incoming students hale from New Mexico or El Paso County.
Bob Wingo, former CEO and president of Sanders\Wingo Advertising — a nationally renowned marketing firm — will deliver the ceremony's keynote address. The agency has created prominent marketing campaigns for Chevrolet, Mini USA, Burger King, State Farm and AT&T. Wingo, a member of the National Memorial Foundation board, has been invited to the White House twice for dinner with former President George W. Bush and cocktails with the Obamas.
The following are just a few of the unique students who make up the Class of 2023.
25-year-old C. Annette Reyes knows what it's like to be at the edge of life. At 16 years old, the homegrown El Pasoan's kidneys suddenly failed and she was diagnosed with chronic kidney failure. Despite dialysis treatments, Annette needed a kidney transplant to survive and live out a normal life. It was then that she was contacted by the Make A Wish Foundation to make a life-changing wish. Annette's selfless wish surprised many; the young woman opted to bring the first pediatric nephrologist to El Paso in order to help other children who are suffering from kidney problems.
Today, Annette holds a BS in Biology from the University of Texas at El Paso and an MBA from Texas Tech University. She says her life-threatening illness has provided "insight into the exasperation, fear, and vulnerability patients may feel" and believes the experience will help her empathize more with future patients.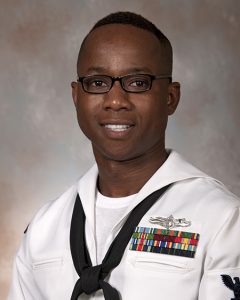 Originally from Haiti, Ezechiel Fenelon is fluent in French, Spanish, Haitian Creole and English. After immigrating to the U.S. in 2007, Ezechiel joined the U.S. Navy and became a Corpsman, or medical specialist. The opportunity took him to Djibouti, an East African country where medical care is limited and inaccessible to many. During his deployment, Ezechiel became President of the Friends of Africa Volunteers, where he earned more than 100 hours of volunteer time working on projects related to the environment, health and education in Djibouti communities. His community service efforts earned him a U.S. Presidential Volunteer Award.
Ezechiel holds an MPH from George Washington University and a BS in Biology from the University of Maryland. He says his experiences have taught him that "access to health care can radically change the trajectory of a person's life" and he is excited to contribute to the health care field as an osteopathic physician.
Erika Rios-Casillas is eager to take her experience in health care to the next level. For the past 10 years, Erika has worked at Casa de Salud, a clinic for low-income and marginalized populations in Albuquerque, New Mexico. Erika, who is fluent in Spanish, worked directly with patients assessing vital signs and conducting mental health screenings. As a clinical supervisor, she also managed and trained a team of more than thirty volunteer health workers to take medical histories, draw blood, perform electrocardiograms and prepare for procedures.
Erika holds a BS in Biology from the University of New Mexico; she also completed the University of California, San Diego's Pre-Medical Post-Baccalaureate Program. She says her experience at Casa de Salud has taught her the importance of respect, humility and patient advocacy — no matter the patient's background or history.