BCOM's chapter of the American College of Osteopathic Pediatricians (ACOP), aka the Pediatrics Club, is one of the best in the nation. Twice in the past three years, they have been recognized by ACOP as the National Student Club of the Year. We spoke with chapter president Regina Im to find out what sets the BCOM club apart and what they have planned for the upcoming school year. Thinking of joining? You don't have to be planning a career in pediatrics to get involved.
What types of activities does the ACOP club engage in?
ACOP hosts and participates in quite a few volunteering activities that engage with the community and the school. Two of the biggest events that we host are Fall Festival in the fall and Trivia Night in the spring. The Fall Festival aims to involve the Las Cruces community with the BCOM campus and give children in the community the opportunity to experience a Mini Med School event. Mini Med School is an event that we take to elementary schools to teach children about the human body.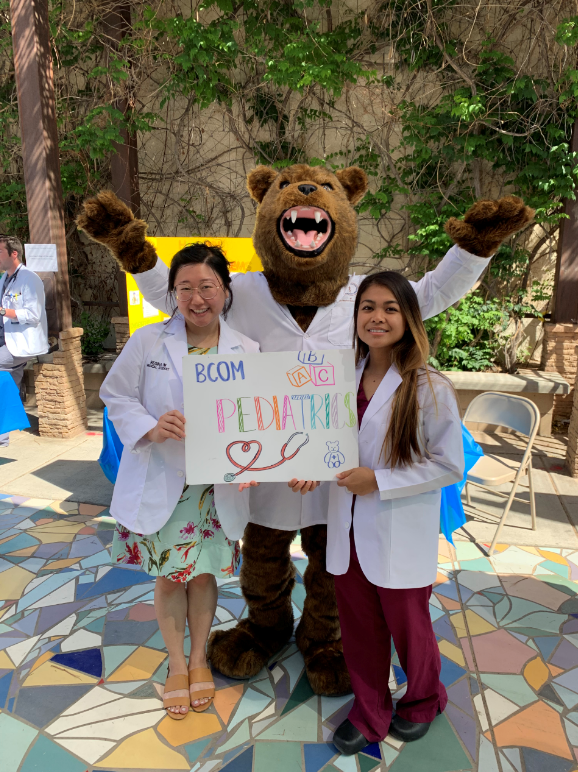 Trivia Night is a delightful and interactive fundraising event. Last year, over 50 BCOM students came out to Salud! de Mesilla where we raised over $230 that we donated to Jardin de los Ninos, a local organization that provides early childhood education, therapeutic intervention, and comprehensive services to homeless and near homeless children, from the ages of six weeks to 10 years, and their families.
Throughout the year, we also collaborate with other school organizations such as the Student Osteopathic Surgical Association (SOSA), the Student Osteopathic Medical Association (SOMA), and COMPASS to participate in health fairs at the downtown farmer's market. Most of the activities that we do are volunteer oriented!
Why should students join the club?
It's a great way to meet the community and get some fun/quick service hours in. We rotate around various elementary schools, so you'll get a lot of personal interactions with the kids. Basically, it never feels like you're volunteering because you'll have a lot of fun. And you don't have to want to become a pediatrician to join! We have many non-members that volunteer regularly because they just enjoy our events.
When/where are your meetings?
Meetings are held about once a month on the first floor of campus. If you join the email list, you'll be notified of upcoming meetings and what room.
What does someone need to do to join?
If a student decides to join, they can fill out an application. If they enjoy and wish to stay and become full National members, there are one time fees they can pay. You can join at any point of the school year.
For more information: www.acopeds.org
Advisor: Dr. Scott Cyrus | scyrus@bcomnm.org
President: Regina Im | regina.im@mybcom.org
You've been named best ACOP chapter in the nation twice. What sets you apart from other clubs around the country?
Compared to other ACOP chapters, we put in a lot of hours with the children and promote relevant health education activities, such as those recognizing bullying and mental health. This upcoming year, we will be focusing on health disparities and collaboration.