The Burrell College of Osteopathic Medicine (BCOM) made big strides in its mission to improve health care in the Southwest with the launch of the Jemez – Pathways for Advancing Tribal Health (J-PATH) program. This mentorship initiative is aimed at encouraging the youth of Jemez Pueblo to pursue careers in health care, and to seek some form of higher education. The ultimate goal is to develop and train allied health professionals within the tribal communities, and to introduce BCOM medical students to rural medicine and encourage them to practice medicine in underserved communities.
Adela Lente, MD, is one of only a handful of female, Native American surgeons practicing in the country. She's also a BCOM professor and one of the five faculty and staff members who founded the J-PATH program.
"Ultimately, we hope this program results in more Native physicians. The population in New Mexico has a lot of Native Americans, but the population of Native American physicians is less than 1 percent," she said. "Indian Health Services just circulates physicians through for two to three years at a time to pay back their loans. The tribal members never get to build a relationship with their physician. If young people from these pueblos get their training and come back, no one has to worry if they're going to cycle through—this is their home. They know the language, they know the culture, and they know how to interact with patients."
The Pueblo of Jemez is located in north-central New Mexico, approximately 50 miles northwest of Albuquerque. It is one of the 19 federally recognized pueblos in the state, and is home to over 3,400 tribal members.
"Through my experience working with representatives and officials from the Pueblo of Jemez, I selected it as the site for the pathways program because this pueblo has been very effective at maintaining its traditional culture, language, and community, while at the same time maximizing western education," explained Justin McHorse, BCOM's Assistant Vice President for Multicultural Inclusion and another J-PATH program founder. "We thought this would be the ideal place to initiate this program because they have the community support as well as the infrastructure in place to realize this program and sustain if for the long term."
J-PATH officially launched in July 2019 with the founders and nine BCOM medical students traveling to Jemez Pueblo to interact with 20 young tribal members ranging from high school freshman to a college sophomore. The group toured the pueblo and attended presentations on Native culture, sustainable living and traditional foods. The Jemez students then traveled to Las Cruces where they spent a day on the NMSU campus and another day at BCOM.
"This is a true pathway program," McHorse said. "It was just as important for our BCOM students to experience the Native community as it was for the Jemez students to see the medical school."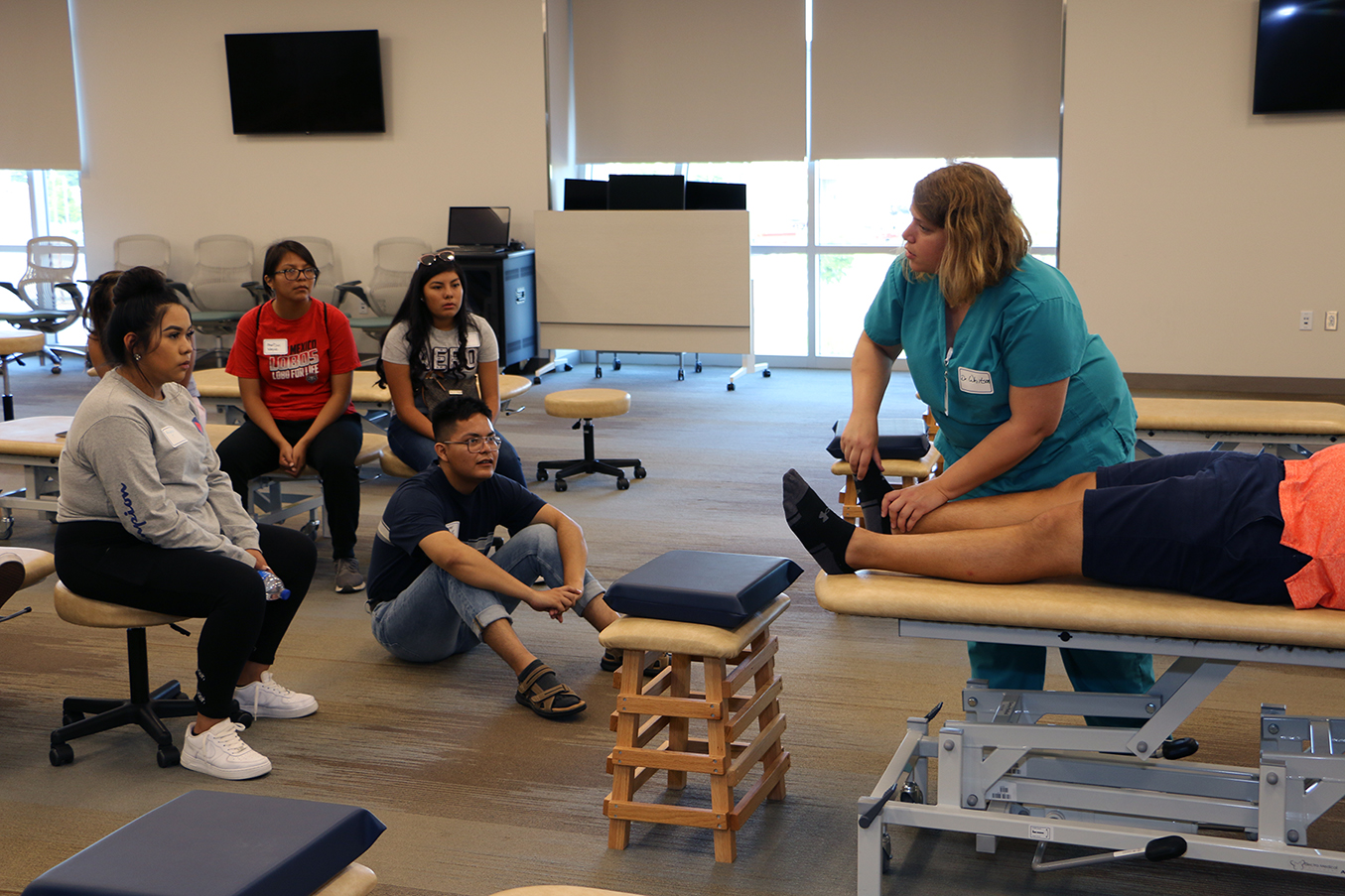 At BCOM, the students toured the campus, learned about medical practices like suturing and osteopathic manipulative medicine treatments, and got an inside look at the anatomy and simulation labs. They were also able to interact with the medical student mentors who answered questions and provided advice on excelling in their studies and reaching goals.
"Our medical students are our secret sauce," said BCOM professor and J-PATH founder Richard Selinfreund, PhD. "The Jemez students are really bonding to them. They look like they are the same age and the younger students relate to them. They will make this program succeed."
Before medical school, BCOM student Gary De Leon was a coach and teacher. He got involved with J-PATH because he wanted to open the young students' eyes to the opportunities available to them. He said that seeing the looks on the teenagers' faces has made it a worthwhile experience.
"And the visit to Jemez was amazing," De Leon added. "We got a look at some of their sustainable living practices, so we kind of started out in the past at the beginning of the week, then came down here to BCOM and saw what the future can be. It's an experience I won't forget."
Many of the J-PATH students said that learning about anatomy and seeing BCOM's high-tech teaching tools were the highlights of the week. Some are already considering careers in the health care field. Others said they are still undecided, but that the program had convinced them to pursue higher education. One student said the most important message he was taking away was to simply, "Do your best in everything you do."
Kristyn Yepa, public health program manager for Jemez Pueblo, said the feedback she's been getting from the students has been positive and that many of them are more determined to keep up their grades in high school.
She said, "The ultimate outcome would be for many, if not all of them, to go to college and find a career they are passionate about. If they do pursue medicine, it would be great if they also became a Burrell student and then came back to be an asset to their home community."
Growing up, Dr. Lente never saw a Native American physician, so she wants this new generation to see there are no limits to what they can accomplish. "Just seeing a Native physician would have been an inspiration, but on top of that, seeing students who went on to higher education. My life would have been a lot easier if I had just an idea of what direction to take to get into medicine," she said.
Chester Otero is in his second year at the University of New Mexico. He's considering going into nursing. He found the J-PATH experience helpful as he begins to explore what direction he wants to go in life. "We had these presenters saying that you can go into medicine, but it doesn't have to be traditional medicine. We can try to incorporate things we enjoy, like art or music, into treatment. Music has been a part of my life for a long time and I kind of just discovered medicine recently, so I'd like to be able to do both somehow."
Jeremiah Powless, education services manager for Jemez, is hoping other students come back with mindsets like Otero's. He believes that incorporating their native language and culture into medicine will have a huge impact on the pueblo communities. "There are words and phrases that have no English interpretation," he explained. "These kids have the ability to help in a way that other physicians won't be able to. So it's really exciting to see a program like J-PATH develop and show these students what's possible in the medical field and the steps they can take to get there."