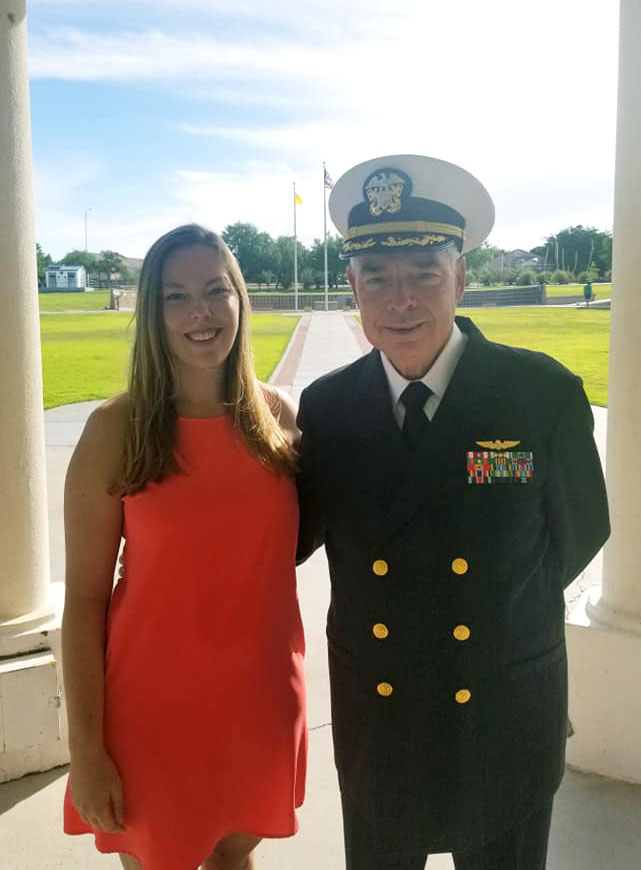 First-year medical student Caitlin Cooley was commissioned into the U.S. Navy on Saturday, Aug. 10. As part of the commissioning, Cooley will receive the Armed Forces Health Professions Scholarship Program (HPSP), a national program that assists with tuition and fees for medical school.
After earning a D.O. and graduating with the Class of 2023, Cooley will be promoted to lieutenant and will serve on active duty for four years.
"I grew up as a 'Navy Brat,' going to volleyball camp at the Naval Academy, hanging out with the Blue Angels and going to their shows — my father was their optometrist — and most of my family friends are Naval physicians," Cooley says. "When it came time to apply to medical school, it was a no-brainer for me to also apply for the Navy HPSP scholarship; I wanted to continue that legacy."
Cooley was born in Estes Park, CO, but has moved every three years as a child of the navy. Her past homes include, Pensacola and Jacksonville, Florida, Lemoore, California, and Oak Harbor, Gig Harbor and Seattle, Washington.
She became inspired to be a physician after shadowing a cardiothoracic surgeon in college. "He made sure to stress the importance of putting patient care first, sitting with patients before surgery and answering every question they had until they were comfortable and prepared for what lay ahead," Cooley says.
Now Cooley hopes to follow in the same path and one day become a surgeon herself.
Cooley holds a bachelor's degree in biology from the University of Washington in Seattle and master's degree in biomedical sciences from the University of Northern Colorado in Greeley, CO.