[vc_row][vc_column][vc_column_text]
More than a third of the graduating physician class will remain in the Texas, New Mexico and Arizona regions, helping to address the dire physician shortage in the Southwest.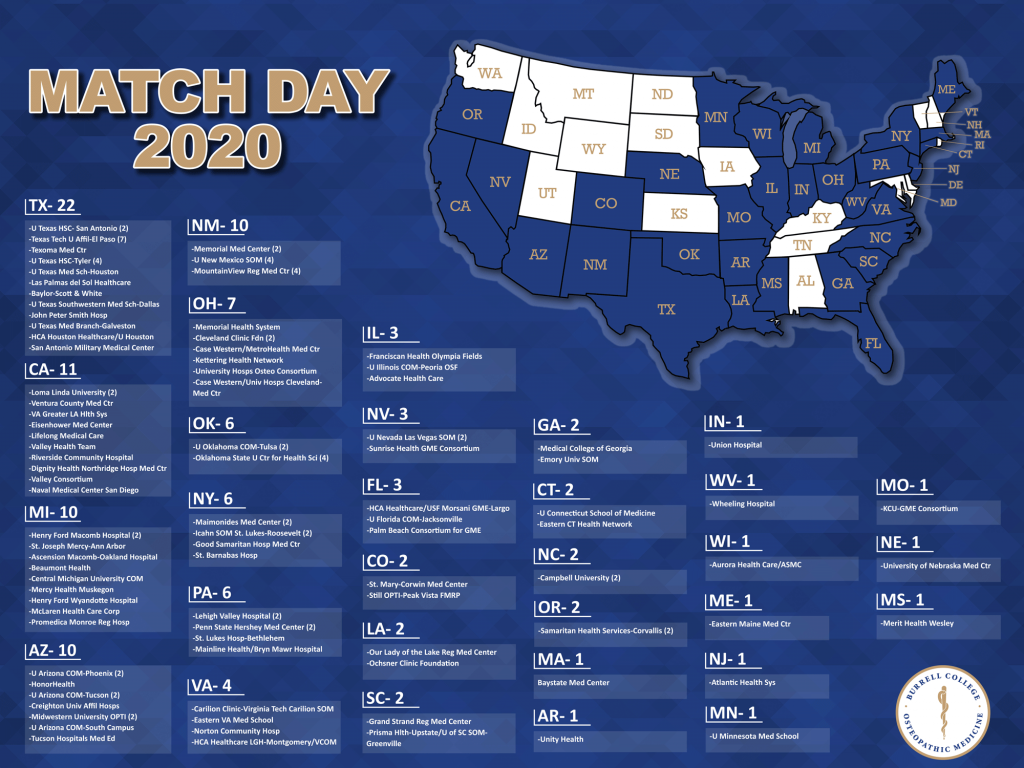 Las Cruces, NM. – On Friday, March 20, more than 120 graduating physicians at the Burrell College of Osteopathic Medicine learned where they will first practice as doctors and complete the next phase of their medical training.
"I am incredibly proud of this very first class and their match results," says Don Peska, DO, dean and chief academic officer of the Burrell College. "The caliber of their match results is a true testament to their hard work and perseverance during these last four years of medical school. My sincere congratulations goes out to all of them."
The Class of 2020 applied to residency programs throughout the country. Matches included multiple prestigious placements, such as dermatology at Honor Health in Phoenix, AZ; orthopedic surgery at the University of South Florida in Tampa, FL; general surgery at the Cleveland Clinic South Pointe in Cleveland, OH; radiology at the University of Nebraska Medical Center in Omaha, NE; neuromusculoskeletal medicine at St. Barnabas Hospital in New York, NY; internal medicine at the Ochsner Clinic Foundation in New Orleans, LA; family practice at Emory College of Medicine in Atlanta, GA; anesthesiology at Baylor Scott & White in Temple, TX; and emergency medicine at the UT Southwestern Medical Center in Dallas, Tx.
More than a third of the class — or 41 doctors — will remain in the Arizona, New Mexico and Texas regions, helping to address the shortage of physicians in the Southwestern U.S.
Many graduates will remain close to home, pursuing their residencies at Las Cruces' Memorial Medical Center and MountainView Regional Medical Center; Albuquerque's University of New Mexico Health Science Center; and El Paso's Paul Foster School of Medicine at Texas Tech University Health Science Center.
"These outstanding results attest to the mission and vision of the Burrell College of Osteopathic Medicine. To know that we are putting 41 physicians back into our communities is tremendous," says John Hummer, president of the college. "We established this medical school to improve health and wellness within our region. I am confident these 41 physicians will make a positive impact and that the Burrell College will play a key role in addressing the physician shortage for years to come."
Hummer adds, "Our goal is to maintain strong ties with our alumni, especially those who matched with residencies outside of our mission region, and encourage them to pursue future opportunities in our mission area upon the completion of their residency."
The following are some additional highlights from the Class of 2020's match results:
18 graduating physicians will receive their residency training in the cities of Albuquerque and Las Cruces, NM and El Paso, Texas.
27 graduating physicians will pursue family medicine, a physician specialty that is critically low in the U.S.
14 graduating physicians will pursue emergency medicine, serving on the frontlines of health care in emergency rooms and departments.
Burrell College graduates matched and will pursue residencies in the following specialties after graduation:
Anesthesiology
Dermatology
Emergency Medicine
Family Medicine
Internal Medicine
General Surgery
Neurology
Neuromusculoskeletal Medicine
Radiology  
Ophthalmology                               
Urology
Obstetrics and Gynecology
Pathology
Pediatrics
Psychiatry
Orthopaedic Surgery
Physical Medicine & Rehabilitation
Media Contact: Nadia Whitehead, nwhitehead@bcomnm.org.
About the Burrell College of Osteopathic Medicine:
Located in Las Cruces, New Mexico, the Burrell College of Osteopathic Medicine was established in 2013 to improve the health of the Southwestern U.S. and Northern Mexico. The four-year, private osteopathic medical school is student-centered, utilizing the latest medical education technologies and methods to ensure student success in all fields of medicine — from primary care to subspecialties like surgery, anesthesiology and emergency medicine. BCOM is a freestanding college with clinical training locations in New Mexico, El Paso, TX and Tucson, AZ. Learn more at bcomNM.org.
###
[/vc_column_text][vc_raw_html]JTNDaWZyYW1lJTIwd2lkdGglM0QlMjI2NTAlMjIlMjBoZWlnaHQlM0QlMjIzNjYlMjIlMjBzcmMlM0QlMjJodHRwcyUzQSUyRiUyRnd3dy55b3V0dWJlLmNvbSUyRmVtYmVkJTJGaExSWS05STg4T2slMjIlMjBmcmFtZWJvcmRlciUzRCUyMjAlMjIlMjBhbGxvdyUzRCUyMmFjY2VsZXJvbWV0ZXIlM0IlMjBhdXRvcGxheSUzQiUyMGVuY3J5cHRlZC1tZWRpYSUzQiUyMGd5cm9zY29wZSUzQiUyMHBpY3R1cmUtaW4tcGljdHVyZSUyMiUyMGFsbG93ZnVsbHNjcmVlbiUzRSUzQyUyRmlmcmFtZSUzRQ==[/vc_raw_html][/vc_column][/vc_row]