A group of students and faculty attended the 2020 American Academy of Osteopathy Convocation in early March (prior to the COVID-19 pandemic). In addition to sitting in on educational lectures and hands-on workshops, Burrell College students competed and placed in two of the national competitions.
Second-year medical student Nikola Fellows won first place in the Case Study category of the Research Poster Presentation Competition. Fellows' poster, "An Irregularly Fast Approach: Osteopathic Treatment of Inappropriate Sinus Tachycardia," described how osteopathic manipulative treatment helped alleviate symptoms of tachycardia, a fast heart rate, in a 17-year-old patient.
"This specific case was one that meant a lot to me and one I was very intrigued by," Fellows says. "It was extremely exciting to see the knowledge I have gained at Burrell College put to use, as I learned why and how treatment worked for this particular patient."
Fellows' placement in the competition came as a complete shock to her. "I feel like a lot of medical students face daily doubts about themselves and their own capabilities," she explains. "Going into this competition, for example, I had no idea I was capable of placing on a national scale. When they announced my name as the top finisher, I finally felt that moment of belonging in this career path."
Fellows received both a trophy and cash prize for winning. She is grateful to her project mentor, Adrienne Kania, DO, who serves as an associate professor of clinical medicine at the college.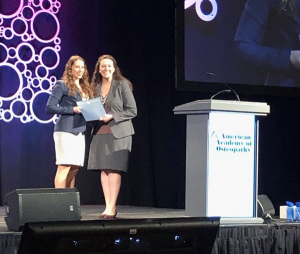 First-year medical student Juliana Young won second place in the A. Hollis Wolf Competition for her five-minute presentation "Take a Deep Breath." The goal of the competition is for students to demonstrate appropriate understanding of osteopathic principles for a specific patient case; this includes explaining appropriate diagnosis and treatment.
Young presented on a 59-year-old male with COPD who was treated with osteopathic manipulative medicine (OMM). She received a cash prize for her presentation as well as a free 6-month subscription to COMBANK, a tool that helps students prepare for the COMLEX exam.
"As a first-year competing mostly against third- and fourth-year students, I felt extremely grateful to have had the opportunity to compete and exhilarated to have won," Young says. "The competition allowed me to further my knowledge of OMM and network with osteopathic physicians and students from around the country."
Young is also grateful to Dr. Kania for preparing her for the national competition.
Second-year medical student Jennifer Orellana also presented a poster at the conference, describing her summer research at Burrell College. Her poster was entitled "Anti-inflammatory Effect of Osteopathic Manipulative Treatment and Transcutaneous Auricular Vagus Nerve Stimulation."