This May, four Mayfield High School seniors were awarded the inaugural Student National Medical Association (SNMA) Rising Diversity Scholars Scholarship. Established by Burrell College medical students in the SNMA, the scholarships assist new graduates with tuition and other educational expenses as they transition from high school to college.
Burrell College's SNMA chapter has been volunteering with students in Mayfield's Engaging Latino Communities for Education (ENLACE) program for the past year. ENLACE works with first-generation Hispanic students, as well as other minorities, and is designed to enhance students' academic success, graduation rates and the transition to higher education and future careers.
"We established the SNMA Rising Diversity Scholars Scholarship to help encourage local Las Cruces teens," says Sidra Ali, president of the SNMA. "The transition from high school to college is not easy and we hoped that by giving out these awards, we can not only show the students that we have faith that they can achieve great things, but they don't have to worry about getting things like their meal plan or a computer."
To be considered for the scholarship, high schoolers were asked to submit an essay about a structural barrier that affects them, or someone they know, and describe how they have helped, or will help, overcome the barrier. Multiple essays were submitted to SNMA, but only four awardees were ultimately selected. This year's recipients are:
Armando Aguilera
Major: Art and Animation
School: Dona Ana Community College
What he will use the funds for: This money would help me with supplies and any other educational tools that I need to accomplish my goals.
Nevaeh Melendrez
Major: TBD
School: New Mexico State University
What she said in her application: My family lives paycheck to paycheck and every little bit helps. It would be a true blessing to receive this scholarship, knowing it would help not only me, but my family as well.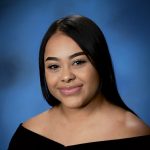 Meagan Olivas
Major: Criminal Justice
School: Dona Ana Community College
What she will use the funds for: If I win this scholarship, I know that I would use it wisely and that everything would go towards school. It might not be a lot of money, but everything helps to get my future started.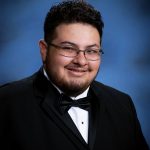 Alexis Villicana
Major: Architecture
School: Dona Ana Community College
What he will use the funds for: I plan to use the scholarship to pay for my tuition for school so that I can pursue my architecture dream.
SNMA leadership hosted a Zoom recognition ceremony with the recipients and their families on May 12.
SNMA raised a total of $1,200 for the Rising Diversity Scholars and each scholar will receive $300. Funding was raised over the course of three months and included a Valentine's Day raffle and donation-based yoga session.