The Burrell College of Osteopathic Medicine's official Match Day is a month away, but for a few students in the Class of 2021, match results have already arrived.
Match Day is a rite of passage for medical students in the United States. In the final year of medical school, all students decide on a specialty to pursue and residency programs where they hope to train. Students then submit an application to be interviewed for a resident position at their selected residencies.
Ultimately, medical students will not be able to choose which program they will pursue after graduation — a computer algorithm determines for them. Students rank their residency program preferences; at the same time, the training institutions rank which students they would most like to have as residents. The matching process is then finalized by the National Residency Matching Program (NRMP).
For most medical students, match results are disclosed on Match Day, held annually on the third Friday of March. However, for students who are in the military or who match into certain training programs (neurosurgery, ophthalmology, urology, or neurology), match results are often divulged in advance.
The following students in the Burrell College of Osteopathic Medicine's class of 2021 have received early match results. Please join us in congratulating these hardworking students on their placements.
Adam Haley
Specialty: Psychiatry
Institution: Navy Medical Center Portsmouth
Location: Portsmouth, Virginia
Adam Haley holds a bachelor's degree in chemical engineering from the Colorado School of Mines in Golden, Colorado. Prior to pursuing medicine, Haley served as a Force Reconnaissance Marine. It was his experience on combat deployments, often traumatic, that inspired him to pursue psychiatric medicine. "I choose to stand by those still waging war in their minds, those still struggling to find peace from past trauma, and anyone whose mind suffers in silence," says Haley.
Haley chose to pursue PGY1 at Navy Medical Center Portsmouth because NMCP sees the highest numbers of psychiatric patients out of all the military training sites and will ensure a deeper level of experience and more rounded training during his time as a resident. NMCP's Psychiatry Residency Training program is a highly respected program that offers a wide range of opportunities to learn, including inpatient care, consultations, intensive outpatient care, and residential rehabilitation services. Haley directly credits the Burrell College of Osteopathic Medicine for helping establish the mindset and knowledge needed for success as a medical student and medical professional. Haley expresses his deep gratitude toward every member of Burrell College, but he specifically noted the following faculty and staff for their dedicated efforts toward his success: Dr. Donohue, Dr. Funk, Dr. Woods, Dr. Melendez, Dr. Mychaskiw II, Vanessa Richardson, Brett Newcomer, and Dan Schneider and his family.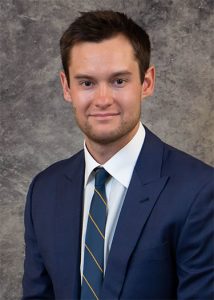 Tyler Tumey
Specialty: Urology
Institution: UT Health Science Center San Antonio
Location: San Antonio, Texas
Tyler Tumey graduated with his bachelor's degree in Microbiology from the University of Wisconsin-Madison. Tumey is very eager to begin his residency program, looking forward to training in robotic surgery for treating urologic malignancies like prostate and kidney cancer. He expects to find great friends and resources in his co-residents and faculty members at UT Health Science Center San Antonio (UTHSCA). The Urology Residency Program at UTHSCA is a prestigious program that onboards a selective number of residents each term, training them in a broad spectrum of Urology, from pediatrics to geriatrics.
Tumey is very appreciative of the support that the Burrell faculty has shown him during his time at the college, such as assisting him in developing personalized study schedules for his board exams. "Burrell College has also supported me when seeking out urology preceptors who have greatly furthered my knowledge of the field and aided my residency applications. I am motivated to use what I have learned in both the classroom and hospital during medical school to help urologic patients have better outcomes," says Tumey. Tumey would like to offer his advice and support to any current medical students considering specializing in Urology and would like to extend his sincere thanks to Dr. Manger, Dr. Comstock, and Dr. Henderson for helping him further his surgical skills.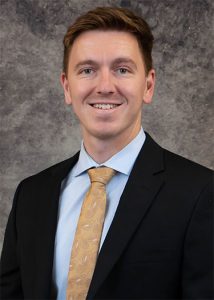 Tyler Wilson
Specialty: Internal Medicine
Institution: UC Davis Medical Center/David Grant USAF Medical Center
Location: Sacramento, California/Fairfield, California
Tyler Wilson graduated from California State University in Monterey Bay with a bachelor's degree in biology with an emphasis in pre-medicine. He will be pursuing internal medicine at UC Davis Medical Center, with a portion of his residency to be completed at David Grant USAF Medical Center (DGMC), a hospital partnership with UC Davis located in Travis Air Force Base. UC Davis Medical Center is a nationally ranked hospital and DGMC is the U.S. Air Force's largest medical center. The Internal Medicine Residency Program trains physicians in treating patients with many complex medical conditions, to prepare residents to pursue an array of careers from rural primary care to clinician-education.
Wilson is looking forward to moving closer to family and friends that will provide him with a strong support system during his residency training program. Wilson credits the community of Burrell College for consistently supporting him. "My fellow classmates and professors were always there to help explain confusing pathophysiology, pharmacology, anatomy, etc., to me which will be very important to understand the science behind my future sick patients. But at the same time, Burrell has also instilled the other aspect of medicine, caring for the human side of patients, through their specialized lectures, volunteer events, and on-campus clubs," Wilson says. Wilson is also extremely thankful for his fellow classmates who helped him get through the tougher parts of medical school by setting aside time to explore Las Cruces' local national parks, dine out at a local restaurant, or hit the nearby slopes to snowboard.
Burrell College Dean, Bill Pieratt extends his congratulations to Mr. Haley, Mr. Tumey, and Mr. Wilson. "Congratulations to our Burrell College OMS-IV students who recently secured residency positions through the early matches for urology and military programs. Residency match is a major milestone for our future physicians, and it's great to see these students rewarded for their hard work, perseverance, and academic success. I know they will be tremendous ambassadors of Burrell College as they enter the next phase of their training following graduation, and we look forward to following their careers going forward," says, Pieratt. We are incredibly proud of our medical students and look forward to celebrating their many future successes to come. We also eagerly anticipate celebrating the Match Day results of the rest of the Class of 2021 on the nineteenth of March.