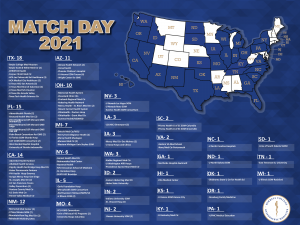 Las Cruces, NM. – On Friday, March 19th, 136 physicians at the Burrell College of Osteopathic Medicine discovered where they will first practice as doctors and carry out the next chapter of their medical education after graduation.
"We are extremely proud of the Class of 2021 and their Match results," says Burrell College Dean Bill Pieratt. "Match Day is special as it not only marks the hard work and accomplishments that got our students to this point, but also provides a clearer picture of the future and the next step of the journey to becoming a practicing physician."
The Class of 2021 submitted applications to residency programs across the nation. Matches included numerous respected Matches, such as urology at University of Texas Health Science Center in San Antonio, TX; emergency medicine at St. Barnabas Hospital in New York City, NY; orthopaedic surgery at University of Washington Affiliated Hospitals in Seattle, WA; neurology at Baylor College of Medicine in Houston, TX; and Internal Medicine/Pediatrics at Louisiana State University Health Science Center in Shreveport, Louisiana.
About one-third, 43 doctors — will remain in Arizona, New Mexico, and Texas, helping to alleviate the physician scarcity in the Southwestern U.S.
Many graduates will stay and train closer to home, pursuing their residencies at Las Cruces' MountainView Regional Medical Center and Memorial Medical Center; Albuquerque's University of New Mexico Health Science Center; Gallup's Rehoboth McKinley Christian Hospital; and El Paso's HCA Las Palmas Del Sol Healthcare and Paul Foster School of Medicine at Texas Tech University Health Science Center.
"The exceptional outcomes of the Class of 2021, 136 student matches and placements are a testament to the hard work and determination of our students,"  says John Hummer, college president. "We are extremely proud to see our students competing on the national scale, placing in residency programs across the country. We are pleased to see such a large group of students match within the states of New Mexico, Texas, and Arizona, with so many of them placing in Albuquerque, Las Cruces, El Paso, and Tucson. We know these incredible students will improve healthcare access in the Southwest for years to come. As I think about the 133 students last year and the 136 students this year, I am encouraged by the physicians that Burrell College is sending out into the world, and the amazing things I know they will achieve especially those that will choose to serve our region."
The following are some key highlights from the Class of 2021's match results:
9 graduating physicians will pursue neurology, widely considered to be one of the most rigorous residency programs in the United States.
13 graduating physicians will practice emergency medicine, working on the forefront of healthcare in emergency rooms and departments.
15 graduating physicians will pursue residency training in the cities of Albuquerque and Las Cruces, NM and El Paso, Texas.
34 graduating physicians will train in family medicine, a physician specialty that is critically underserved in the U.S.
Burrell College graduates matched and will pursue residencies in the following specialties after graduation:
Anesthesiology
Emergency Medicine
Family Medicine
General Surgery
Internal Medicine
Internal Medicine/Pediatrics
Neurology
Obstetrics and Gynecology                          
Orthopaedic Surgery
Pathology
Pediatrics
Physical Medicine & Rehabilitation
Psychiatry
Urology
Media Contact: Summer Masoud smasoud@bcomnm.org
About the Burrell College of Osteopathic Medicine:
Located in Las Cruces, New Mexico, the Burrell College of Osteopathic Medicine was established in 2013 to improve the health of the Southwestern U.S. and Northern Mexico. The four-year, private osteopathic medical school is student-centered, utilizing the latest medical education technologies and methods to ensure student success in all fields of medicine — from primary care to subspecialties like surgery, anesthesiology, and emergency medicine. BCOM is a freestanding college with clinical training locations in New Mexico, El Paso, TX, and Tucson, AZ. Learn more at bcomNM.org.