Burrell College Presents 2021 Student, Faculty Awards
The Burrell College of Osteopathic Medicine is announcing its second annual student and faculty awards in honor of the graduation of the Class of 2021. This year's nine recipients include six members of the Class of 2021; two faculty members; and one spouse of a graduating student. Read on to learn who the awardees are and why they were selected for recognition.
The Class of 2021 awardees are:
Distinguished Student in Anatomy and Cell Biology: Katherine Manseau
This award is presented by the Department of Anatomy and Cell Biology.
Katherine Manseau is one of those people who leaves a positive impact on you from the moment you meet her.  She brings energy, attentiveness, and a strong desire to learn and explore ways to challenge her clinical understanding and experiences in the anatomy lab. She is a consummate professional who is always supportive of her classmates and colleagues and has an intense curiosity for everything and anything which can help her better understand her patients.  As a future orthopedic surgeon, she will undoubtedly put her natural gift for understanding and investigating things anatomical to good use.  We trust that this passion for anatomical mastery and her warm heart will quickly earn her the respect, trust, and love of her future patients. It is our privilege and pleasure to recognize her accomplishment in the form of this award. On behalf of the Department of Anatomy and Cell Biology, congratulations Katy, we wish you all the best! – Dr. Miriam Donohue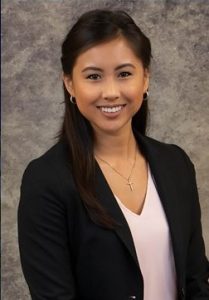 Distinguished Student in Biomedical Sciences: Rochelle Almario
This award is presented by the Department of Biomedical Sciences.
Rochelle Almario was selected based on a longitudinal analysis of student performance on exam items that measured knowledge in the areas of Biochemistry, Immunology, Microbiology, and Pharmacology.  Student doctor Almario was selected based on this metric together with a strong record of professionalism. – Dr. Debra Bramblett
Distinguished Student in Clinical Medicine: Kirk Thorpe
This award is presented by the Department of Clinical Medicine.
I am pleased to write this letter in support of Kirk Thorpe.  I have known Kirk since his early days of PCP.  What makes him successful is his self-contained, peaceful maturity, earnestness, and clinical knowledge.   He performs consistently at a high level, and I have heard from Dr. Assi about his exceptional performance on rotations in multiple areas.  His academics are very strong and I am sure that Kirk is somewhat embarrassed to receive this award as he conducts himself with modesty and quiet competence. – Dr. Rob Goldsteen
Distinguished Student in Physiology and Pathology: Michelle Tierney
This award is presented by the Department of Physiology and Pathology.
Michelle Tierney demonstrated a great interest in enhancing her understanding of Physiology.  Notably, she was also helping other students grasp concepts.  Her knowledge and experiences contributed to her match in Anesthesiology. -Dr. David Rodenbaugh
Class of 2021 Distinguished Student in Department of Clinical Education: Carla Tayes
This award is presented by the Department of Clinical Education
The department of clinical education had the opportunity to review several 4th-year students for the Distinguished Student in Clinical Education Award. Carla had so many excellent descriptors in her evaluations it was hard to choose all the accolades used to describe her! She was noted by several preceptors to be a "top 1%" student. In addition, there were multiple physicians who described her as performing at the level of a PGY-1 (which is a first-year resident). She had a "great work ethic", "rock star", "critical thinker", "professional" and "leader". I think when I read all the descriptions I am proud that Carla carried herself so well and portrayed all of these positive qualities but reading multiple evaluations that acknowledged her education at Burrell makes me proud that we are associated with her as well. Congratulations from all the clerkship directors and staff in the clinical education department! – Dr. Adela Lente
President's Award: Michael Lambing
This award is presented by John Hummer, president of the Burrell College, to the student with the highest GPA in the pre-clinical years of medical school (first and second year).
Congratulations to Michael for this award, which serves to recognize his commitment and dedication to his medical education. Michael has worked incredibly hard during his time at the Burrell College, and it has not gone unnoticed by the executive leadership. We wish him the very best in his upcoming residency at Mount Carmel Health System and in his future career as a general surgeon. – President John L. Hummer
Dean's Award: Michael Lambing
This award is presented by Bill Pieratt, DO, dean of the Burrell College, to the student who had the highest number of honors in clinical rotations.
Congratulations to Michael Lambing for receiving this award. This honor falls to a student who has exceeded expectations in their clinical studies. Michael has proven himself to be a competent and driven medical student, and we look forward to seeing him succeed in his residency training and as a future general surgeon. – Dean Bill Pieratt, DO, FACP
 The 2021 faculty awardees are:
These awards are presented by the Class of 2021 and are based on a majority vote.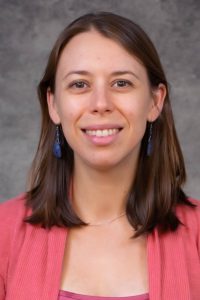 Best Clinical Science Teacher: Leah Swift, DO
Dr. Swift was a phenomenal clinical sciences teacher! She provided us all with a comfortable environment in which we could practice the skills needed to become a physician. Her positive demeanor and supportive nature gave us the chance to make mistakes and to learn from them. Skills labs were always made enjoyable and educational! – Class of 2021 Voting Board
Best Basic Science Teacher: Pedro del Corral, Ph.D., MD
Dr. Del Corral's teaching and lectures during our pre-clinical years were invaluable! Dr. Del Corral always presented his lectures with great enthusiasm and in such an organized way that made learning the material very easy. He is very passionate about what he teaches, and it was conveyed very well throughout his lectures. Great professor, always looked forward to his class! – Class of 2021 Voting Board
 The following award was given to a strong supporter of students at the Burrell College.
Donna Jones Moritsugu Memorial Award: Ben Martinez
This award is presented by the American Osteopathic Foundation and the Advocates for the American Osteopathic Association. The award honors the life partners of graduating osteopathic medical students who best exemplify the type of immeasurable support and personal sacrifice that is crucial to their partner's success, leading to the betterment of their future and of society.