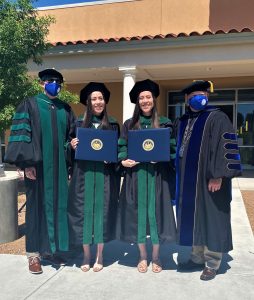 146 students in the Burrell College of Osteopathic Medicine officially became doctors today, Friday, May 7th. The virtual commencement ceremony, where students received their Doctor of Osteopathic Medicine (DO) degrees, took place at 4 p.m. MDT where it was streamed on the college's Facebook page.
Earlier in the day, students living in the local area arrived on campus to pick up their diplomas from President John Hummer and Dean Bill Pieratt in person at the College's outdoor, covid-safe Diploma Drive-Thru Event. Faculty and staff of the College came out in their regalia to applaud and show their support to the graduates of the Class of 2021.
Students received their diplomas and a box of graduation gifts from the College's Alumni Association. The box included a Burrell hat, coffee tumbler, stickers, alumni journal & pin, and the prestigious president's Challenge Coin, which signifies the incredible accomplishment of each member of the Class of 2021.
John Hummer, co-founder and president of the college, delivered the ceremony's welcome remarks, and Bill Pieratt, DO, dean of the college presented the Class of 2021 for the conferral of degrees. He also led the graduates in reciting the Osteopathic Oath, where students pledge to provide empathetic, expert care to all of their future patients. The commencement ceremony also featured a detailed video describing the College's ceremonial mace, a symbol of the College's authority to confer Osteopathic degrees.
This year's keynote speaker is Secretary David R. Scrase, MD. Dr. Scrase was appointed as the Secretary Designate of the Human Services Department by Governor, Michelle Lujan-Grisham, following her election in November 2018. Dr. Scrase is a Board-Certified Internist and Geriatrician, and at the time of his appointment to Secretary was the Interim Division Chief for General Internal Medicine and the Chief of Geriatrics at UNM. His first love and calling is as a primary care physician, and he has continuously cared for patients for over 30 years, despite concurrent service in administrative roles. He continues to see patients while serving as Secretary of the Human Services Department.
The Class of 2021 is made up of 72 women and 74 men. About one-third, 45 doctors, will remain in Arizona, New Mexico, and Texas, helping to alleviate the physician scarcity in the Southwestern U.S.
The Class of 2021 matched into seventeen different specialties in 31 states across the country. 36 graduates will pursue residency training in Family Medicine; 33 in Internal Medicine; 14 in Emergency Medicine; 12 in Pediatrics; and 9 in Neurology, among many others.
View the Class of 2021 Commencement Ceremony below!