The Class of 2025 White Coat Ceremony will be held on July 16th, 2021 and the College is eagerly awaiting the influx of another group of medical students to walk its halls. The White Coat Ceremony is an important and symbolic moment for a young medical student.
This Ceremony is the first milestone in their medical journey. Students will receive their first white coat and will participate in the recitation of the Osteopathic Oath, wherein they will promise to uphold the principles of Osteopathy and pursue compassionate care for all their future patients. Incoming Class of 2025 medical student Allegra Artis says, "This is the ceremony I have been waiting for. Getting my white coat is the first big milestone in medical school and I cannot wait to share that moment with my family you have supported me in this journey." Artis applied and was accepted into the Class of 2025 after earning her bachelor's in Biomedical Science at the University of Texas at El Paso and her master's in Biomedical Science from Texas Tech University Health Sciences Center at El Paso.
The Class of 2025 White Coat Ceremony will feature keynote speaker, Dr. Shawna E. Scully, DO. Dr. Scully is a neurologist and Colonel in the U.S. Army who served two tours in Iraq, for which she was awarded the Combat Medic Badge and a Bronze Star. Dr. Scully is the Chief of Neurology and the Deputy Commander of Medical Services at William Beaumont Army Medical Center, where she supervises all primary care, emergency medicine, behavioral health, and internal medicine specialties at Ft. Bliss. She is a strong supporter of the Burrell College and is looking forward to welcoming the Class of 2025.
The Office of Admissions compiled the following data regarding the incoming Class of 2025 based on information students supplied at the time of their application submission: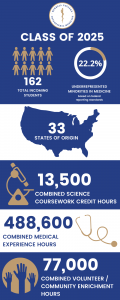 This is the first class to enter the College following what has been now referred to as the "Fauci Effect," the massive influx of American citizens deciding to pursue healthcare professions in response to the COVID-19 pandemic. Colleges across the nation saw dramatic upticks in the number of applications amidst the pandemic and the Burrell College was no exception. Between 2019 and 2020 there was a 24% percent increase in applications to the Burrell College of Osteopathic Medicine.
As we head into July, we look forward to the upcoming Class of 2025 White Coat Ceremony. For more information about the White Coat Ceremony, click here.