Student Organization Feature: Gifted Hands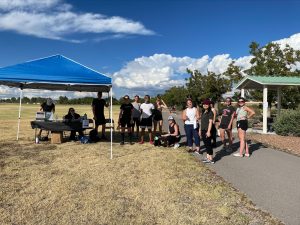 Gifted Hands is one of the new student organizations at the Burrell College of Osteopathic Medicine. Founded in the Spring of 2021, the purpose of Gifted Hands is to serve families and individuals with intellectual, physical, and developmental disabilities in Las Cruces, New Mexico, and the surrounding regions.
"We aim to interact with and learn more about the special needs community while educating future physicians on how to care for and treat individuals with special needs," says Chloe Myers, OMS-II medical student, and president of Gifted Hands.
On Friday, September 24th, Gifted Hands undertook its first major outreach event, hosting the STEPtember Walk to support Cerebral Palsy research. The event was held next door to the Burrell College campus at Pat and Lou Sisbarro Park. Students, faculty, staff, and their families and friends turned up for the outdoor event, to get active together and raise funds for research.
Burrell students walked a total of 145 laps around Sisbarro park. With each lap measuring 0.7 miles, they walked a grand total of 31.5 miles, over five miles longer than a standard marathon.
Prior to the STEPtember event, Gifted Hands has been heavily involved with the special education programs in the Las Cruces public school system. Their current focus during their visits is to educate the youth on best hygiene practices.
Gifted Hands currently has about seventy members within its organization, having just become an officially recognized student organization on campus. They will soon be holding elections for their executive leadership positions.
In the future, Gifted Hands hopes to educate aspiring physicians as to how best to care for and interact with individuals who have special needs. Anyone interested in joining Gifted Hands or who would like to know more about the organization and its future outreach events can e-mail Gifted Hands president Chloe Myers at chloe.myers@burrell.edu