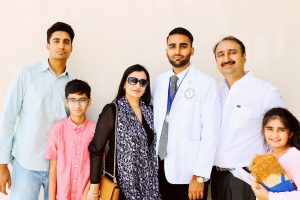 Burrell College alumnus Dr. Harris Ahmed is currently completing his residency training in Ophthalmology at Loma Linda University. A member of our inaugural Class of 2020, Dr. Ahmed matched into one of the more competitive and unique residency programs in the U.S. with only a small number of open residency slots per match cycle.
Ophthalmology is a branch of medicine and surgery that deals with the diagnosis and treatment of disorders of the eye. The residency training programs for ophthalmology typically require initial training in general medicine prior to focusing on the specialty. Dr. Ahmed's first exposure to the practice of ophthalmology was in Guatemala, where he volunteered at ophthalmology camps from 2012-2016. It was then that he realized the power of eye surgery.
Dr. Ahmed grew up in Loma Linda, California, where he was inspired to pursue a career in medicine as a young child. "My brother's life was saved by a physician at Loma Linda [Hospital] and I wanted to provide that relief to another family," says Harris. "Up until that point I always looked to my parents for comfort however that was the first time they couldn't, instead it was the physician!"
That initial inspiration followed Dr. Harris to college. He completed his undergraduate education at the University of California at Irvine in 2014 with a bachelor's degree in Sociology. He then completed a Master's degree in Public Health at the University of Southern California in Los Angeles in 2016, whereafter he began his medical education at the Burrell College.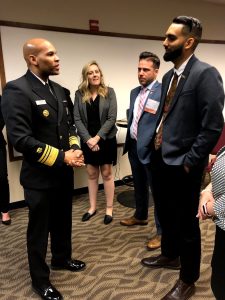 Dr. Ahmed chose osteopathic medicine for its historical emphasis on preventing illness and practicing medicine in medically underserved regions. He was attracted to the Burrell College for multiple reasons. Firstly, Dr. Ahmed was drawn to the location and affiliation of the Burrell College to NMSU, a research-focused university. Burrell College also houses an expansive Research Laboratory at the site of the Southwest Research and Production Complex in Las Cruces, New Mexico, where students participate in faculty-led research in the areas of cancer biology, infectious disease, osteopathic manipulative medicine, exercise physiology, and more. He also emphasizes the opportunities for great impact on the region of New Mexico and the diverse and educational clinical rotation sites as significant factors for his decision to attend.
During his time at the Burrell College, Harris was an active member of the community, participating in any and every outreach effort he could. He served as a Domenici Student Scholar, a program developed by the Pete V. Domenici Institute for Public Policy that seeks to engage the community and promote a better understanding of regional and public policy.
In his fourth year of medical school and clinical rotations, Dr. Ahmed also spent eight weeks interning on Capitol Hill, selected to participate in the AACOM (American Association of Colleges of Osteopathic Medicine) 2020 Osteopathic Health Policy Intern Program. His proposal to apply for the program emphasized his interest in utilizing loan forgiveness in exchange for service to help alleviate healthcare disparities across the United States.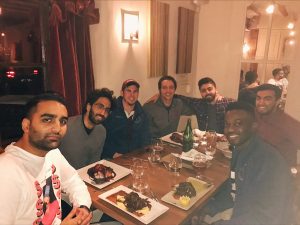 During his time as a medical student in Las Cruces, Dr. Ahmed was even cast as an extra in the filming of the movie, "Horse Soldiers," starring Chris Hemsworth. Dr. Ahmed was interviewed by the Las Cruces Sun News shortly after filming, where he recounted the experience. "When the director, producers, and actors realized we were medical students, they started saying 'the doctors are here,' and people would start asking us questions about their own medical conditions. Right away, they were sharing very personal information with us." Harris said. "It was eye-opening to realize that, even in a setting completely divorced from healthcare, we are still held to a certain standard."
Dr. Ahmed is well into his residency training at Loma Linda Hospital and is thoroughly enjoying his experience. "I have loved every second, every patient, procedure, laser, and surgery," he says. To his fellow medical students, he stresses the opportunities that Burrell College gives its students. "Burrell gives you the platform, with its research, networking, rotations, unique experiences, and patient population with diverse pathology, to succeed anywhere," emphasizes Dr. Ahmed.
During his interview with president Hummer after graduating and beginning his residency training, Dr. Ahmed provided his insight and advice to medical students as they approach residency matches and residency training. You can view that interview below!