Our student organization, Burrell Med-Peds, was recently recognized as an outstanding medical student interest group by the National Med-Peds Resident's Association NMPRA. The award recognizes one student interest group whose activities best exemplify the NMPRA's mission to enhance the MedPeds specialty. Through supporting and promoting member advancement and professional opportunities, creating national connections and opportunities, and increasing awareness of and advocating for Med-Peds as a specialty recruiting medical students to the specialty.
Med-Peds is a unique field of medicine that combines two years of Internal Medicine and two years of Pediatrics specialty training, leading ultimately to dual board certification after completion of residency training. The NMPRA describes the specialty as such: "Med-Peds physicians have a wide range of opportunities after graduation, including private practice, fellowship and subspecialty care, teaching, academics, hospital medicine, research, public health, rural practice, international medicine, transitional care, and other variations and combinations of clinical and research activities. Upon graduation, about half of graduates go into primary care practice. The majority (between 77-93%) practice primary care and provide care for adults and children."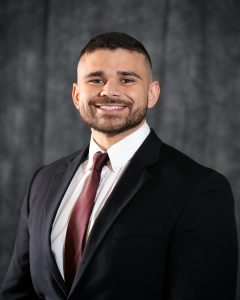 The Burrell Med-Peds interest group was founded in response to an absence of an established Med-Peds program in New Mexico. "We believed our binational, bicultural community deserved the benefits only a Med-Peds platform could bring," says Steven Canales. "We work daily and passionately to increase the number of Med-Peds physicians serving our border region, to develop our training, resources, and experiences to provide the best possible care for our typically underserved area."
Med-Peds formed on February 1st, 2020, and has made significant growth in their relatively short lifespan. What started as two people has now grown to over forty active members. "We have received guidance and encouragement from Dr. Friedland, who is frequently cited as the 'father of Med-Peds,' and used NMPRA to form the framework of our Interest Group," says Steven Canales.
Burrell Med-Peds seeks to dispel misconceptions about the specialty that those who pursue Med-Peds residencies have to choose one or the other at the end of training. "This specialty is among the few that have the utmost flexibility," says Canales. "You can decide to do fellowships on the adult and pediatric sides or choose to combine them. You essentially have the opportunity to create your own job as you see fit. It also provides a unique way to see your patients because congenital conditions we see in our kids now persist past childhood. "
Burrell Med-Peds has hosted presentations facilitated by the Med-Peds Residency program directors at the University of Arizona, cultivating ties between Burrell College and residency programs to create networks between our campus and the broader Med-Peds community.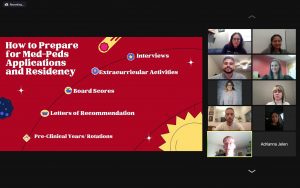 In addition to their work with their student organization, Burrell Med-Peds founder, Megan Miranda was appointed as a medical student liaison for the NMPRA DEI subcommittee and is driven to further mentorship for underrepresented minorities in medicine. Burrell Med-Peds Vice President Steven Canales has a Twitter feed providing an overview of Med-Peds programs to spread awareness, called "Flying Over to Med-Peds."
Burrell Med-Peds is inspired to expand the Med-Peds profession. " We would love to bring more of the Med-Peds world to the southwest and bring awareness to this fantastic specialty," says Canales. "We hope to get more programs and program directors to speak at Burrell College and create a guide and network for future classes at the college."
For more information about Burrell Med Peds, you can e-mail burrellmedpeds@gmail.com to join their listserv.