Student Feature: Mackenzie Blackburn, OMS-I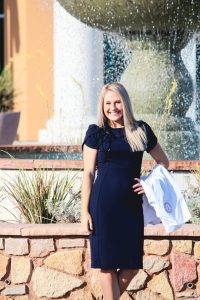 Mackenzie Blackburn is a medical student in her first year at the Burrell College of Osteopathic Medicine whose time teaching helped pave the way to her new journey as a medical student. Mackenzie was born and raised in Albuquerque, New Mexico. After high school, she attended the University of Oklahoma, where she earned a degree in multidisciplinary studies with an emphasis on biology and psychology. "I really attribute my upbringing and how I was raised to my ultimate decision to pursue medicine," says Mackenzie. "My parents always emphasized following my heart no matter what profession that brought me to, and I was always taught that anything was possible when I put my mind and heart into it."
After graduating with her bachelor's degree, Mackenzie took time off to travel the world. She spent six months in Bang Khae, Thailand teaching 5th grade Science, Health, Math, and English. "Teaching in Thailand was a challenge because the
students didn't always speak my language which really taught me how important and possible it is to communicate cross-culturally" emphasizes Mackenzie. Although her time in Thailand was cut short due to the COVID-19 pandemic, after she returned to the United States, she spent time working as a registered behavioral technician in an early intervention program for children with autism. "These jobs taught me the importance of communication and how to interact with both my clients and students as well as communicating with concerned parents," says Mackenzie."
After spending time traveling, Mackenzie realized how much she missed her community and how important the state of New Mexico is to her. Her time working in teaching and behavioral health also helped her solidify her commitment to helping others and desire to pursue medicine. "I also knew that the osteopathic tenets aligned with my personal view on medicine," says Mackenzie. "I wanted to attend a school where I could help my New Mexico community while learning to be the best physician I can be, and Burrell felt like that place. I think my favorite experience since attending the school is meeting people from all over the country and getting to share New Mexico's culture with them."
Despite being in her very first year of medical school, Mackenzie serves as a member of the Burrell Pediatrics Club and has completed many hours of community service in addition to her rigorous studies. "I think that in medical school it is easy to get overwhelmed with a large amount of information to study and being able to connect to the community and remind myself why I am pursuing this pathway way is helpful," recounts Mackenzie. "Volunteering in Las Cruces reminds me what a privilege it is to be going down this pathway, and the impacts I can make as a future physician." Mackenzie emphasizes that there are many different community service opportunities available to Burrell College medical students and participating in these service opportunities has helped her find ways to connect with the local community in a meaningful way.
As Mackenzie is still in the first semester of medical school, she is exploring many possibilities for specializing after she graduates. "I believe there are so many specialties in the medical field that I am still unaware of, and I am learning every day through the curriculum of a new passion I have," notes Mackenzie. "However, I've always been drawn to working with kids, so specializing in pediatrics is something I'm very interested in. I have found a fascination for embryology, and I have recently started considering a specialty in Ob-Gyn or neonatology."
Like all Burrell medical students, Mackenzie will spend her first two years at the main campus in Las Cruces before continuing on to clinical rotations at one of our seven regional academic centers. Mackenzie would like to thank her parents, grandparents, and older sister for their support and encouragement, and credits them with showing her how to pursue her dreams despite the obstacles she may encounter.