Student Organization Feature: The Ophthalmology Association
Burrell College of Osteopathic Medicine is home to a wide variety of student organizations that participate in countless hours of community service and outreach. These organizations are unique and specific, allowing our medical students to explore multiple interests before deciding on the specialty they will pursue for their residency training. One such student organization is the Ophthalmology Association. Ophthalmology is a branch of medicine and surgery that specifically targes the diagnosis and treatment of disorders of the eye.
The Ophthalmology Association was started in 2019 by Crystal Nguyen, OMS-IV, in order to bring greater awareness to the specialty of Ophthalmology as well as improve the quality of health care delivered to community members within Las Cruces. "Members of this club will have the opportunity to become more familiar with the purpose and scope of Ophthalmology, as well as be involved in volunteer opportunities that provide vision-related health care within the community," says current president Rachel Culver. In addition, they strive to aid in the residency application procedure for its members and also prepare them to meet the moral and ethical obligations of the osteopathic medical profession. The association has already been successful in having former members matriculate into Ophthalmology residencies.
Most recently, the association held a Health Fair and Vision Screening at the Las Cruces City Hall. This Fair was made possible through a collaboration that the former Association president, Margaret Shmunes, had established with the Mayor Pro Tem of Las Cruces, Kasandra Gandara. "We both shared the same vision of making access to health screening more readily available to the public," says Margaret. "We also wanted to create a setting where individuals felt comfortable asking and discussing physical and mental health issues." During this event, they also assisted the Mesilla Valley Pharmacy with the distribution of free flu shots and covid-19 vaccinations and spread awareness about eye disorders such as refractive error, dry eye syndrome, and diabetic retinopathy.
"Since our first health fair, these events have flourished into much more," remarks Shmunes. "We have now involved multiple clubs at Burrell to also provide blood pressure monitoring, blood glucose levels, body mass index, and other information about vaccines, smoking cessation, mental health, and much more. We have also recently partnered with other entities around Las Cruces, such as the Resilience Leaders, La Pinon, Families and Youth, and Mesilla Valley Pharmacy, to provide more information regarding mental health, domestic violence, adverse childhood events, and COVID vaccines/boosters."
Through collaboration with Lion's Club, a local chapter of a national volunteer, the Ophthalmology Association has been able to provide various community outreach events that include providing vision screenings for children grades kindergarten and above. They have also collaborated to provide recycled prescription glasses to those who cannot afford to purchase their own. "Being able to provide glasses to a child who is struggling academically due to visual difficulties, is extremely rewarding mentally and physically for all parties involved," says Shmunes.
During the COVID-19 pandemic, it was not possible to hold vision screenings or health fairs. However, that did not stop the Ophthalmology Association from giving back to their community. The Association coordinated several "clean-up hikes," where students got outdoors and cleaned up their community while following COVID-19 safe practices.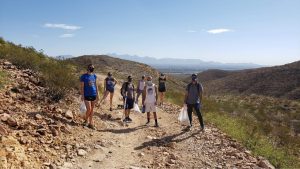 The current Ophthalmology board members are as follows: Rachel Culver (President), Joshua Payne (Vice President), Sarah Vinyard (Secretary), Brandon Cunningham (Treasurer). For any student interested in learning more about the Ophthalmology Association and how to join, they can reach out to any of the board members by searching their e-mail in the directory or contacting the club mentor, Dr. Benoit.