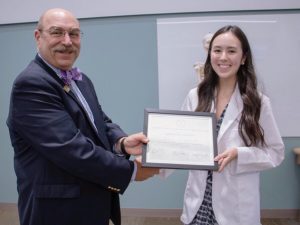 Third-year medical student Gina Gilderman has been named the Burrell College of Osteopathic Medicine's Student DO of the Year. This annual award honors and acknowledges an osteopathic medical student who is committed to the tenets of leadership, community service, commitment, and professionalism.
Gina is originally from Duluth, Minnesota, where she spent thirteen years as a competitive figure skater. She also played the violin and piano and was a concertmaster violinist in the Duluth-Superior Youth Symphony. "My mother would bring me to skating practice at 6 a.m., then I would attend school from 8-2 p.m. before I would head back to the rink for more training," says Gilderman. "When I got home for the evening, I would practice piano and violin for an hour each before completing my homework and heading to bed." As a teenager, she attended Shattuck-St. Mary's (SSM), an elite sports-focused boarding school in Minnesota. During her time at SSM, she became a triple gold medalist of the United States Figure Skating Association. It was also during this time that she was accepted into the SSM BioScience program, a unique "pre-pre-med" experience for high school age students, where she explored scientific research basics, learned relevant medical skills, participated in journal clubs and conferences, and shadowed physicians in the community. "This is where my interest in medicine first piqued; I distinctly remember one field trip where we were fortunate enough to tour the Heart Lab at the University of Minnesota (where open-heart surgery was pioneered) and, after watching several surgeries and experiments in the department, I knew I wanted to pursue medicine," says Gina.
She also credits her pursuit of a career in medicine to two other events of significance, the first being a serious knee injury she suffered that required two surgeries to correct. During that time her orthopedic surgeon learned of her interest in the medical field and allowed her to shadow him in the operating room on multiple occasions. The second event is when her own father had novel heart surgery during her third year of high school. "Learning about his heart condition, reading through his chart in the hospital, and speaking with his own interventional cardiologist solidified my desire to, one day, become an interventional cardiologist," says Gilderman. After graduating from high school, Gilderman earned her bachelor's degree in Biology from Pepperdine University in Malibu, California.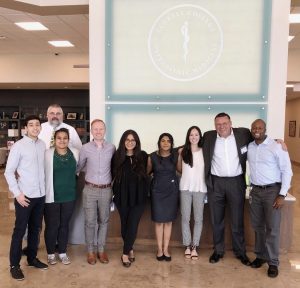 Gina chose to attend Burrell College of Osteopathic Medicine because its mission to "serve the underserved" aligns with her goals as a physician. She has enjoyed her time at the College, during which she has participated in three major research projects with our faculty. "I just feel so grateful to have been given the opportunity to attend such a remarkable school and will forever cherish every memory and experience from my time at Burrell College," says Gina.
Before matriculating into Burrell College's Class of 2022, Gina took a gap year where she worked as a scribe and clinical assistant at a pain clinic in Edina, Minnesota. "I feel as though this job/experience really prepared me well for medical school because I not only learned how to scribe and write thorough notes for the providers I worked for, but I also learned many relevant skills including learning how to triage patients, phlebotomy, how to perform Botox and trigger point injections, submit prior authorizations and insurance claims for surgical procedures, and more," says Gina.
Gina's experience at Burrell College was not the easiest road. In June 2020, amidst the pandemic and at only 24 years old, Gina was diagnosed with breast cancer. As a result of her aggressive treatment regimen, Gina was forced to take a medical leave of absence prior to beginning her clinical rotations. "I underwent 6 cycles of chemotherapy, 3 surgeries, and 6 weeks of radiation but I am proud and incredibly thankful that I had a complete response to all the treatments and have been declared NED or "no evidence of disease," exclaims Gina. Gina is currently on maintenance therapy with regular checkups from her care team but has pushed through to continue to volunteer for the community, tutor her peers, and participate in campus research. "I am so grateful for the outpouring of support I received while going through treatment and am absolutely thrilled to be back at Burrell College as a third-year student, completing my clinical rotations in El Paso, Texas," says Gina. "I strongly feel that my own experiences as a cancer patient will allow me to be more empathetic and compassionate to my future patients and will allow for me to provide the highest quality of care to them."
Gina's cancer battle did not deter her in any way from giving back to the community. During her time at Burrell College, she has participated in a multitude of volunteer opportunities, including volunteering at the local food bank of El Paso, TX, providing blood pressure screening and health education to children and adults at various health fairs in the borderland, and mentoring high school and pre-medical undergraduate students. She has volunteered with numerous organizations within the community including the Alzheimer's Association of Las Cruces, Hearts for Autism, and Vitalant Blood Bank. "In early 2021, I completed several trainings to become a Reach to Recovery volunteer through the American Cancer Society, where I connect with breast cancer patients through an online platform (via instant messaging or phone/video calls)," explains Gilderman. "Through this program, I answer questions regarding breast cancer treatment, options for treatment, etc. and I also provide a safe space for those patients to let out their thoughts and feelings as I have firsthand experience with everything that they are going through since I myself went through the same thing 18 months ago." Gina credits Burrell College for doing an excellent job of encouraging its students to participate in volunteer events in the local community and hopes to continue volunteering throughout her medical career. When she is not volunteering or studying, Gina spends her free time hiking and enjoying the outdoors, playing the piano and violin, and gardening. She also started a small business in 2020, where she offers graphic design services.
In addition to volunteering, Gina is a member of several student organizations. Currently, Gina is serving as the OMS-III Class President of the Student Government Association, where she serves as a voting member of the Curriculum Committee. She previously served as Chapter Secretary of the Student Osteopathic Medical Association, (SOMA), where she assisted in the planning of multiple events and outreach efforts, including the annual "Dinner with Doctors" networking event. She has been recognized for multiple achievements during her education, including earning third place at the July 2020 Medical Student Research Day as well as being selected for "Distinction in Research" in October 2021.
Gilderman was nominated for Student Doctor of the Year by her academic colleagues. Her application was assessed by one representative of each class, a clinical faculty member, a basic science faculty member, as well as Burrell's Dean. "Being selected to receive this award means so much to me because it shows that my hard work and dedication to serving others throughout my time in medical school is recognized by those around me," says Gina. "I have been participating in several research projects and tutored second-year medical students while battling cancer, remain involved in campus organizations, and continue to volunteer in my local community while also keeping up with my studies and clinical rotations. I strive to help everyone I can in any way I can, so to receive this award is very humbling." Gina would like to extend her sincerest gratitude to her colleagues in the classes of 2022 and 2023, as well as the faculty and staff of Burrell College, particularly Dr. Gosselink, Dr. Tano, Dr. Benoit, Dr. De La Rosa, and Dr. Goldsteen for their continued and consistent support. "I am thankful for my wonderful mentors and the Burrell Research Office for these opportunities as I have been able to grow, not only as a medical student, but also as a scientific researcher, and the skills I have learned over the past 3 years will undoubtedly aid me as a future physician," Gina adds.
During her time at the College, Gina has made an impact on our faculty, who have expressed their appreciation for her compassion, determination, and ambition:
"Gina's resilience, kindness, and leadership drive her many accomplishments at Burrell. She exemplifies Burrell's mission of compassion, learning, and excellence," says Dr. Vanessa De La Rosa, Assistant Professor of Biomedical Sciences.
"Gina is truly one of the most amazing people I have ever met. In addition to being brilliant, she is hard-working, kind, and humble," says Dr. Sheeba Tano, assistant professor of Clinical Medicine. "She handles stress and challenges with such grace that her youth would astound anyone. Gina constantly amazes me— how she finds time to do all the things that she does, and she does it all with a smile. She inspires me to be a better physician. I am honored to have gotten to work with her over the past few years and wish for all the best in her future endeavors."
"I feel very proud and fortunate to work with Gina. She demonstrates an exceptional level of professionalism in her actions and communications and represents our institution very well within and outside of our walls," says Dr. Kristin Gosselink, Chair of Physiology and Pathology. "I admire her drive and resilience and appreciate her curiosity and dedication."
"I have had the privilege of collaborating with Gina Gilderman both in the classroom and with research, and she has been a consistent embodiment of positivity, enthusiasm, and respect, says Dr. Robert Goldsteen, Chair of Clinical Medicine. "She is motivated, collegial, and academically/intellectually curious. The highest compliment you can give a student is that they are "kind". She has the poise and kindness that brings the institution pride and will make her great success in anything she does after her time at Burrell!"
Following her completion of medical school, Gina intends to pursue a residency in Internal Medicine to subspecialize in either Interventional Cardiology or Medical Oncology. "Since high school, I have dreamed of becoming an interventional cardiologist, primarily due to my early exposure to cardiology through the University of Minnesota and my father's own heart condition/surgeries, but also because I want to enter a field that historically does not have a lot of female representation, to hopefully encourage my colleagues and other pre-medical students to go after every goal you have, no matter how far-fetched it may seem," explains Gina. "In addition, I have a new interest in Medical Oncology due to my own cancer diagnosis, but also because my oncologist has not only been an amazing and important leader of my care team for the last 18 months, but also because she embodies the qualities that I hope to have as a future physician – she is compassionate, incredibly empathetic as she truly listens to my thoughts and concerns, and spends time with me to make sure that I feel comfortable with everything going on. These are things that I hope to bring to my own patients someday as I have firsthand experience with all the ups-and-downs that accompany a cancer diagnosis." Gina hopes to remain in the Southwest region to practice medicine, in order to serve the community that she has grown to love during her time in medical school.
For her peers, Gina advises them to work hard and remain focused in all they do at Burrell College, in residencies, and beyond. "There will be times when you will undoubtedly feel frustrated or tired, but look back and think just how far you have come in your journey to become a future physician," she emphasizes. "You are meant to be here and were given the incredible opportunity to become a physician so make the most of it!"
Gilderman's application will now be presented to the National Student DO of the Year competition hosted by the Council of Osteopathic Student Government Presidents (COSGP), a council of the American Association of Colleges of Osteopathic Medicine (AACOM).
The national winner will be declared at the annual meeting of AACOM, where they will receive a monetary award and a plaque of recognition.