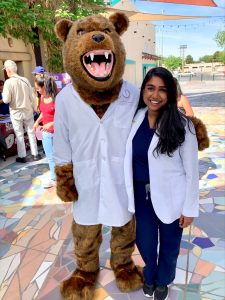 Sahaana Sridhar is a fourth-year medical student at the Burrell College of Osteopathic Medicine. Sahaana was born in Muscat, Oman, but spent the next decade moving from country to country with her parents and younger brother. She has lived in six countries throughout her life including, Qatar, New Zealand, India, and the United Arab Emirates before settling with her family in New Jersey.
She has always considered being a doctor as a potential future. "I loved science and to this day my high school human anatomy and physiology class was the most fun I had in a classroom," says Sahaana. "I distinctly remember a day when we used painters' tape to draw out the heart on the floor of our classroom and pretended to be a red blood cell that had to track its pathway through the heart under different conditions." While she finished high school, she tutored middle and high school students in math and science, and also volunteered as an elementary school mentor.
Sahaana also spent her free time taking Indian Classical singing lessons, a passion she had pursued since age four and participated in choir and a cappella groups. During her undergraduate education, Sahaana founded the Association of South Asian A Cappella, a national non-profit organization that allowed collegiate groups to network, share resources, and compete on a national stage.
After graduating from Case Western Reserve University in Cleveland, Ohio with a bachelor's degree in Biochemistry, Sahaana spent time working as a medical scribe in an emergency room, where she solidified her decision to pursue a future in medicine. She earned her master's degree in Biomedical Sciences from Rutgers University while she worked full-time as a medical scribe. As a medical scribe, she traveled to hospitals across the country to establish scribe programs, training physicians and scribes on how best to work with each other.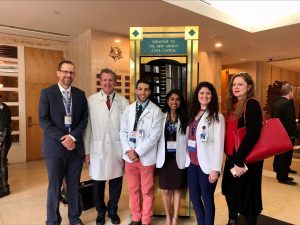 "I chose Burrell because of my interview day," says Sahaana. "Every person that I interacted with seemed genuinely interested in my story outside of what could be seen on my resume. I loved the emphasis on future physicians being people that patients could see themselves in."
Sahaana says one of her best experiences during her time at Burrell College was completing her general surgery rotation in Gallup, New Mexico under the guidance of Dr. Charles Guimaraes.  "It was my first experience working in rural medicine and working with a large population of Navajo and Zuni patients and it was a strong example of the kind of culturally humble care that I hoped to provide in the future," says Sahaana. "Not only did I learn a lot about the Navajo and Zuni cultures, but it also highlighted the importance of the need for healthcare professionals that really understood the population they were serving."
During her time at the College Sahaana has participated in a multitude of extracurricular activities and outreach, including the Burrell-Aggie Mentorship Program, Sigma Sigma Phi, and the Student Osteopathic Surgical Association (SOSA). She served as the OMS-I Vice President of the Student Government Association (SGA) during her first year of medical school and later as the Executive Board President. "Through SGA, I was able to participate in a round table in Santa Fe with New Mexico legislators to advocate for increased funding for GME programs in the state," says Sahaana. She also served as a representative of the student body on the Executive Leadership Search Committee. Through SGA, Sahaana was able to also serve on the Council of Osteopathic Student Government Presidents (COGSP), a national organization that features representatives from every osteopathic medical school in the nation, whose mission is to address issues that affect osteopathic medical students. Through her participation in this group, she was able to help create a leadership curriculum for medical students. "It was intoxicating to be around student leaders from around the country who are invested in improving the space in which we work and made me proud to be a future DO," says Sahaana.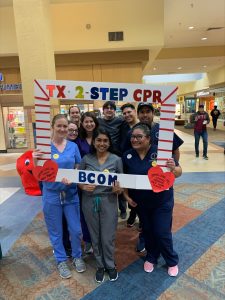 Although she was originally set on a future in emergency medicine, Sahaana will be pursuing general surgery for her residency training as she believes it will give her the opportunity to work on a wide range of organ systems. "While you do deal with a fair number of patients with complicated histories that need continued care and follow up, the bread and butter of your practice are isolated problems that present for which there is a directed action that solves the issue," says Sahaana. "While I may not know where I will be 5 years from now, I do know that down the line I see myself pursuing    a possible Masters in Health Administration to take on a more administrative role where I have the ability to affect policy."
Sahaana would like to extend her thanks and appreciation to her family and friends for all their support. She is also grateful to her high school human anatomy teacher, Dr. Heavers, for motivating her to pursue her passions in life and for influencing her to give back to the community. "Dr. Heavers always reiterated the phrase try your hardest to leave a space better than you found it," says Sahaana.