Christopher Zaknoun is a third-year medical student at the Burrell College of Osteopathic Medicine who has always had a passion for science and anatomy, even as a child. He pursued that interest throughout his primary education, eventually taking an anatomy class in high school. "I had an amazing experience and decided that I wanted a career working with the human body in some way," says Christopher. "In addition to my interest in science and anatomy mentioned above, the desire to help others is my main motivation to pursue medicine. I have had to deal with several health issues in my lifetime, and I am so grateful for the physicians who have helped me through them. It will be very fulfilling to be able to improve someone's quality of life in the future." After high school, Zaknoun attended Indiana University Bloomington, where he earned a degree in kinesiology while working his way through school as a waiter.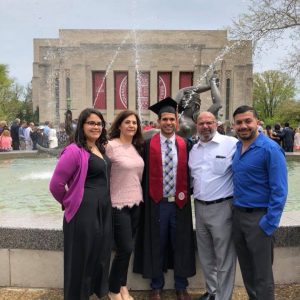 Christopher comes from a large, close-knit, and supportive Lebanese family, growing up in Michigan City, Indiana. "My parents have always encouraged me to pursue what I love but ensured that I knew the value of hard work in that pursuit," says Christopher. "They also stressed the importance of treating others as you would want to be treated."
Christopher chose Burrell College because he was drawn to their mission and was looking for a new experience at a school in a different region from where he was raised. "Coming from a family who immigrated to the US due to unsafe conditions and lacking infrastructure, I can understand the importance of improving the healthcare in underserved areas," explains Zaknoun.
Currently, Christopher is completing his clinical rotations at the Tucson Regional Academic Center. "My best experience so far has been working in the OR and assisting in surgeries. It is truly incredible to work with such skilled surgeons and have the chance to participate in procedures." Christopher is looking forward to starting the next block in his rotation, in an internal medicine cycle at Tucson Medical Center.
During his time at Burrell College, he has participated in numerous volunteer events including club events, volunteering at local soup kitchens, and participating in community clean-up events around local Las Cruces. "Each experience comes with its own benefits," explains Christopher. "In general, I think that volunteering has helped me understand how much of an impact one person can make and the importance of advocacy. My experience at Burrell has helped me explore new volunteer opportunities and give more to the community."
Christopher's top choice for residency training is in Orthopedic Surgery. "I have been interested in orthopedics since I observed a total hip replacement when I was in high school," recounts Christopher. "During my clinical rotation this past year, I had an amazing time assisting in surgeries, giving steroid injections, and establishing rapport with patients. In addition to interest in the field itself, the instant improvement in the patient's quality of movement and life following joint replacements is so gratifying."
Following completion of residency training, Christopher has hopes to contribute to the advancement of healthcare access in underserved areas, either through the direct action of advocacy for policy or infrastructure improvements. In addition to that, Christopher will strive to be the best physician he can be to his future patients and to potentially pioneer a new surgical procedure for his future field of medicine.
Christopher would like to thank his parents, siblings, extended family, and friends for the love, support, and motivation they have provided him throughout his life. "Without them, I would not where I am today."