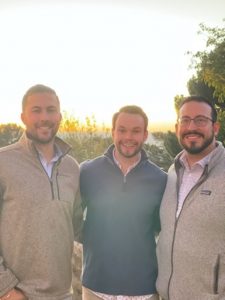 Michael Anderson is a third-year medical student at the Burrell College of Osteopathic Medicine and a former college basketball player. His journey to medical school saw him trade a life on the court for a life in a clinic. Currently, Michael is completing his clinical rotations at the Tucson Regional Academic Center in Arizona.
Michael Anderson was inspired to pursue a future in medicine after his own experiences with his orthopedic doctor. As a child who played many sports, injuries were routine to Michael, both major and minor. "This led me to become very good friends with my ortho doctor, Dr. Kavanagh, who was awesome," says Michael. "He always explained things to me in great detail and would take me around his office and show me X-ray images. My experiences with Dr. Kavanagh made medicine a fascinating field with endless opportunities." After graduating high school, Michael went on to complete his undergraduate degree at Marymount University in Arlington, Virginia. During this time, he worked as a scribe in an emergency department. "While it wasn't the hands-on experience that I had been chasing, it gave me exposure to different aspects of medicine, and the knowledge I gained during this time was invaluable," recounts Michael. "I find my scribe experience helping me time and time again while I'm on my rotations."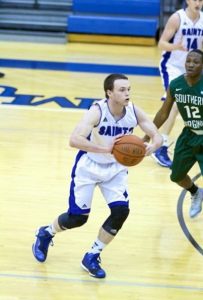 While at Marymount University, Michael played college-level basketball. His time as a basketball player taught him how to work well with other people in a team setting, with individuals of different ages and skill levels. "I learned how to talk to people at an individual level and how they responded to different types of critiques and criticism," says Michael. "I was definitely not the best player on my college team, so I learned how to take criticism myself as well. This experience playing basketball transitioned into my interactions with others off the court."
After graduating college with a bachelor's of science degree in Biology, Michael became a volunteer emergency medical technician, where he acquired hands-on experience in care providing. "Getting calls and pulling up to emergency situations in the ambulance was exhilarating, yet scary," says Michael. "It's hard enough to treat an emergency while in a hospital setting surrounded by an unlimited number of doctors, nurses, and technicians to help. Treating these emergencies in unfamiliar surroundings- often someone's home is a whole different story." Despite the challenges and stress he encountered during this time, it was something Michael came to love wholeheartedly, and he credits it as the experience that solidified his desire to pursue a future in medicine.
Michael chose to attend Burrell College for the same reason so many of its medical students do, his experience on interview day. "Everybody was so nice to me and there were students coming in to talk to the interview group as we were waiting," recounts Michael. "This was something that I had not experienced at other school's interviews. I felt welcomed and this went a long way for me."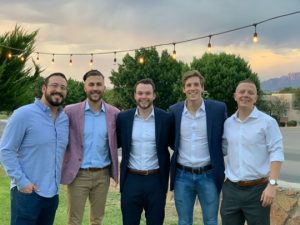 During his first two years in medical school, Michael volunteered within the Las Cruces community, assisting with various outreach events including providing influenza vaccines and COVID-19 vaccines to the community and working at El Caldito soup kitchen to provide meals for individuals facing food insecurity. "These were valuable experiences and I not only bonded with classmates during these, but I got to meet some amazing people from the Las Cruces community," says Michael. After moving to Tucson to begin his clinical rotations, Michael continued his volunteering efforts, helping the organization Casa Alitas. Casa Alitas is located in Southern Tucson and is a safe haven for refugees. The organization provides shelter, food, clothing, and other resources to help these individuals become better established. "This experience has been invaluable," says Michael. These are some of the most caring, yet tough people I have ever met. Most have been through long, traumatic journeys to the United States. When I am there, it doesn't feel like volunteering – it just feels good to be there."
Michael has his sights set on pursuing a residency in orthopedic surgery. "Orthopedics is what sparked my interest in medicine, to begin with, and in the future, I would like to work with young athletes who have injuries," he explains. "I would like to be a core part of their recovery process and follow them as they progress through their athletic careers. Sports have been and will continue to be a large part of my life and with orthopedic surgery, I can pursue something I love while helping others along the way."
Michael would like to express his sincerest gratitude to his parents, Mark and Kerry, for their ongoing encouragement and support. "There was a time after college where I thought I was never going to get into medical school and I felt stuck, unsure of what to do with my life," explains Michael. "They kept pushing me and motivating me to continue the pursuit of medical school, and never gave up on me, as I feel a lot of people had at that point. They supported me financially and supported me emotionally. They have always done this in every aspect of my life, and I can't thank them enough. I owe them way more than I could ever give them."