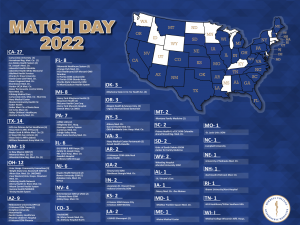 Las Cruces, NM. – On Friday, March 18th, students of the Burrell College of Osteopathic Medicine learned where they will begin their careers as doctors as they carry out the next chapter of their medical education. In total, 158 students were placed in a graduate medical education program in various specialties across the country.
"We are immensely proud of the 2022 placement results," says Burrell College Dean Bill Pieratt. "Today is a special day, one that denotes the years of hard work that got our medical students to this momentous occasion, but also determines the next steps on their journey as physicians. They have spent the last four years working toward this day, and it is an honor to celebrate this moment with them all."
Students submitted their applications to residency programs across the nation and were subsequently placed in programs in 36 states. Graduate Medical Education placements included numerous unique specialties, such as child neurology, orthopaedic surgery, diagnostic radiology, and physical medicine and rehabilitation. Nearly a quarter of the members of the Burrell College will remain in Arizona, New Mexico, and Texas, helping to address the physician scarcity in the Southwestern U.S.
Many will stay and train closer to home, pursuing their residencies at Las Cruces' MountainView Regional Medical Center and Memorial Medical Center; Albuquerque's University of New Mexico School of Medicine; and El Paso's HCA Las Palmas Del Sol Healthcare, as well as Texas Tech Health Sciences Center (both El Paso and Lubbock).
"The outstanding results of our students, 158 placements, are an indication of the dedication of our students," says John Hummer, Burrell College president. "We are exceptionally proud of our students for this accomplishment, placing in residency programs across the country. We are happy to see that a significant portion of our students, per our mission, will train within the states of New Mexico, Texas, and Arizona, to improve future health outcomes in the Southwest. I am reassured that the physicians Burrell College is graduating into our healthcare system will achieve great things as they serve our communities and continue their medical education as resident physicians."
This is the third Match Day Ceremony in the history of the Burrell College, and the first in-person celebration, the first two events being held virtually due to the COVID-19 pandemic. The Ceremony was held at the New Mexico Farm and Ranch Museum in Las Cruces, New Mexico.
The following are some key highlights from the 2022 placement results:
94 physicians will train in one of the primary care specialties, which includes family medicine, internal medicine, and pediatrics.
22 physicians will practice emergency medicine, working on the forefront of healthcare in emergency rooms and departments.
21 physicians will pursue residency training in the cities of Albuquerque and Las Cruces, NM and El Paso, Texas.
Burrell College graduates will pursue residencies in the following specialties after graduation:
Anesthesiology
Child Neurology
Diagnostic Radiology
Emergency Medicine
Family Medicine
General Surgery
Internal Medicine
Internal Medicine/Pediatrics
Obstetrics and Gynecology
Orthopaedic Surgery
Pediatrics
Physical Medicine & Rehabilitation
Preliminary Medicine
Preliminary Surgery
Psychiatry