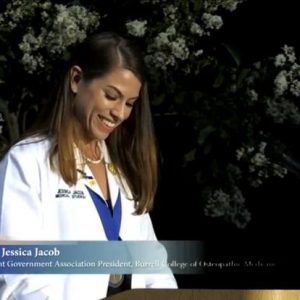 Jessica Jacob, DO, is a member of the inaugural class of physicians from the Burrell College of Osteopathic Medicine. She is currently completing her residency training in Internal Medicine at Creighton University Arizona Health Alliance Phoenix. In her residency training, Dr. Jacob has been selected as a chief resident, a marked honor and significant responsibility within the residency tradition.
Dr. Jacob graduated from the University of Arizona – Tucson with a bachelor's degree in Biochemistry and Molecular Biophysics in 2012. After her graduation, she took a gap year where she worked in a physical medicine and rehabilitation clinic conducting research, assisting with medical recordkeeping, medical billings, insurance authorizations, and scribing. She then continued her education at Drexel University, graduating in 2015 with a Master's of Medical Science. She took another gap year following completion of her Master's degree, where she worked within Drexel University as a member of their Human Resources department. From there, she applied, interviewed, and was accepted into the Burrell College of Osteopathic Medicine in 2016, graduating four years later in 2020.
"I wanted to become a doctor after I worked in a podiatry office at 16, but I knew the road to medicine would be grueling, so I wanted to ensure there wasn't any other profession I would be happy pursuing," recounts Dr. Jacob. "Due to this I worked in website development and design, photography assistant, middle school/elementary school tutor, nanny, waitress/hostess, research technician, and through it all the only place where I did not feel that I was working and felt genuinely happy was in medicine."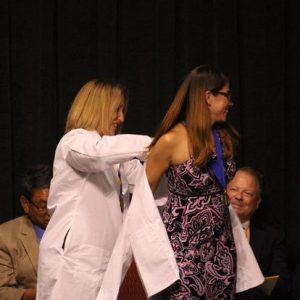 Dr. Jacob was drawn to osteopathic medicine based on her own personal ancestry. Her great grandmother was a Native American medicine woman and her mother was a massage therapist, presenting Dr. Jacob with many different examples of alternative treatments for managing pain other than the medical or pharmaceutical route. Dr. Jacob felt that the value that osteopathic medicine places on the mind, body, and spirit connection and its role in preventative healthcare best aligned with her own personal belief system. She chose to attend Burrell College of Osteopathic Medicine for its proximity to her family and its potential as a burgeoning medical school. "I knew I wanted to go to a new institution, as I felt I could get involved and help shape the school for future generations of medical students," says Dr. Jacob.
Dr. Jacob says the benefits of being a member of the College's inaugural class have continued to help her in her residency training program. "Taking part in a new medical school program allowed me opportunities to be part of leadership in addition to studying, taking part in committees, and advocating on behalf of students," she says. "Residency is level 99 of my medical school experience." According to Dr. Jacob, her experiences while completing her graduate medical education have been nothing short of exhilarating.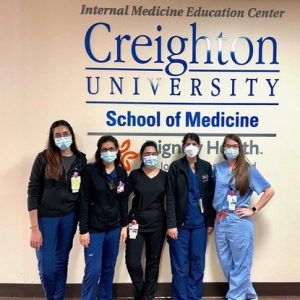 "Residency is the first time in your life where you are finally "living the dream", you are a doctor and it still amazes me I get to introduce myself as Dr. Jacob," she says. "It has also been an amazing combination of trials and triumph. Residency is the only place in medicine where you are simultaneously a physician and still a trainee. Being a doctor means that sometimes it truly is between life and death and the decisions you make can dramatically impact the patient and their families. While that can be a scary thought in itself, residency is a place where you aren't doing it alone. You have so many other layers of protection and education by faculty/seniors/peers. It's a fine balance and each day you learn new things about medicine, yourself, and your patients."
Dr. Jacob is on track to complete her residency training in June 2023. She advises current Burrell medical students to make time for the simple things in life while studying. "Medical school is going to be one of the hardest things you accomplish in your life," she recalls. "While medical school can feel like it's all consuming, don't forget it's also a time to make fantastic friends, and do exactly what you want to do to get to the specialty you desire."