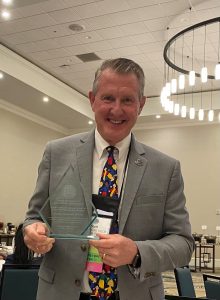 Burrell College faculty member Dr. Scott Cyrus received the 2022, Harold H. Finkel, DO and Arnold Melnick, DO Community Pediatrician of the Year Award. This award is given by the American College of Osteopathic Pediatricians (ACOP) to one osteopathic pediatrician who exhibits an exceptional commitment to their community. Dr. Cyrus received the award at the ACOP Spring 2022 Conference at the Sandestin Golf and Beach Resort in Miramar Beach, Florida.
"This is an award from my peers from across the nation," says Dr. Cyrus. "It means that I have been honored by a very special group of osteopathic pediatricians.  I have had the privilege to work with these pediatricians throughout the years and to serve the American College of Pediatricians on a number of committees and on the board of trustees as President.  This is a tremendous organization that represents osteopathic pediatricians and works to educate and support them in day-to-day practice.  The pediatricians come from all walks of life and work tirelessly throughout our country with the goal of improving the health of pediatric patients and families.  I am humbled by this group of pediatricians in receiving this award."
The 2022 Harold H. Finkel, DO and Arnold Melnick, DO Community Pediatrician of the Year Award was established in memory of Dr. Finkel, a pediatrician whose career in medicine spanned over 50 years. Dr. Finkel was known for his outstanding care and availability to his patients as well as his commitment to his students, interns, residents, and to the ACOP as well. In 2013, the award added the additional honorific to Dr. Arnold Melnick, pediatrician and close friend of Dr. Finkel. Both Dr. Finkel and Dr. Melnick were past presidents of the ACOP and the award serves to memorialize their longstanding partnership and friendship.
Dr. Scott Cyrus has been teaching at the Burrell College of Osteopathic Medicine since the school's first operational year in 2016 as a professor of Pediatrics and the Chief of Pediatrics. He graduated from Oklahoma State University Center for Health Sciences College of Osteopathic Medicine and subsequently, completed his internship and residency training at Oklahoma State University Medical Center. After completing his residency training, Dr. Cyrus practiced for 24 years in Tulsa, Oklahoma. During his lengthy career as a pediatric physician, Dr. Cyrus served as president of the Tulsa Osteopathic Medical Society, the Oklahoma Osteopathic Association, the New Mexico Osteopathic Medical Association, and the American College of Osteopathic Pediatricians.
For students of Burrell College who may be considering a career in pediatric medicine, Dr. Cyrus has this advice: "As an osteopathic pediatrician, I would advise any medical student that is interested in pediatric medicine is that it takes passion and patience to care for children and to advocate for their needs.  Lifelong learning is required to care for the child, and this translates into an honor through working with families being a vital part in the development of future generations."
The American College of Osteopathic Pediatricians is an organization dedicated to speaking and advocating on the behalf of osteopathic physicians regarding policies and social issues focusing on the health and wellbeing of all children, as well as serving its members through the offer of educational and professional opportunities.
"There are many people to thank for my path as an Osteopathic Pediatrician," says Dr. Cyrus. "My family and especially my wife Janell.  My parents supported my decision to attend medical school and then there is my mentor, Dr. Stan Grogg. Many people have influenced my pathway and I have an endless gratitude to one and all."