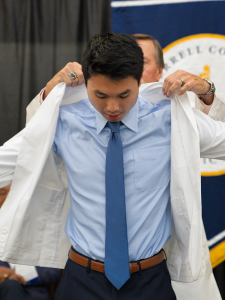 Recently the Burrell College of Osteopathic Medicine hosted its 7th Annual White Coat Ceremony for its largest class to date.
The ceremony marked the beginning of its medical students' journeys to becoming osteopathic physicians. It also symbolized the professionalism, caring, and trust that they must earn from patients.
As the need for more physicians continues due to aging populations, increased medical interventions, and a new lens on public health due to the COVID-19 pandemic, it's fitting that the 2026 incoming class is Burrell's largest to date, with one hundred ninety-five students.
"Our new class has joined us from 31 states. From Hawaii to New York, from Florida to California, and all the states in between," said Burrell's president, John L. Hummer.
"And right here within our region, we have 42 students from New Mexico, Texas, and Arizona," Hummer added.
One by one, the first-year medical students were called to the stage, where they were cloaked in their white coats by faculty mentors.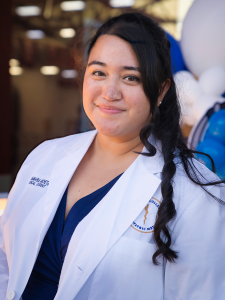 For Anamaria Ancheta getting her White Coat is a proud moment. Her grandparents are immigrants and worked as agricultural workers in the Mesilla Valley. They received health care at the Clinica de Familia, where she hopes she can serve as a Student Doctor.
"Having the opportunity to come to Burrell and receive my White Coat and give back to my community is to honor them," she said.
Dr. Pieratt, Dean and Executive Vice President of Academic Services led the students in reciting the Osteopathic Oath for the first time.
This year's guest speaker was Student Doctor Alberto Velasco. Born in California to an immigrant family from San Miguel de la Paz, Mexico, Velasco serves on the Executive Board President of Burrell's Student Government Association.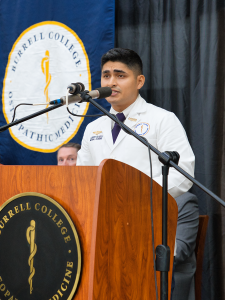 He is also a member of the National Council of Osteopathic Student Government Presidents (COSGP) Legislative Affairs Committee, working on policy reforms that ensure justice, equity, diversity, and inclusion among all DO Students.
"Whenever our flight becomes unsteady and the image of us becoming doctors becomes turbulent, it is those who stabilized our journey to get here that will ensure we land safety," said Velasco.
"We owe them to love and care for them back," he added.
The Burrell College of Osteopathic Medicine is the only medical college in the United States with a mission addressing healthcare in the Southwestern United States and its border with Northern Mexico. The college is focused on increasing diversity in the physician workforce and fostering a practice of lifelong learning, compassion, respect, and excellence in its students.