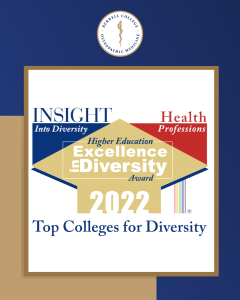 The Burrell College of Osteopathic Medicine received the 2022 Health Professions Higher Education Excellence in Diversity (HEED) Award from INSIGHT Into Diversity magazine.
It marks the first time the college has been selected for the recognition, which is presented annually by the oldest and largest diversity-focused publication in higher education.
"We are honored to be a recipient of the 2022 Health Professions Heed Award. This is a testament of our entire team's dedication to our mission and dedication towards a more diverse, equitable and inclusive campus," said John L. Hummer, president of the Burrell College of Osteopathic Medicine.
The HEED Award recognizes those colleges that prioritize Diversity, Equity, and Inclusion (DEI) and go above and beyond for their students, faculty, staff, and communities. Burrell is the only medical college in the United States with a mission addressing healthcare in the Southwestern United States and its border with Northern Mexico.
"I am very proud of our Burrell College community for being recognized with the HEED Award. We prioritize excellence through diversity, equity, and inclusion, and this award is a well-deserved testament to the efforts put forth by our students, faculty, and staff," said Dr. Bill Pieratt, Dean.
As a recipient of the HEED Award, Burrell will be featured, along with the other 63 recipients, in the December 2022 issue of INSIGHT Into Diversity magazine. Burrell was one of six osteopathic medical schools to receive the honor.
"This very humbling acknowledgement from Insight Into Diversity magazine is a testament to everyone on the Burrell campus who demonstrates our mission every day, in everything we do. Diversity and Inclusion are foundations of an excellent, well rounded medical education and they will continue to be at the core of what we value and work towards, improving health equity in our community and country, " said Erica Hughey, Chief Diversity Officer.
"The Health Professions HEED Award involves a rigorous application process that examines the recruitment, retention, and support of underrepresented students and employees, effective leadership in diversity mission-setting, innovative programming aimed at inclusive excellence, and many other aspects of diversity and inclusion across campus," said Lenore Pearlstein, publisher of INSIGHT Into Diversity magazine.
Of all students enrolled this year, 57 percent are Female, and 23 percent are underrepresented minorities in medicine. Since opening its doors, the College has matriculated between 21 percent and 32 percent of students from underrepresented populations in medicine.
"Our HEED Award recipients have demonstrated extraordinary resolve in working to build a more equitable, safe, and diverse campus environment," Pearlstein added.
For more information about the 2022 Health Professions HEED Award, visit insightintodiversity.com