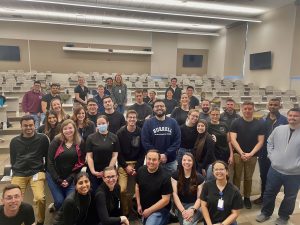 On Friday, February 17th, a group of Burrell medical students hosted a unique inter-professional training experience centered around the national movement to Stop the Bleed, training individuals on how to provide critical life-saving measures in the event of a catastrophic injury. The training details how to identify and utilize proper tourniquet application, wound compression, and wound packing techniques.
This inter-professional training event was coordinated in partnership with the Las Cruces chapter of Stop the Bleed and Burrell's Emergency Medicine Interest Group. Las Cruces Stop the Bleed was formalized in the Fall of 2022 but has coordinated large-scale training events with the goal of "teaching the teacher" since the Spring of 2022. The premise of these events is to train instructors not only on the skills needed to stop a potential life-threatening bleed but to provide individuals with the knowledge needed to then go on and teach others.
The principal driver of Las Cruces Stop the Bleed is Burrell medical student, Kyle Essex, spearheading this operation with the Burrell Emergency Medicine Interest Group. "I would like for the public to be aware that this training is for ALL, not just those interested in medicine," says Essex. "When confronted with a life-threatening bleed, the difference between life and death is YOU! If you wait for medical help to arrive, it will be too late (life-threatening bleeds take less than 3 minutes)."
In just ONE year of operation, the Las Cruces Stop the Bleed has increased its instructor pool to nearly two hundred individuals. These instructors originate from not only Burrell College medical students, faculty, and staff, but members from Texas Tech University Health Sciences at El Paso, New Mexico State University, the University of Texas at El Paso, the Dona Ana Community College, Dona Ana Fire Department, and Dona Ana Corrections unit.
Las Cruces Stop the Bleed has continued to expand its instructor base within the region and plans to host more "teach the teacher" events for as many medical professional programs in El Paso and Las Cruces who are interested. They also plan to branch out further within the Southwest to provide programming in other nearby cities.
In the future, Las Cruces Stop the Bleed intends to incorporate more technology into its training efforts, in order to expand its reach. IT operations are currently supported by fellow medical student Anna Fuller, who worked for Google prior to her arrival at Burrell College. Future program expansions will be made possible with the help of medical students Melissa Bolick, Kailey Simonson, and Kevin Molinar.
For anyone interested in coordinating a training event or working with Las Cruces Stop the Bleed, Essex encourages them to reach out by email at LasCrucesSTB@gmail.com. If anyone is interested in becoming involved with the Burrell Emergency Medicine Interest Group, they should reach out by email at bcomacep-acoep@mybcom.org