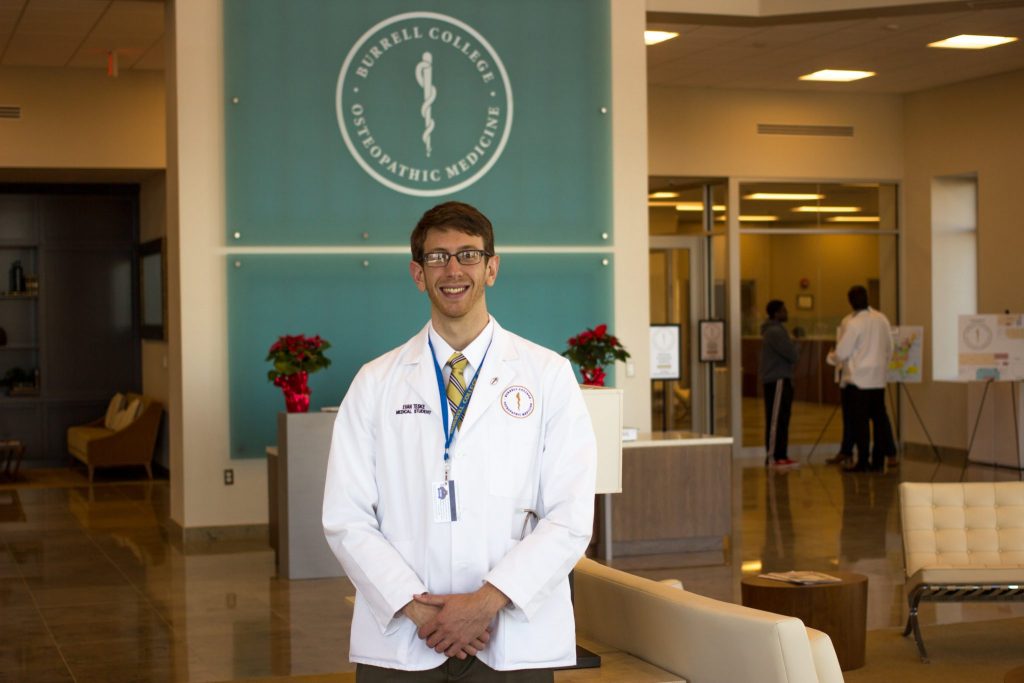 Evan Teske
Hometown: Shippenville, Pennsylvania
Why BCOM?: A lot of things led to me choosing BCOM. From the start, I knew I wanted to go to an osteopathic school because I like and believe in the holistic philosophy. I also have a strong connection to the state of New Mexico because of an internship where I lived and worked in the Pueblo of Acoma and Albuquerque—everyone from that experience became family to me and I've visited them every year since. Honestly, the whole region is enamoring to me, so when I heard that there would be a new school strongly committed to it, I was interested. When I was fortunate enough to be invited for an interview, everything just felt right. There have been periods in my life where I see the metaphorical "burning bush" and, as cliche as it sounds, where I know I have to follow my heart and gut. From the philosophy that focuses on people coming together to tackle healthcare issues to the spiral curriculum that is fully integrative, I knew I was going to commit to the school.
Future Goals: My future goals are to work hard and continue to improve myself and find balance in life. This path we're on has been tough and will never stop being tough, so I want more than anything to achieve my greatest potential. I plan on going in to a specialty I really connect with and am interested in. I also want to become a good doctor to my patients who contributes to society and will never stop learning and adapting to the world around me.
Hobbies and Interests: The first thing that comes to mind is martial arts. I've been training and practicing martial arts for almost 11 years, so it's firmly become a part of my life and identity. I also really like watching animation and certain types of movies—for instance, Star Wars, I absolutely love Star Wars in all of its different forms. Whenever I get the chance I also follow sports: basketball (NBA all the way) and cars (Formula 1, rally, and drag racing).
 Surprising Fact: I come from an unconventional academic background compared to most medical students. I went to a small liberal arts school in Poughkeepsie, NY called Vassar College and majored in a multidisciplinary major called American Studies (with foci in English and Native American Studies). My history gives me a unique perspective, but not having a science major made the learning curve at the beginning of medical school a little more difficult.
Rafaella Roque
Hometown: Riverside, California
Why BCOM?: I chose BCOM because the school's mission to increase workforce diversity, particularly in the Native American and Hispanic populations directly spoke to me. As a Latina, female I will make a difference in improving health care in the United States in a specialty I am passionate about. By being a part of the first class to graduate BCOM, my peers and I will have a tremendous impact in creating a strong legacy and cultivating traditions to be followed for years to come within the community. I was also drawn to BCOM because it is located in a small town. During my interview, the facility and community members were extremely welcoming, supporting of the school's mission, and excited to have health care improvement in their region. I am thankful to be a part of a community that is welcoming of our aid and believes in us as much as we believe in improving their health care.
Future Goals: My future goal is to represent minorities in the medical field by becoming an exemplary Anesthesiologist in my field. However, I am amiable to another specialty, if I find my passion is for that specialty. I also wish to inspire others interested in the medical field in that no dream is unattainable, by being their example.
Hobbies and Interests: Outside of studying I enjoy being outdoors and staying active by hiking, rollerblading, going on walks, lifting at the gym, and mentally recharging by practicing yoga. I also enjoy cooking, watching movies, and playing board games with family and friends.
Surprising Fact: I was born in Brazil, moved to America when I was five years old, and was raised by a single mother. I am proud to be a first generation college graduate and soon to be medical school graduate. America has granted me many opportunities I could not have otherwise accomplished if I lived in Brazil. Thus, I am ecstatic to be able to give back to this amazing country as an exemplary physician and honor the education BCOM has taught me.