Office of Diversity and Inclusion
Message from the Chief Diversity Officer
Warm greetings from the Office of Diversity and Inclusion at Burrell College of Osteopathic Medicine. Here, we champion diversity as our strength and believe that it is our energy source. We know that diversity fuels the power of the people, and we use it to operate in excellence as we exemplify our motto of "For the people and the future".
It is truly an honor to be one of only six colleges of osteopathic medicine to receive the 2022 Insight Into Diversity Health Professions HEED (Higher Education Excellence in Diversity) Award. We are proud to be a national award-winning school, receiving recognition for our recruitment and retention of students and faculty from underrepresented groups and for excelling in creating a more diverse and inclusive campus environment. For example, BCOM is rank 2nd in the country in percentage of admitted students who are underrepresented in medicine among all colleges of osteopathic medicine according to AACOM data from 2018-2021. Additionally, our commitment to a culture of excellence is further evidenced by the recent elevation of our diversity, equity and inclusion operations and oversight role into this institutional leadership position of Chief Diversity Officer, where I also support our students, faculty, and staff as Ombudsman.
As inaugural CDO, I provide the direction, framework, and acumen to foster and sustain an equitable campus culture that encourages fairness, collaboration and flexibility that ensures an innovative environment were all employees and students can experience and contribute to a healthy community. We embrace our visible and invisible diverse qualities and use inclusion to leverage those differences to make a difference.
At BCOM, we know that diversity and inclusion is not just about who we are, it governs how we operate in our vision, how we carry out our mission and how we exercise our guiding principles daily. Diversity and Inclusion is everyone's responsibility as a core tenet and recognizing and welcoming the myriad of intellectual and social values represented in our halls is what makes this campus' culture rich and rewarding. We value helping each other and learning from one another. Never resting on our laurels, we understand that there is always more work to do. I invite you to join us.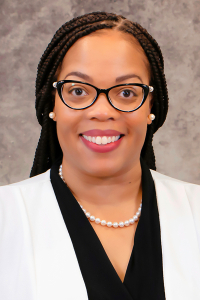 Phone: 575-674-2279
Email: ehughey@burrell.edu

Bachelor of Arts, Sociology, Virginia State University
Master of Business Administration, Human Resource Management, Columbia Southern University
Professional Certificate, Diversity and Inclusion, Cornell University