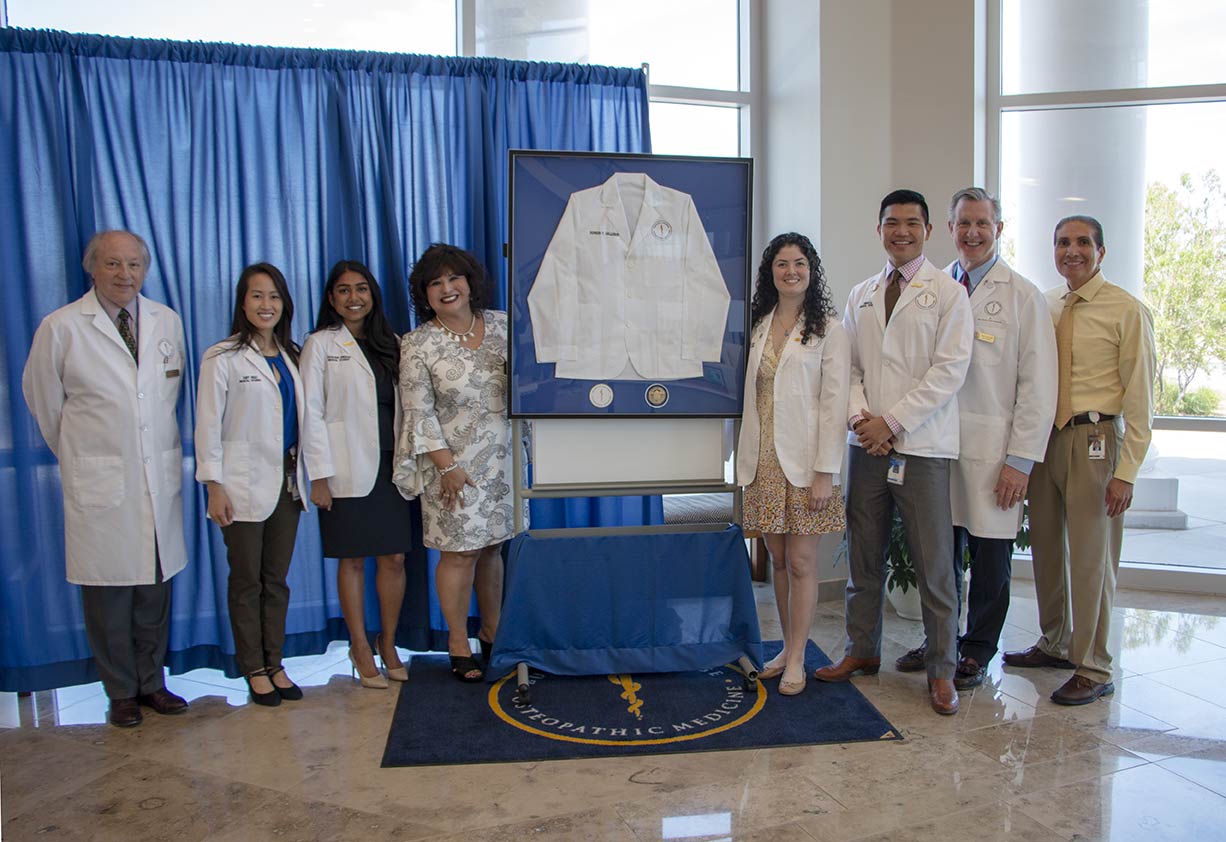 New Mexico State Representative Doreen Gallegos visited the Burrell College of Osteopathic Medicine (BCOM) campus where she was presented with an honorary BCOM white coat as a thank you for her continued support of the medical college.
BCOM Pediatrics Chair and President of the New Mexico Osteopathic Medical Association Scott Cyrus, DO, provided the welcoming address to Rep. Gallegos and her staff. He thanked them for their support and guidance in bringing attention to issues important to the osteopathic community, in particular the Graduate Medical Education Expansion Bill (H.B. 480) which was signed by Governor Michelle Lujan Grisham on April 2, 2019.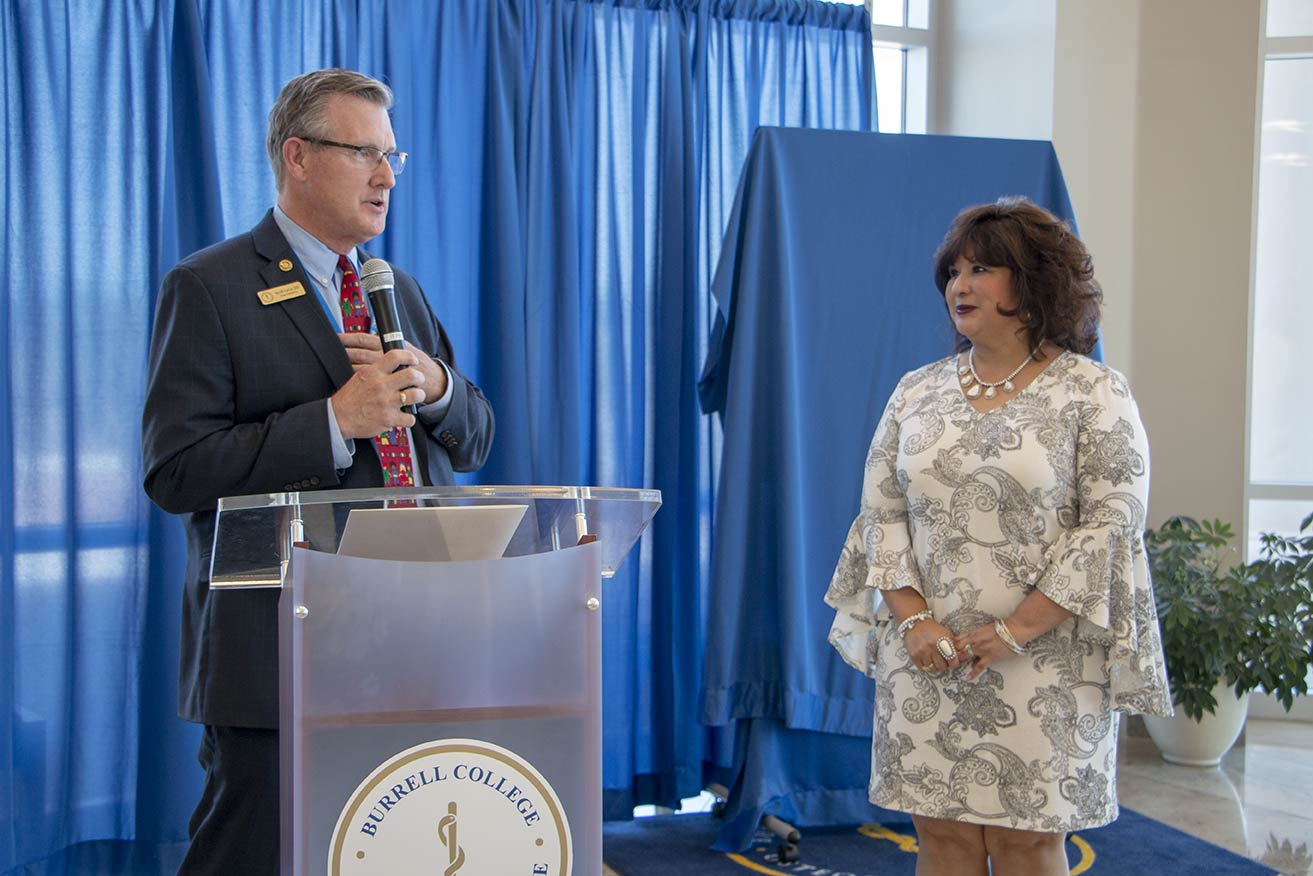 Dr. Cyrus said, "Representative Gallegos is a sponsor of House Bill 480 which provides over a quarter of a million dollars for Graduate Medical Education programs. The expansion of these residency programs in the state creates a pipeline to bring new doctors to New Mexico. These programs are extremely important to our students' futures as they go from BCOM into the world of residency."
Dr. Cyrus also thanked Rep. Gallegos for her sponsorship of House Bill 126, which allows BCOM students to participate in loan repayment and loan for service programs.
During her visit, several medical students gave Rep. Gallegos a personal tour of the BCOM campus and presented her with the white coat embroidered with her name. They also got a chance to speak to her about how her efforts have influenced their futures.
Second year student Giselle Irio is originally from Florida and she came to BCOM with the intention of returning to her home state to practice. "But after coming to New Mexico, I really fell in love with the state," Irio said. "With the bill that Representative Gallegos supported, we have more opportunities to go out and seek residency programs and provide health care right here in New Mexico. She has helped give me and many other students the chance to stay here and practice medicine."
As a social worker, Rep. Gallegos noted that the medical school has a special place in her heart because she works on a daily basis with the people who are directly impacted by the school's mission.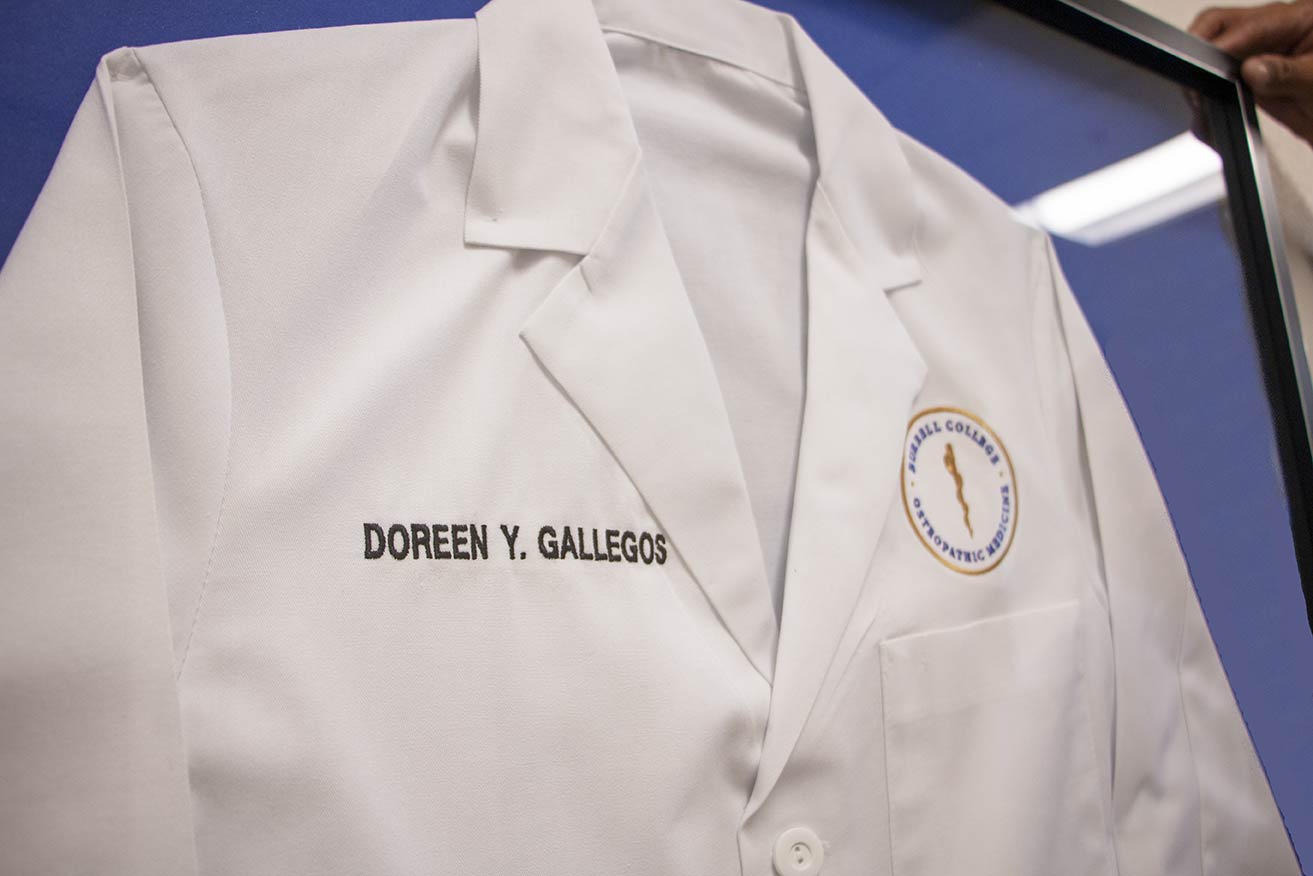 She said, "Burrell is in my district and I always refer to it because it's such a beacon of light in our district. It is a concept that came together when people were saying, 'I don't know if that can happen.' And today I'm looking at this beautiful building and the beautiful work that you students are doing and the impact that you're going to have on our communities. My hope is that we can endear you to New Mexico and keep you here because we need doctors. We need people who are going to take care of the elderly and the sick. It's important and it is such an honor to be here today."