What: Exhibit Grand Opening – Graphic Medicine: Ill-Conceived and Well-Drawn
When: 5:30 – 8:30 p.m. Friday, Oct. 26
Where: Burrell College of Osteopathic Medicine (3501 Arrowhead Dr.)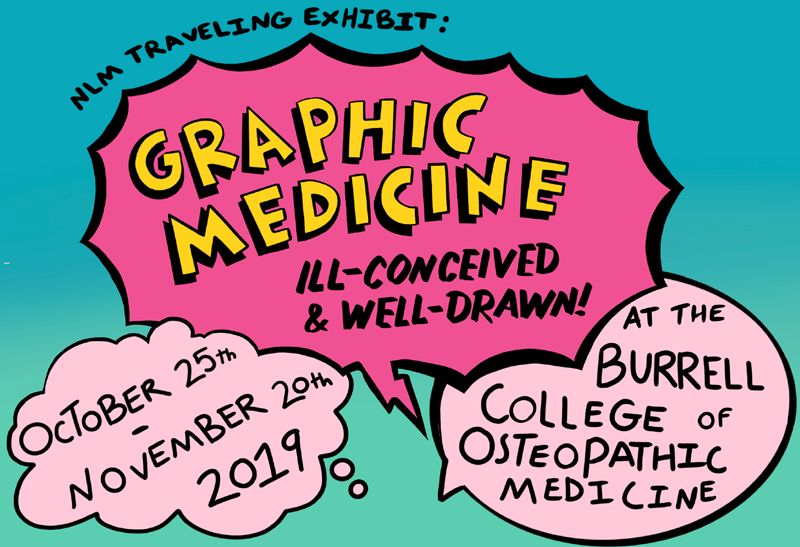 The public is invited to the grand opening of a new, fun and educational exhibit at the Burrell College of Osteopathic Medicine (BCOM). "Graphic Medicine: Ill-Conceived & Well-Drawn" is a traveling exhibition on loan from the U.S. National Library of Medicine (NLM).
The free exhibit explores how comic books and superheroes can aid in communicating personal illness narratives and health information. Examples from this increasingly popular genre will be shared with the public. These include depictions of individuals' experiences with an array of health issues, including breast cancer, deafness, mental illness and HIV/AIDS.
The grand opening event will feature food and family-friendly activities. Attendees are invited to come dressed as a comic book character or super hero to participate in a costume contest and photo opportunities. Curators from the Las Cruces Museum of Art and Museum of Nature & Science will be at the event leading educational activities, puzzles and games for kids, such as building models of brain neurons.
 The evening will culminate with the lecture, "An Introduction to the Potential of Comics as a Health Information Medicine and the Graphic Medicine Movement."
The lecture will be presented by guest speaker Jenifer A. Fisher, a self-proclaimed science geek and comic book nerd who works as a research librarian at Rocky Vista University in Colorado. As a medical librarian, Fisher instructs student doctors on the importance of remembering patient preferences when making decisions. She has observed how graphic novels can support students as they learn this valuable lesson.
Fisher's lecture will discuss ways in which educational comics might provide support in dealing with feelings and attitudes towards health conditions, as well as improving understanding of factual information and benefits of using comics as a medium for health information.
A complete schedule for the grand opening event and other exhibit-related programming is available online here. The events are made possible by BCOM's Health Sciences Library.
 The exhibit "Graphic Medicine: Ill-Conceived & Well-Drawn" will remain on display at BCOM through Wednesday, Nov. 20. The exhibit will be available for viewing Monday through Friday between the hours of 8 a.m. and 5 p.m. Between Nov. 10 – 14, the exhibit will be on the New Mexico State University campus in the Zuhl Library.