On January 26th, Burrell medical students in conjunction with the Office of Student Affairs held a Virtual DO for a Day event for prospective medical students to learn more about Burrell College of Osteopathic Medicine. DO for a Day allows students considering a career in osteopathic medicine an inside look at what to expect from Burrell College. Typically, the event is held face-to-face on Burrell's campus.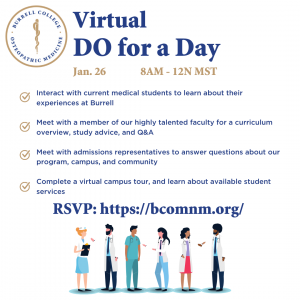 The successful event included a virtual tour of Burrell's main campus, showcasing the many features the college has to offer including state-of-the-art patient-care simulators, private student study rooms, lecture halls, and lounge areas.
Burrell Professor of Anatomy and Cell Biology, Cindy Funk, Ph.D., gave students an overview of what the pre-clinical class schedules have in store for first- and second-year students. Dr. Funk also provided tips to prospective students on how to be a successful medical student, encouraging them to be proactive in asking for help whenever needed.
Director of Student Life, Brett Newcomer, assisted by current medical students Anna Subonj and Destiny Newsome, provided attendees an inside look at the city of Las Cruces and the different amenities the region has to offer. He also walked the prospective students through the different student resources available to them including career counseling and one-on-one assistance.
The event also included a presentation by Burrell's Admissions Office who provided advice on the requirements needed to be a competitive applicant as well as a presentation and OMM activity led by members of the Student Osteopathic Medical Association (SOMA).
OMS-I medical student and Burrell DO for a Day chairperson Destiny Newsome says, "While we wish we could have hosted this year's event in person, hosting DO for a Day virtually actually gave us the opportunity to reach students from all over the nation. Prospective students get the opportunity to experience what the future holds for them while interacting with current BCOM students, faculty, and staff. One thing we hope prospective students gain from this experience is understanding how passionate BCOM is about its mission to provide osteopathic physicians for the underserved communities of the southwestern United States."
For more information about future "DO for a Day" events, e-mail studentaffairs@bcomnm.org