Burrell faculty member Dr. Anthony Levatino and Burrell fourth-year medical student Cristian Valdez have been awarded the Leonard Tow Humanism in Medicine Award. The award recognizes graduating students and faculty members who demonstrate clinical excellence and outstanding compassion in the delivery of care, as well as showing respect for patients, their families, and their healthcare colleagues. The Leonard Tow Humanism in Medicine Award was launched in 1991 by the Gold Foundation, the parent organization of Burrell's chapter of the Gold Humanism Honor Society (GHHS). The Gold Humanism Honor Society (GHHS) is a nationally recognized society that honors students, residents, and faculty who are exemplars of compassionate patient care and who serve as role models, mentors, and leaders in medicine.
In 1993, Dr. Anthony Levatino earned his law degree from Albany Law School in Albany, New York. He spent seven years on the faculty of the Albany Medical College, where he taught medical students and medical residents obstetrics and gynecology. Dr. Levatino joined Burrell College in January 2016, before the college welcomed its first class. At first, Dr. Levatino taught part-time while he maintained his OB/GYN practice in Las Cruces, NM, his home since 2002. From January 2017 to August 2018, Dr. Levatino taught at Burrell full-time, until he retired to Arizona. Since then, he has continued his position as the Endo/Repro II course director, returning to Burrell's main campus every January to continue his instruction.
"Receiving the award means a lot to me.  My greatest enjoyment working at Burrell is interacting with the students.  Teaching Endocrinology/Reproductive Medicine II this year was particularly difficult for me because of the lack of student interaction.  There is a fantastic team of faculty at the college, and it has always been an honor to be work and interact with them.  For someone to even nominate me for the Humanism award (and I don't know who it was) is very special.  To be recognized in such a way by my colleagues at Burrell is humbling and makes me grateful to be part of the team," says Dr. Levatino.
Dr. Levatino extends his sincerest thanks to whoever nominated him for the award, as well as to the entirety of Burrell faculty, and the student population, who "chase their dreams to become members of the greatest profession on Earth.  Their energy and enthusiasm keeps me going in retirement," says Dr. Levatino.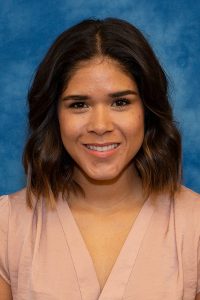 Cristian Valdez, OMS-IV, graduated in 2007 from Lovington High School in Lovington, New Mexico. She attended Texas Tech University and graduated with a Bachelor of Fine Arts in 2011. She worked for several years as a freelance designer and photographer, focusing on the U.S./Mexico border. After spending a summer volunteering in Mexico at a home for the elderly, Valdez realized she could make more of an impact on people's lives by pursuing a career in care. That inspired her to pursue her medical prerequisites and apply to Burrell College of Osteopathic Medicine.
"I am extremely honored to be receiving the Leonard Tow Humanism in Medicine Award," says Valdez. "It is the greatest compliment to know that the care and compassion I aim to provide to all of my patients is being recognized by my colleagues and professors," Valdez advises any future students interested in being considered for the Leonard Tow Humanism in Medicine Award to stay focused on why they chose a career in medicine. "Push yourself to always see the people others aren't seeing and then give them the care and attention they deserve."
Valdez extends her thanks and appreciation to the custodial staff at Burrell College for going above and beyond to ensure the campus was safe to access amidst the pandemic. She also thanks Burrell's IT department for helping her and her fellow students migrate to a virtual platform when in-person instruction was no longer feasible. "We could not have succeeded without you," Valdez states.
Founded in 2002, the GHHS has grown in impact to become a key component of medical school and residency training program cultures throughout the U.S. Inspiration for GHHS came from medical educators and residency program directors who expressed a need for a way to identify applicants to residency training programs with remarkable clinical and relational skills. Nationwide, the Gold Humanism Honor Society has over 30,000 representatives in training and practice.