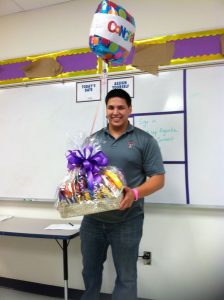 Gary De Leon is an El Paso native and an OMS-IV student who followed an unconventional path that led to the Burrell College of Osteopathic Medicine. Following a fruitful and rewarding career as both a coach and a teacher, Gary De Leon decided to return to school himself to pursue a career in medicine.
After graduating with a bachelor's degree in Exercise and Sports Science from Texas Tech University, Gary joined Teach for America, working with students during the school year and using the time off to prepare for medical school. After two years with Teach for America, he attended Drexel University College of Medicine for a post-bachelor in medicine. During his time there, he worked with Burrell College's very own Dr. Minugh-Purvis as her teaching assistant in the anatomy lab for pathologist's assistants.
Gary De Leon was a teacher and coach for six years before enrolling at Burrell College. He began his teaching experience in Alamo, Texas, the 8th poorest community in the United States. "Some of my students were children of migrant farmworkers and a few lived in houses with dirt floors," De Leon recounted. There, Gary was given the Teacher of the Year award for his efforts, which brought his class to a 97% pass rate on state tests after only his second year of teaching.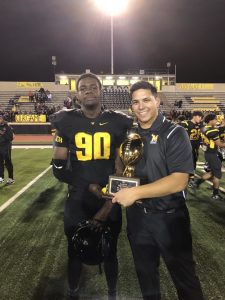 Following his post-bachelor at Drexel University, Gary continued teaching. He first taught chemistry and physics in Trenton, New Jersey, and then middle school science in Lubbock, Texas. At the same time, De Leon was coaching football which eventually enabled him to return to his hometown of El Paso, Texas to teach and coach at Parkland High School. He also coached the Parkland wrestling team, helping take 3 athletes to the state wrestling tournament. "The hours were long, but boy was it a blast! I feel it was a culmination of my years of teaching, I learned strong communication skills between many age groups, how to plan big events, and that hard work ethic really is not just for yourself but to help others out as well," says De Leon.
After deciding to pursue medical school, Gary was initially a bit unsure of himself. He reached out to Dr. Minugh-Purvis for advice on his career path, and she informed him of a new medical school opening up near his home in El Paso. "I applied and it felt like home. Burrell caught my attention because I have always loved the idea of giving back and doing work as a service to better the community," says De Leon.  "The fact that we are trying to keep our students around the area and build our area through service and acts of kindness is a dream come true to me."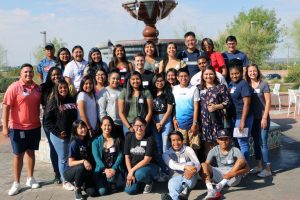 Gary was accepted into the Class of 2022, the third graduating class in the College's history. During his time as a medical student, he has channeled his love of teaching and mentoring into multiple volunteer efforts. Gary was the lead student ambassador for J-PATH (spell out), a summer program that collaborated with the Jemez Native American tribe. Ten medical students, including Gary, met with a group of their high school students to teach them about their paths to health care careers, what they encountered, and how the students themselves could prepare for a future in health care. "They also taught us a little of their culture and we even had a feast with them in Jemez, N.M.," says Gary. "By the end of the week, the students joined us at school where they learned some ultrasound techniques and even suturing. It was a great opportunity!"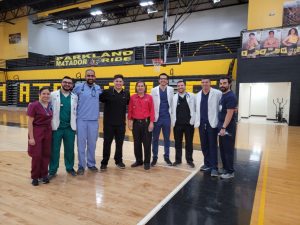 Gary has participated in multiple volunteering events where he mentored elementary to high school age students, speaking at three schools and one conference during his time in medical school. Gary was selected for the Touch Award as a second-year student for achieving 100+ hours of volunteering. Most recently, Gary collaborated with Burrell's preceptor Dr. Salloum to return to Parkland High School, this time as a medical student and not a teacher, to perform free physicals for the student-athletes. With help from fellow medical students at the El Paso Academic Regional Center, they performed fifty free physicals.
"Gary is an exceptional human being," says Dr. Adele Lente, Associate Dean of Clinical Education & Associate Professor of Clinical Medicine at Burrell College. "He is a  bright, enthusiastic, and caring individual. He was our lead mentor of the J-Path Summer Program in July 2019 at Jemez Pueblo. He did an exceptional job of mentoring the youth there and organizing the medical student mentors. He is a hard-working student that always maintains a positive attitude. I have never seen him without a smile on his face. I am very proud of his achievements, including a recent induction into the Gold Humanism Honor Society and involvement with the community, and dedication to the mission."
Gary will be pursuing a residency in family medicine during the 2022 Match Cycle and plans to practice in a community in need to help educate about osteopathic principles and preventative medicine. "I will be a family medicine physician," says De Leon. "To me, it has everything that I enjoy! I will learn to work with every one of each age group, promote preventative medicine, deliver babies, and even get to work with sports again." Gary even has plans to pay it forward to Burrell College through a possible preceptorship or another teaching role.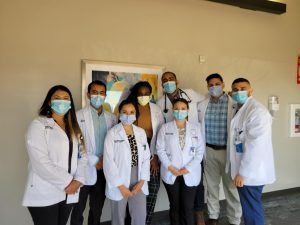 De Leon has many members of Burrell College to thank for his experiences in medical school. "There are moments in life when sometimes you feel like you give up on yourself," says Gary. "Dr. Minugh-Purvis has been one of my pillars to pursue medicine and make me believe I could do this. I would also like to thank Dr. Lente for allowing me to be the lead student ambassador for J-PATH and Dr. Assi for working with me as this year's El Paso Hub representative." Gary is also grateful to his peers at the El Paso Regional Academic Center for their dedication to the El Paso community and to his family for their ongoing support and encouragement.
Gary De Leon will graduate from Burrell College in Spring 2022, to add "doctor" to his long list of occupations.