Burrell College preceptor and Pediatrician, Dr. Carlos Gutierrez and Burrell fourth-year medical student Gary De Leon II, have been awarded the Leonard Tow Humanism in Medicine Award. The award recognizes graduating students and faculty members who demonstrate clinical excellence and outstanding compassion in the delivery of care, as well as showing respect for patients, their families, and their healthcare colleagues. The Leonard Tow Humanism in Medicine Award was launched in 1991 by the Gold Foundation, the parent organization of Burrell's chapter of the Gold Humanism Honor Society (GHHS). The Gold Humanism Honor Society (GHHS) is a nationally recognized society that honors students, residents, and faculty who are exemplars of compassionate patient care and who serve as role models, mentors, and leaders in medicine.
Dr. Carlos Gutierrez is an El Paso-based pediatrician with a forty-two-year-long career devoted to care providing. Dr. Gutierrez's most notable contribution to healthcare access within the region is the establishment of El Paso's first true Children's Hospital, to which he dedicated thirty-two years of his career. In addition to his profession as a pediatrician, Dr. Gutierrez has committed his free time to medical volunteerism, having performed missionary work in Chiapas, Mexico, in the Colonias and South of Juarez, and caring for refugees from Mexico, Central America, and Cuba. During all of this, Dr. Gutierrez also provides life-long care to special needs patients. "All of these activities have not been done for fanfare but because of my love of medicine and because I know that I am a doctor whose responsibility is to provide the hose medical care to everyone who needs it," says Dr. Gutierrez.
Dr. Gutierrez is one of Burrell College's preceptors, a physician educator that assists the College in the clinical training of our third-year medical students based at our El Paso Regional Academic Center. He was selected as the winner of this award out of a pool of over 850 preceptors and physician faculty at Burrell College. "Being selected for the Leonard Tow Humanism in Medicine Award is truly one of the most special honors I have ever received in my forty-two-year career as a physician and pediatrician," says Dr. Gutierrez. "Words cannot describe how elated I was when I was informed that I was the recipient of this year's award. I was quite humbled in knowing that I was being considered a finalist for this accolade. Upon receiving the news that I had won the award, I felt that I was not deserving of such an honor for simply doing my job the way any physician should perform their work – being humble and compassionate and caring for their patients equally, especially those who can least take care of themselves.
Dr. Gutierrez advises students to work hard to perform their jobs to the best of their abilities and to listen to what their patients are telling them. "Most importantly, use your God-given talents to the best of your abilities to help others without the expectation of receiving special recognition or awards for what you do," says Dr. Gutierrez. "The knowledge that you have done your job and cared for your patients to the best of your abilities should be reward enough for any medical student or practicing physician. The take-home message I would like to leave you with is this: Always listen to your patient – don't be looking at your iPad when you're dealing with your patient. Finally, as a physician, you will always make a comfortable living in your profession. Therefore, please never neglect those individuals who can least take care of themselves. Provide everyone with the most compassionate and the best medical care you can give. And please, get involved with activities that provide medical care for those individuals who lack such care."
Dr. Gutierrez is thankful to Burrell College and the Office of Clinical Education for allowing him to serve as a preceptor to Burrell medical students."I am extremely impressed with the quality of medical students that I have had the privilege of mentoring in my clinic," says Dr. Gutierrez. " I would personally like to thank my personal physician, Dr. Muneer Assi, for encouraging me to become involved with the medical school. He has been one of my role models in being a perfect example of how a physician should treat his patients while also taking an active part in being involved in matters involving the community. His role as an assistant dean of the Burrell College of Osteopathic Medicine in charge of the El Paso Regional Academic Center has been performed admirably."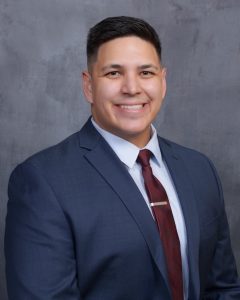 Gary De Leon II is a fourth-year medical student at the Burrell College of Osteopathic Medicine. "I am so honored to be awarded the Leonard Tow Humanism in Medicine Award," says De Leon. "This award is given to one graduating medical student and faculty at each medical school. I have worked alongside many of our fellow medical students and I can say each has been so caring and I have learned great examples in medicine from them. To be nominated for this award amongst so many fantastic 4th year medical students is truly an honor. To practice humanism, I just try to always think, if I were in the patient's shoes how would I want to be treated. It does not take much effort to share a smile, laugh, or grab an extra warm blanket for a patient. In all honesty, my favorite part of medicine is building a relationship with patients, this is why I am becoming a Family Medicine Physician. Each day of the rest of my career I am allowed that opportunity and I could not be more thankful."
Prior to attending Burrell College, Gary worked with Teach for America, serving some of the most rural communities in the country. He taught and coached for six years before embarking on his journey to become a doctor. During his time as a medical student, he has volunteered countless hours of his time to outreach and community engagement efforts. As a second year, he earned the Touch Award, for achieving over 100 hours of volunteering.
De Leon advises his fellow classmates to reflect on the type of physician they would like to be. "Emulate those preceptor physicians who are great at building relationships, reassuring patients, and go the extra mile to keep a great practice," says De Leon. "Steal their tricks, their lessons, their ways of delivering tough as well as happy news. Be willing to stay the few extra minutes to learn a technique, procedure, or listen to a patient's story."
Gary would like to thank all the preceptors who have shown him how to be a competent physician. "I would especially like to thank Dr. Rosen, who taught me how to deal with delivering tough news, who sings to his patients when a good song is on and celebrates with them after surgeries and births of their new babies," says De Leon. "I would like to thank Dr. Armendariz who taught me how to build rapport with patients, laugh alongside them, and help lead patients to goals in medicine. As well as Dr. Provencio, who taught me to believe in myself, how to build a strong team staff relationship, and to reach for big dreams. Lastly, to Dr. Assi who always challenged the El Paso hub to be better and reflect on the type of physicians we should be. We are very blessed as a school to have such great examples to learn from as physicians."
Founded in 2002, the GHHS has grown in impact to become a key component of medical school and residency training program cultures throughout the U.S. Inspiration for GHHS came from medical educators and residency program directors who expressed a need for a way to identify applicants for residency training programs with remarkable clinical and relational skills. Nationwide, the Gold Humanism Honor Society has over 30,000 representatives in training and practice.