Burrell College of Osteopathic Medicine student, Kathryn Cerami, OMS-II, won first place for her research poster presentation at the largest gathering of osteopathic physicians in the world, the Osteopathic Medical Conference and Exposition (OMED.) Held in Boston last month, OMED is an annual medical conference that brings together thousands of osteopathic physicians, medical students, and other health professionals from across the country. OMED hosts a student poster competition to provide researchers with the opportunity to present to a broader audience. The research entitled Effect of Occipito-Atlantal Decompression, Transcutaneous Auricular Vagus Nerve Stimulation, and the Splenic Pump on Circulatory Immune Cell Numbers, was conducted under the mentorship of Adrienne Kania, D.O., FAAO, NMM/OMM, and Harald M. Stauss, M.D., Ph.D. Other student researchers contributing to the project were Julia Wong, OMS-II; Richard Huynh, OMS-II; Felicia Romero, OMS-II; Adam Viegas, OMS-II and Minyu Chen, OMS-II.
"It was very rewarding to work with such a wonderful team of researchers! My mentors, Dr. Kania and Dr. Stauss, were both great resources and helped us to succeed," said Cerami. "Every one of the students on the research team worked hard and made great contributions, and it was through our combined efforts that we were able to present a winning poster," she added. Nearly three million Americans are affected by chronic inflammatory diseases such as ulcerative colitis, Crohn's disease, and rheumatoid arthritis. The results of the research showed that osteopathic manipulative treatment and neuromodulation of the vagus nerve can reduce inflammation.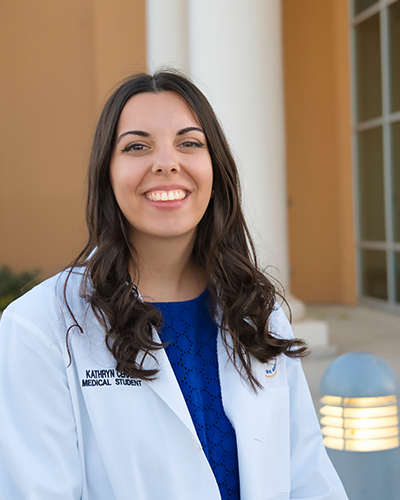 "Dr. Kania and I are proud of this achievement by our student. I believe that this prize will increase the national recognition of the research activities at our Institution," said Dr. Stauss, Professor of Pharmacology at Burrell. "Such recognition by other osteopathic schools and the American Osteopathic Association is very important when submitting manuscripts for publication or external grant applications, because potential manuscript or grant reviewers will likely be faculty from other osteopathic schools", he added. The vagus nerve represents the main component of the parasympathetic nervous system, which oversees a vast array of crucial bodily functions, including control of mood, immune response, digestion, and heart rate. According Stauss, the osteopathic manipulative treatment and neuromodulation of the vagus nerve are unlikely to completely replace pharmacotherapy of chronic inflammatory diseases. However, it is possible that adding these techniques to established standard of care can reduce the dose of drugs needed to treat such diseases. This would potentially result in fewer adverse effects of such medications.
"I know several people with a chronic inflammatory disease, and I know how much it can affect daily life," said Cerami. Burrell College plans to continue researching the topic. A team of researchers are already testing the effects of neuromodulation of the vagus nerve in patients with psoriasis. Initial results are promising, and the college is currently recruiting more patients for this study. To be accepted into the OMED competition, Cerami's research abstract underwent a peer review process by conference committee members. Winners were selected by a team of judges based on the materials presented, the students' demonstration of knowledge of the presentation, and originality of the work. Cerami's abstracts will be published in the December online edition of the Journal of Osteopathic Medicine.
Click here if you want to see the OMED presentation.