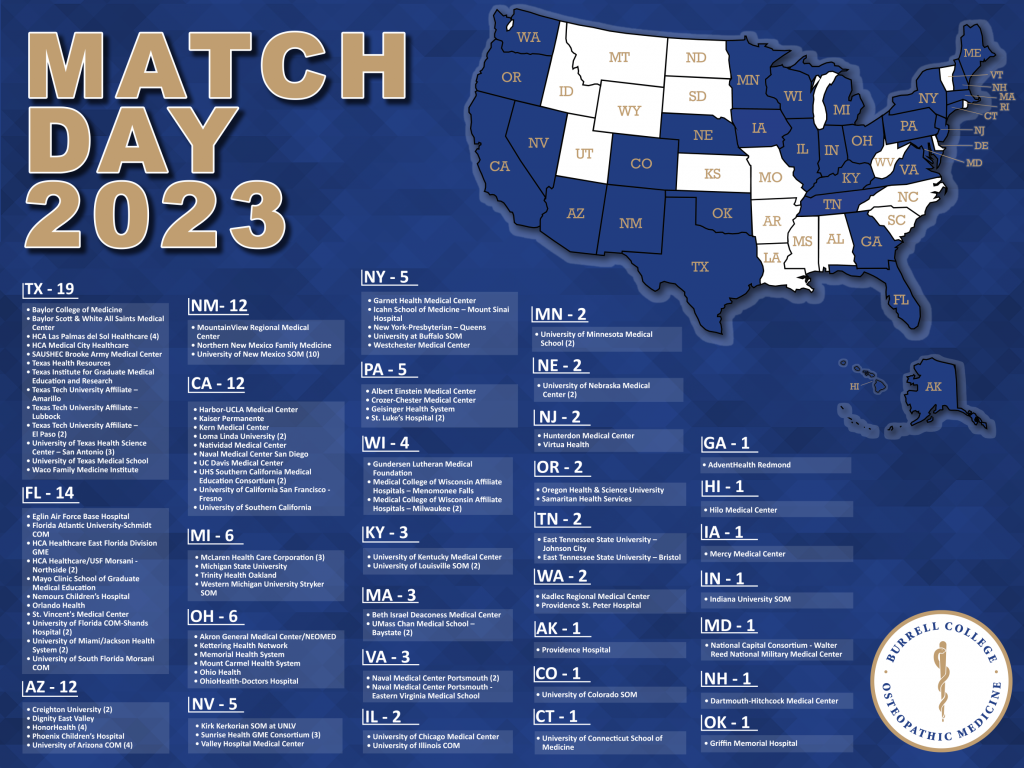 Las Cruces, NM. – On Friday, March 17th, medical students of the Burrell College of Osteopathic Medicine learned in what field of medicine they will specialize and where they will complete their residency training – the next chapter of their medical education after obtaining their degree. In total, 133 students were placed in a graduate medical education program in various specialties across the country.
"We are very impressed with the 2023 placement results our students have achieved," says Burrell College Dean and Chief Academic Officer Bill Pieratt, DO. "Our students have worked incredibly hard to reach this point in their medical education, and this day is a celebration of their years of effort. We look forward to seeing them continue to succeed in their residency training program and beyond."
The National Residency Matching Program (NRMP) is a national non-profit, non-governmental organization that utilizes a computerized mathematical algorithm to place applicants into residency training programs and fellowship positions in U.S. teaching hospitals. Eligible medical students across the country participate in the NRMP, which reveals match placement information at the same time for all participants, which this year fell on March 17th at 10:00 a.m. Mountain Daylight Time.
Students submitted their applications to residency programs across the nation and were subsequently placed in programs in thirty-one states. Graduate Medical Education placements included numerous unique specialties, such as neurology, pathology, and orthopaedic surgery. Forty-three of the members of the Burrell College will remain in Arizona, New Mexico, and Texas, helping to address the physician scarcity in the Southwestern U.S.
Many will stay and train closer to home, pursuing their residencies at Las Cruces' MountainView Regional Medical Center and Memorial Medical Center; Albuquerque's University of New Mexico School of Medicine; Santa Fe's Northern New Mexico Family Medicine; and El Paso's HCA Las Palmas Del Sol Healthcare, as well as Texas Tech Health Sciences Center (both El Paso and Lubbock).
"Our students are incredibly dedicated and hardworking, and the results are evidence of that," says Burrell College president, John Hummer, MHA. "The 133 placements that were announced this week is such an accomplishment for our students. We are very pleased to see that many of our students will continue to train in the states of New Mexico, Texas, and Arizona, providing additional healthcare support for these regions. Burrell College has a mission to improve healthcare access for medically underserved communities and the placement results received this Match cycle will continue to support this important work."
President of the Class of 2023 Student Government Association, Gina Gilderman, was among the 133 students who learned where they continue their training at the Burrell College Match Day Ceremony. "Match Day has been absolutely surreal," she says. "I keep checking my letter to make sure I am actually seeing what's real. For most of us it's four to five years of a lot of hard work, struggles, and sacrifices, to have it all finally come to this milestone in our careers, it doesn't feel real."
This is the fourth Match Day Ceremony in the history of the Burrell College and was held at the New Mexico Farm and Ranch Museum in Las Cruces, New Mexico. In May 2023, fourth-year medical students will receive their degree of osteopathic medicine and begin their residency training shortly thereafter.
The following are some key highlights from the 2023 placement results:
• 70 physicians will train in one of the primary care specialties, which includes family medicine, internal medicine, and pediatrics.
• 32 physicians will practice emergency medicine, working on the forefront of healthcare in emergency rooms and departments.
• 17 physicians will pursue residency training in the cities of Albuquerque and Las Cruces, NM and El Paso, Texas.
Cynthia Reyes is a member of the Class of 2023 who was born and raised in El Paso, Texas. She has placed into a pediatric residency training program in her hometown. "I feel so amazing, I am so excited," says Reyes. "This is what I have been looking forward to since I was a little kid, realizing that I am going to fulfill my dream of giving back to the community I grew up in. It's just really a dream come true and I couldn't have done this without the support of my school."
Burrell College graduates will pursue residencies in the following specialties after graduation:
• Anesthesiology
• Child Neurology
• Diagnostic Radiology
• Emergency Medicine
• Family Medicine
• General Surgery
• Internal Medicine
• Internal Medicine/Pediatrics
• Neurology
• Neuro-Ophthalmology Research Fellowship
• Obstetrics and Gynecology
• Orthopaedic Surgery
• Osteo Neuromusculoskeletal Medicine
• Pathology
• Pediatrics
• Physical Medicine & Rehabilitation
• Preliminary Surgery
• Psychiatry
• Urology