Panther Trolley and Shuttle
Floride Tech TrolleyPanther Express Trolley System provides transportation throughout the university campus. Transportation services are provided on a non-fare basis. Route includes Main Campus, Panther Dining, Florida Tech Commons and Nathan Bisk.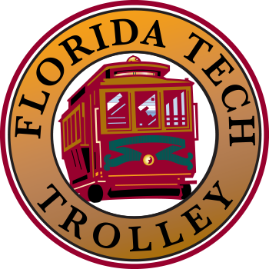 Ride Free! Rides on the trolley are free for all riders.
Panther Express trolley are operational according to the schedule.
Trolley Route Map
Trolley Route Map 
Trolley Stops
Harris Commons
Gleason Performing Arts Center and WFIT Broadcast Center
John E. Miller Building (Academic Quad)
Residence Hall Circle
Between F.W. Olin Engineering Complex
Between Clemente Center and Panther Dining Hall
Nathan Bisk College of Business
South Bridge
Panther Shuttle
Florida Tech Facilities offers a shuttle for students to travel between the Emil Buehler Center (Flight Line), and Center for Aviation and Innovation at Melbourne Airport, the Panther Dining Hall at Florida Tech and the Mary Star of the Sea and Panther Bay Housing Locations. Please be at the stop locations 5 minutes prior to the times listed on the schedules. Times listed on schedule are departure times.
If you have any questions or concerns about the Trolley System, please contact Facilities Operations at (321) 674-8038 between the hours of 8 a.m. and 5 p.m., Monday–Friday.
Parking Permits, regulations and Map:
Burrell students are eligible to purchase Florida Tech parking permits.